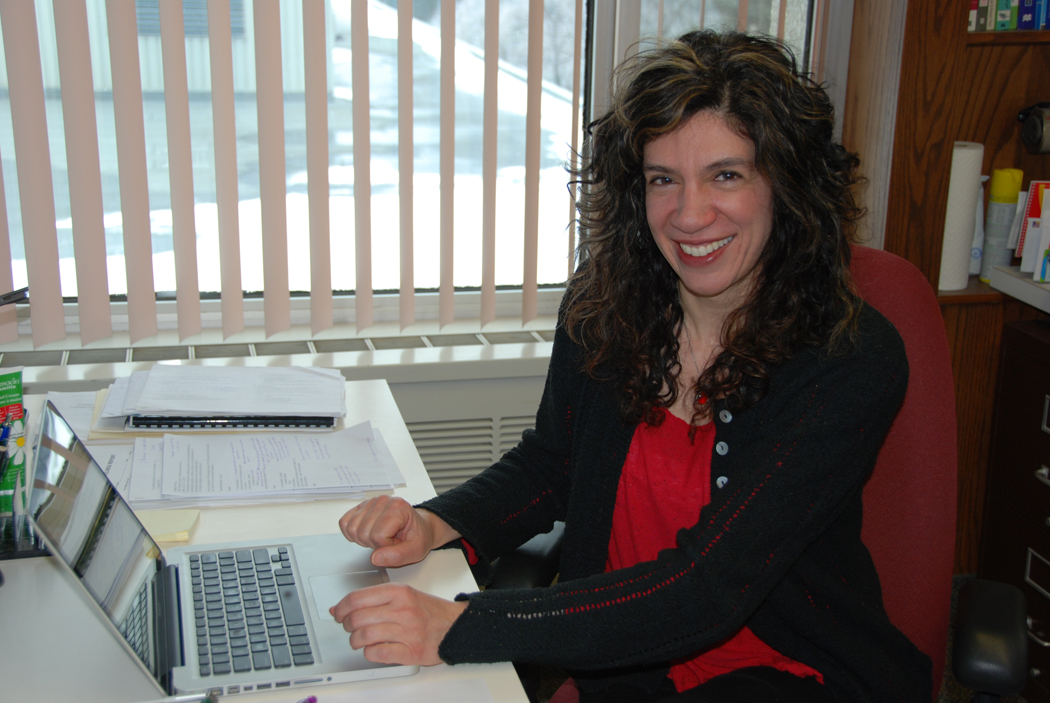 Faculty Profile: Jila Ghomeshi
February 23, 2012 —
"Mostly, the general public believes that being a linguist must have something to do with a correct or corrective approach to language," says Jila Ghomeshi, associate professor the department of linguistics at the U of M.
These days it's become common to bemoan the decline of correct language use, "but linguistics is more about describing and analyzing language and its evolution rather than any kind of prescriptive approach," she says.
"Linguists don't really care about 'correctness' in language — judgment is not part of the discipline."
Ghomeshi: 'Linguists don't really care about 'correctness' in language — judgment is not part of the discipline.'
But people do care about language and there's a real public hunger regarding questions of 'correctness' in language, she adds.
This is why, in addition to her academic teaching, research and publications (including work on noun phrases and determiners), Ghomeshi recently published a slim book for a general audience that calls out the superiority complex people apply to language use, called Grammar Matters, and it's received quite a lot of press, both locally and beyond.
The linguistics prof, who's taught at the U of M for over ten years, also occasionally speaks to groups outside of the university, something she finds rewarding.
Like her well-known brother Jian, who hosts the national CBC radio show Q, Jila Ghomeshi is quick and charming. With her thoughtfulness and bright, open smile, it's easy to imagine her presenting for a general audience and to understand why her students like her.
Ones I happen to know who have taken courses with her apply descriptors like "awesome"; as in: "She's awesome."
Taking research beyond the university is the social part of her work, as she sees it, "bringing research to that general audience, to serve that interest in language."
What else inspires her? "Watching children play is inspiring," she says. "Almost awe-inspiring. They take play and imaginative activity very seriously."
Ghomeshi is fascinated by language processes and the "pre-structures" that allow humans to acquire it.
Ghomeshi is fascinated by language processes and the 'pre-structures' that allow humans to acquire it.
"We don't have to think about learning language," as she puts it. "It happens effortlessly."
'I like noun phrases.'
She became interested in the field after taking several linguistics courses during her undergraduate arts degree. The problem-solving aspects offered within linguistics ("solving problems with a limited data set," as she describes it) appealed to her, as did the fact that it was a relatively new area, with "room to explore new ways of thinking about language."
Linguistics, she notes, draws from a long and rich philological tradition — largely textual analysis and grammar or comparisons across languages, most often pre-modern — but with the emergence of linguistics through language theorists such as Saussure and Noam Chomsky, the field is now principally characterized by the scientific analysis of language and language theory.
There are also many specialized sub-disciplines (and supra-specialized sub-sub-disciplines) within linguistics, including syntax (sentence and language structure), semantics (how meaning is generated through language/structure), phonology (study of sound in language), typology (study and classification of languages and their structures), socio-historical and applied linguistics (including the contextual, social, evolving nature of language and language use) and language pedagogy and acquisition.
All of which makes linguistics both exciting for those working within it and potentially mystifying to those outside of its academic study.
It's a burgeoning field, especially when taken with new developments in cognitive science, and how language and the structures of language both reflect and shape the working mind and its underlying structures, says Ghomeshi, explaining her interest.
So how did you come to your particular branch of inquiry, I ask.
"I like noun phrases," she says, smiling.
Now that would make a catchy t-shirt, we laugh. And what would it say on the back?
"Linguists don't judge."
Q + A with Jila Ghomeshi
Someone who inspires you: The linguist Geoffrey K. Pullum for being prolific, witty and so smart in his polemical columns and essays about language.
Best place to visit: I can't think of anywhere I've visited that I haven't liked. I like big cities: London, Berlin, Moscow. I like Tehran where I still have family. I like Gimli and Winnipeg Beach because they're close and accessible.
Recent book: Prisoner of Tehran, as one of the books chosen for Canada Reads. I thought it was a compelling story.
Faculty Profile is a regularly appearing column that features faculty of the university in the context of their research. This article first appeared in the February 23, 2012 edition of The Bulletin.