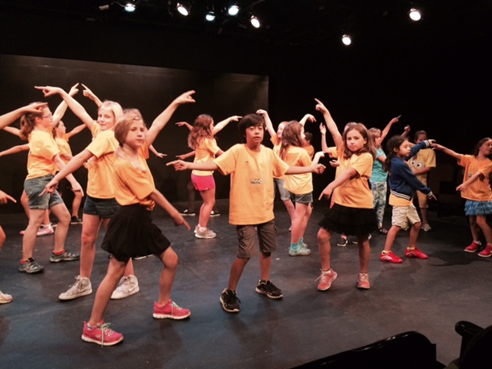 Faculty of Arts, Theatre program and the Black Hole Theatre partners with Mini U Programs for musical theatre camp
September 14, 2015 —
They say the neon lights are bright on Broadway, but a new partnership between the Faculty of Arts, the Theatre Program and Mini U proved an 'off- Broadway' hit in July and August. About seventy-five enthusiastic kids performed in the Black Hole Theatre over the course of a Mini U musical theatre day camp held on the University of Manitoba campus this summer. Three sessions of the two week camp, called 'Bring It On Broadway' ran in July and August and included children who ranged in age from 8 to 11 years old.
Camp participants learned about melodies, harmonies, acting and choreography as well as how bodies work to create sound and expression. Over the two week camp, the budding stars rehearsed a wide range of songs which culminated in a final performance for each session on the last day of camp in University College's Black Hole Theatre. Around 60 family members and friends were in attendance at each end performance to cheer on the young entertainers who performed a dozen musical numbers.
Kate Amey, Special Interest Program Coordinator with the Mini U Programs stated "The Black Hole Theatre changed the vibe of this summer's Bring It On Broadway performance creating a more authentic experience for the performers and their families." Previously, the camp's performance venue had been a regular classroom. A parent commented, "the final performance was very exciting and seemed more grand taking place in a legitimate theatre."
Audience members who attended the final performances were thrilled to see their children singing under the bright lights of the Black Hole Theatre.
The partnership arose out of a Humanities Working Group initiative spearheaded by Dr. David Watt, Institute for the Humanities and Cecile Foster in the Dean's Office, Faculty of Arts. The theatre camp program was targeted for a revival using an authentic theatre venue and technical expertise from the Faculty of Arts. Dr. William Kerr, head of the Theatre program in the Department of English, Film and Theatre and Karen Schellenberg, Theatre Program Production Manager collaborated with Mini U, working out technical details, assisting in recruiting Theatre student staff and coordinating studio space for rehearsals.
Daniel Grant, who recently graduated with a Bachelor of Arts, Major in Theatre, was hired as one of the group leaders for the camp. According to Grant, "The camp is excellent because we get to watch children come out of their shells.  We are a part of their realization of their strengths and how exciting it is to perform.  As an instructor, it is so rewarding to be making a difference for the kids in an area that I love and want to share with others." He also stated, "I was happy to use the knowledge I gained from going to school at the U of M in conjunction with their experiences to make a great summer for young kids."