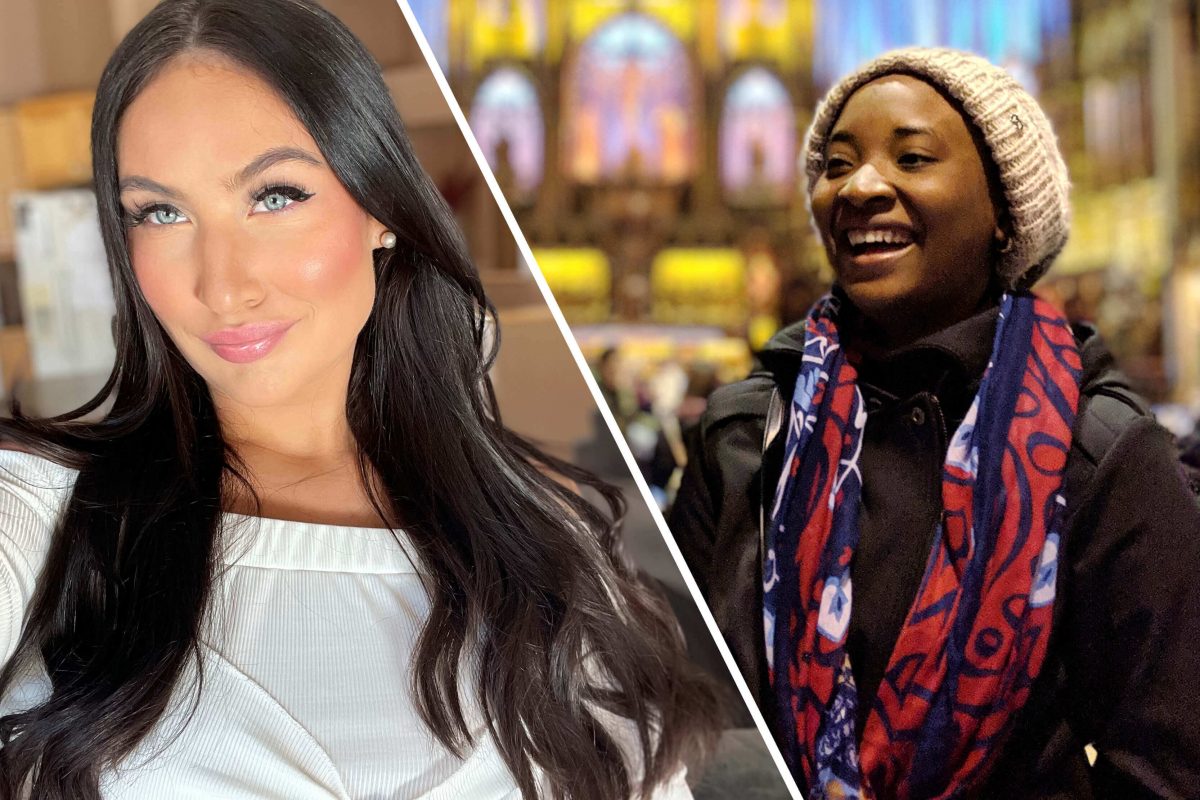 Faculty of Arts class of 2022
Faculty of Arts graduates celebrated at convocation 2022
June 6, 2022 —
Meet two of the amazing members of the Faculty of Arts class of 2022. The spring convocation ceremony celebrating Faculty of Arts graduates is Tuesday, June 7. At the ceremony, 544 Faculty of Arts general, advanced, honours and integrated studies graduates along with the Master of Arts and Doctor of Philosophy (Arts Majors) graduates will be celebrated for their achievements.
SYDNEY LEVASSEUR-PUHACH
B.A. (Hons.) (Psychology)
Sydney Levasseur-Puhach is determined to work to decolonize systems that have been historically harmful to Indigenous people. As an Indigenous person, she had a desire to choose a field of study that would allow her to support her relatives in culturally meaningful ways. This led her to psychology and in particular an interest in clinical work. Sydney was a BMO Financial Group Indigenous Leader of Tomorrow scholarship winner out of high school providing her with $16,000 over four years of study. Choosing the University of Manitoba also allowed her to pursue a degree close to her family.
Research opportunities shaped a large part of Sydney's undergraduate experience and enhanced her overall education by immersing her in the field and her interests. "In my first year of study, Dr. Shayna Plaut encouraged me to push the boundaries of what I believed to be possible, in psychology and academia, by grounding my work in Indigenous methodologies and epistemologies," said Sydney. She built on her classroom studies with research experiences provided through the Psychology Undergraduate Research Experience (PURE), the UM Undergraduate Research Award (URA) and the University Indigenous Research Program (UIRP). "My research has been focused on Indigenous youth and family wellbeing with supervision from Dr. Leslie Roos, assistant professor and co-director of the Hearts and Minds Lab. In response to culturally misaligned assessment methods used with Indigenous children in CFS systems, I conducted a Scoping Review in 2019 to inquire into wellness assessments used with Indigenous people across Canada, the United States, Australia and New Zealand." Identifying a gap in the literature, Sydney assembled an Indigenous Community Advisory Council to create a culturally safe and strengths-based wellness assessment appropriate for Indigenous youth in Manitoba. "Other studies I have been involved with have included those centred around systems navigation programming for Indigenous families separated by CFS and the reclamation of traditional Indigenous parenting practices," said Sydney. Sydney credits the social justice orientation of the Hearts and Minds Lab and the support of her supervisors Dr. Roos and Dr. Ryan Giuliano with helping her build her knowledge, skills and experience throughout her degree.
During her degree, Sydney continued to be rewarded for her hard work receiving the President's Scholarship multiple times and she was recently named the Indigenous Student Trailblazer Award winner.
In September 2022, Sydney will begin pursuing a Masters' degree in clinical psychology at UM and hopes to complete a PhD with a goal of becoming a Clinical Psychologist. "Indigenous clinical service providers are scarce in Manitoba," says Sydney "I hope to contribute to a growing body of literature related to the importance of self-determination and reclaiming culture, and to walk alongside my community in a respectful, empowering and supportive way."
FAREEDAH SULAIMAN-OLOKODANA
B.A. (Adv.) (Labour Studies) Co-op Option
A few years ago, Fareedah Sulaiman-Olokodana and her family were searching for a university that would provide her with a well-rounded education, give exposure to a world-view and allow her to meet people from other cultures. The Nigerian chose the University of Manitoba. This spring, Fareedah will graduate with an Advanced Bachelor of Arts degree with a major in labour studies and a minor in management.
Fareedah's most impactful moment during her time at UM was the day she chose to visit Career Services. "At the time I was really confused on what to major in," she said. "But when I met with one of the career coaches, we talked about my strengths and weaknesses, things I was interested in and so on. That's how I found out about the labour studies program. Labour studies is a wonderful community where I made great friends and had amazing professors that cared about their students' successes."
The advanced degree in labour studies offers multiple opportunities for students to gain practical experience in work settings including a field placement course providing students with an unpaid internship while they gain course credit and a co-op option where students complete three, paid work terms as part of their degree. Fareedah's field placement was with the Community Unemployed Help Centre. While there, she developed a client satisfaction survey, conducted a social media review (leading to the creation of a new strategy) and updated training packages. Fareedah completed all three of her co-op placements in the same organization, N.E.E.D.S. Inc., as a Facilitator Assistant. She had the opportunity to work with different departments within the agency to gain a variety of experiences. "My work included a stop in the Administrative Department learning human resources and administrative tasks. I then moved to an area where I facilitated the after-school and summer school programs for youth aged 7 to 14. Finally, I worked in the Service Delivery area learning caseload management," said Fareedah.
She found ways to connect with the international student community during her degree with AIESEC Manitoba and World University Service of Canada. She was recognized this year as the first recipient of the Canadian Association for Work and Labour Studies Undergraduate Excellence Award.
Following graduation, Fareedah has jumped head first into her career utilizing the contacts she made during her time in the Faculty of Arts. She is now in a full-time role with N.E.E.D.S. Inc. and is currently a member of the board at Community Unemployed Help Centre.
"As an international student, I struggled to understand how I could fit in the workplace of a society I had no idea how to navigate," shared Fareedah. "I needed that practical learning experience where I could apply concepts learnt in the classroom into a real life setting. But, my degree ended up giving me more than that. Through my courses, my internship, volunteer work and co-op, I saw myself evolve as a student and a professional."
At its 2022 UM Convocation, the University of Manitoba will confer degrees, diplomas and certificates on 2,835 graduates.
Visit the UM Student Instagram and Faculty of Arts Instagram to learn more about some of the students graduating in 2022. You'll find congratulations messages from fellow graduates and professors, stories about fellow graduates, more information about convocation and tips for new alumni. You can also join the 'Convocation conversation' on social media by following #umanitoba2022.