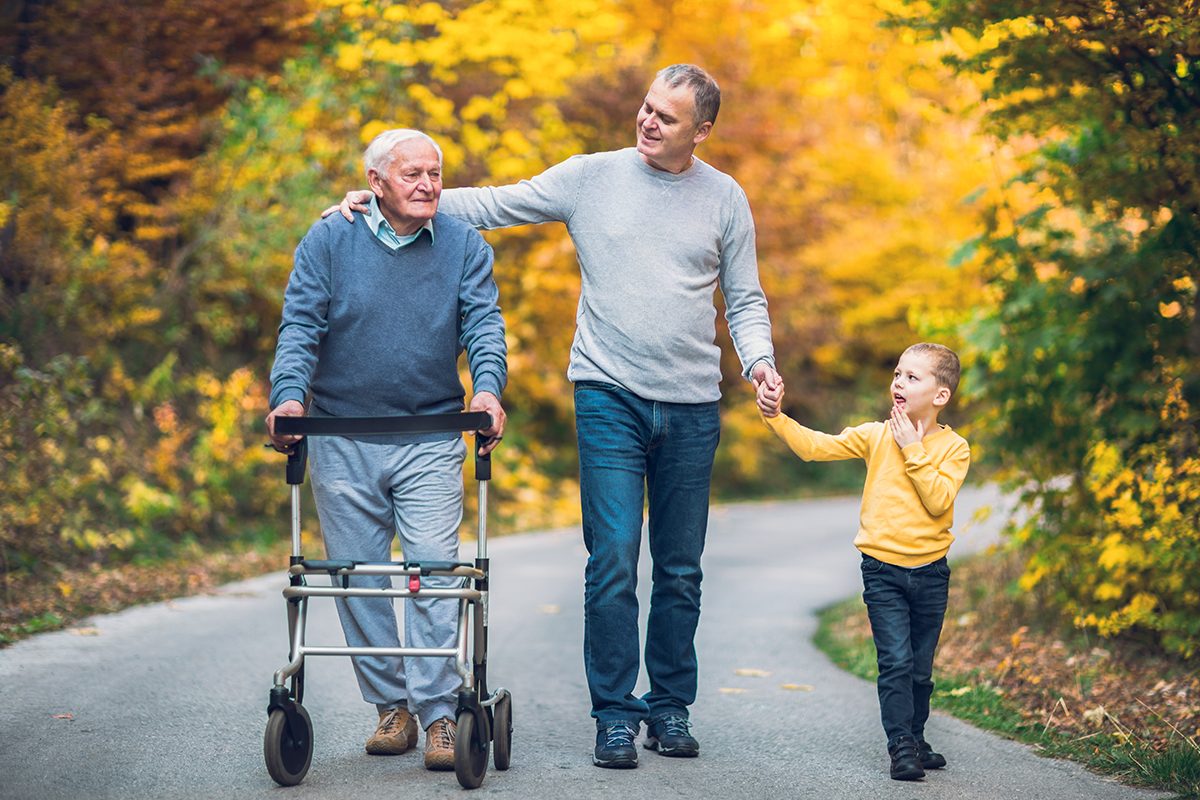 Factors in Healthy Aging
New funding for U of M research underway
April 10, 2019 —
More and more Canadians are reaching old age and Canada's population as a whole is aging. By 2031, an estimated one in four Canadians will be aged 65 or older. This population shift includes a boom in the number of Canadians aged 85 or older – particularly, centenarians.
Two Rady Faculty of Health Sciences researchers—Phil St. John and Ruth Barclay—and their teams will be leading two separate studies to investigate aspects that impact healthy aging, like walking and where you live, through funding from the Canadian Institutes of Health Research's Canadian Longitudinal Study on Aging (CLSA).
The CLSA was launched in 2009 and is a national research platform, involving more than 50,000 Canadians, which is collecting data with the goal of identifying the determinants of healthy aging.
Dr. Ruth Barclay, associate professor, Department of Physical Therapy at the College of Rehabilitation Sciences in the Rady Faculty of Health Sciences is receiving $69,868 for the study entitled: Self-reported and physical factors associated with community ambulation in older adults and people with osteoarthritis.
"The extent to which people are able to participate in their community often depends on their ability to walk outside of their home, in both outdoor settings like on a sidewalk or in a park and indoor environments like a shopping mall, community centre or friend's home," says Barclay. "The ability to walk in the community often decreases with increasing age and becomes more difficult when an individual suffers from a chronic condition such as osteoarthritis. Having limited community walking has been associated with reduced mobility, decline in self-care abilities, and social isolation."
In this study, Barclay will use data from approximately 30,000 people in the CLSA to identify factors associated with community walking in older adults and those with osteoarthritis. Her and her team of colleagues from U of M—Sandra Webber (Physical Therapy) Jacqueline Ripat (Occupational Therapy), Robert Tate (Community Health Sciences)—will use both self-reported data via a questionnaire as well as objective data obtained through physical testing. They will examine differences between men and women and look for differences across different age ranges, i.e. 45-64, 65-74, 75+ years of age.
Because this study will make use of the largest data set ever available for this type of research, they will be able to test some existing theories about how factors combine to influence how well individuals are able to walk in their community. Their findings will help to better understand factors that limit and encourage community walking in Canadian older adults.
"We will gain more knowledge about whether the things that influence walking in the community differ for people with osteoarthritis," says Barclay. "This is important for developing prevention and rehabilitation treatment programs with older individuals, including those with chronic conditions. This has implications for future research and policy planning."
Dr. Phil St John, associate professor of Internal Medicine at the Max Rady College of Medicine is receiving $64,300 to conduct a study entitled: Health Status of Rural Canadians.
"The health of people living in rural areas is attracting increasing attention," says Phil St. John, who was born in the rural Manitoba town of Minnedosa. "We will look at the health of people living in rural regions compared to people living in urban regions across Canada. We will also compare the health of people living in differing rural areas, and explore the factors that lead to poor health. The issues we will consider are depression, the ability to carry out day to day activities, and access to health and social services."
To do this, St. John and his team—Verena Menec (Community Health Sciences, U of M), Nancy Newall (Brandon University) Megan O'Connell (Saskatoon) and Robert Tate (Community Health Sciences, U of M)—will use information from a large study of about 20 000 Canadians between the ages of 45 and 85. These people live across the country, and are similar to Canadians in general. They live in remote areas, rural areas, small towns and cities. Information on their health, their mood, and their health care are measured using validated tools.
"The results of this study will assist in planning preventive measures aimed at people living in rural Canada, and in planning the health care for people living in rural areas," says St. John. "Residents of urban areas can also benefit from learning about the experiences of people living in rural areas. Most importantly, the information will be useful for rural residents to assist them in making informed choices about factors affecting their overall health."
Research at the University of Manitoba is partially supported by funding from the Government of Canada Research Support Fund.