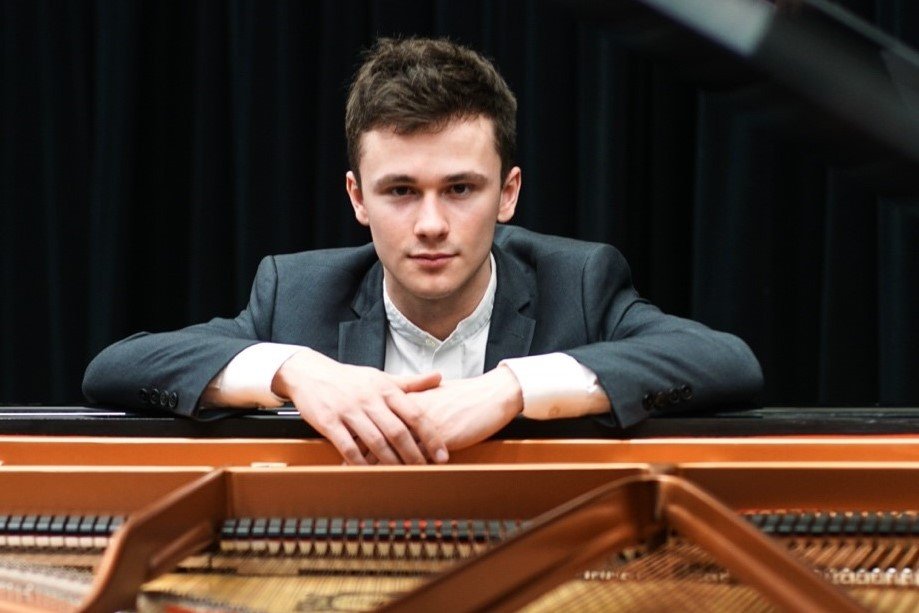 Evan Miles is 'Growing Up'
June 5, 2023 —
Though Evan Miles has been playing piano since he was five years old, it wasn't until high school that he realized he wanted to make music his career.
The Winnipeg, Manitoba native attended Kelvin High School and performed in John Martens' high school band, taking private lessons with piano instructor Kevin Curtis. His epiphany about his future career came after he attended the University of Manitoba Summer Jazz Camp, led by the Desautels Faculty of Music jazz faculty. From there, he hit the ground running, joining the Winnipeg Jazz Collective, which was run by the Desautels Faculty of Music's jazz faculty member Jon Gordon, and decided to apply to the Desautels Faculty of Music to study jazz.
In the faculty
After his successful audition, Evan was awarded a number of scholarships, including the Marcel A. Desautels Faculty of Music Scholarship, Leonard Isaacs Scholarship, Corus Radio Jazz Major Scholarship, President's Scholarship, Mary Louise Young Scholarship in Music, Isbister Scholarship in Music, UMSU Scholarship, and MSBI Scholarship, and was nominated for an Oscar Peterson Jazz Performance Grant.
In addition to his work with the University of Manitoba Jazz Ensembles and University of Manitoba Jazz Orchestra, Evan quickly established himself as a valued member of Winnipeg's jazz scene, performing with the Winnipeg Jazz Orchestra Honour Jazz Band. Though COVID paused music performance in 2020, when the world opened back up, Evan began performing everywhere – the VW Social Club, Festival du Voyageur, Park Alleys, Osborne Taphouse, and even the Centre Culturel Franco-Manitobain's Mardi Jazz. Evan also made his debut at the 2022 Winnipeg Jazz Festival with his Evan Miles Quartet and Noontune, performing standards and original compositions.
This year, he and a small group of other jazz students received funding from the Desautels Faculty of Music Endowment Fund for a 2023 enrichment trip to study jazz in New York City.
"[We] received the endowment fund to go on a life-changing trip to New York, where my peers and I attended world-class shows, took lessons, and visited historic jazz clubs," he says of the experience. The trip ultimately inspired an incredible composition that is sure to impress anyone who hears it, and which premiered at Evan's fourth-year credit recital.
The Recital
Though Evan has many things to be proud of as a musician, he notes that one of his proudest moments in the faculty was completing his fourth-year credit recital.
Credit recitals serve as the capstone performance that all jazz students undertake to complete their degree, and the amount of preparation and collaboration these recitals require is a true test that shows a musician has mastered the artform.
"I performed the standards 'Is That So?,' 'Someone to Watch Over Me,' 'Windows,' and 'I've Never Been in Love Before,' as well as three originals of mine, including a three-piece suite," he says.
Some students might feel nervous about performing their own compositions alongside well-known and well-loved standards, but not Evan. Of the three original compositions he performed at his recital ("Growing Up," "New York Suite" and "Trial and Error") two were composed only months before his recital, and yet he and his collaborators (Desautels students Nolan Gottfried, alto sax; Rudy Donisch, tenor saxophone; Sam Fournier, bass; and Josh Bonneteau, drums) somehow managed to perfect them in time for the recital performance. His ambitious "New York Suite," inspired by the New York trip, is written for a five-piece ensemble (piano, alto saxophone, tenor saxophone, drums, and bass). His ensemble nailed its performance of the 15-minute piece, which opens with a soft and brooding, almost melancholy melody, and crescendos into an upbeat, complex, and anthemic celebration.
You can watch all of Evan's impressive recital performance, including "New York Suite," on his YouTube channel HERE. You can also check out the recital performance and others on Evan's SoundCloud.
Faculty mentors
The Desautels Faculty of Music's small size allows students and faculty members to work together with great frequency, and this is especially true in the Jazz Studies area, where students perform in small ensembles that are coached by jazz faculty members.
"My two greatest faculty mentors are Will Bonness and Fabio Ragnelli," says Evan.
"[They] are also some of my favourite musicians," he says.
"Will Bonness was my MPS instructor. He was the most important part of my degree. It's hard to describe how much he taught me and how much he inspired me over my four years in the program," says Evan of his work with Bonness, Jazz area head for the Desautels Faculty of Music, who won the 2022 JUNO Award for Jazz Album of the Year for his Change of Plans.
"I would not be the same musician now if it was not for him," adds Evan.
Bonness is impressed with Evan's evolution as a musician, and has great things to say about him.
"Evan is a fantastically talented musician, and one of the most dedicated students I have worked with," Bonness says.
"Fabio was also an incredible mentor throughout my degree. He was my ensemble coach for two years as well as my drum instructor for a year," says Evan.
"He always pushed me to be creative and to play different things. As a drum instructor, he gave me incredible insight into approaches to time and feel that I will keep with me for the rest of my life," he adds.
"Evan is a consummate student and musician," say Ragnelli, assistant professor of jazz drumset for the Desautels Faculty of Music who, with the Allison Au Quartet, won the 2016 JUNO Award for Jazz Album of the Year with their Forest Grove.
"Not only is he incredibly dedicated to the art of improvisation and jazz, he also is dedicated to working with his peers and is an integral part of the music community," Ragnelli adds.
Indeed, it's obvious that Evan values community. When asked what advice he would give to future students, Evan focused on working with others and developing the bonds needed for successful collaboration.
"The best part of the degree is hanging with peers that have the same passions as you. The community is the most important part of the degree," Evan says.
Up next
Evan is a talent, without a doubt, and now, graduating with his Bachelor of Jazz Studies in Piano Performance, he has some impressive credentials to help serve him as he moves forward.
He also has couple more accolades to carry with him on his journey. Evan was awarded the Desautels Faculty of Music Medal for Jazz, given to the graduating jazz student with the highest academic standing in the jazz program.
Perhaps even more impressively, he is the 2023 recipient of the prestigious University of Manitoba Gold Medal for the Desautels Faculty of Music, awarded to the graduating student with the highest academic standing in the Desautels Faculty of Music. A well-deserved achievement for this impressive pianist.
He is grateful for the support he has received over the years.
"I would like to acknowledge my family for always being very supportive of me," Evan says.
"Especially my mom, who encouraged me to pursue music, even when it was challenging," he adds.
We will all be rooting for Evan as he makes a name for himself in jazz.
"I am excited to see where his music takes him next!" says Bonness of Evan's future.
After the last four years and a lot of assiduous work, Evan is looking forward to finally taking a breather for a year, but will be using the time to start preparing for master's degree applications and auditions.
Ultimately, he will follow wherever jazz leads him.
"My goal is to pursue jazz performance in a city with an active jazz scene," he says.
If you want to experience him in a live performance, you can do so on June 24, 2023 on the final day of the 2023 Winnipeg Jazz Festival, where he will be performing with Noontune at the Cube in Old Market Square.
Given his talent and dedication, he will surely end up being a much sought-after performer wherever he goes. In the not-too-far-off future, we suspect that other jazz students will be performing Evan Miles' spectacular songs for THEIR credit recitals!
Congratulations, Evan!