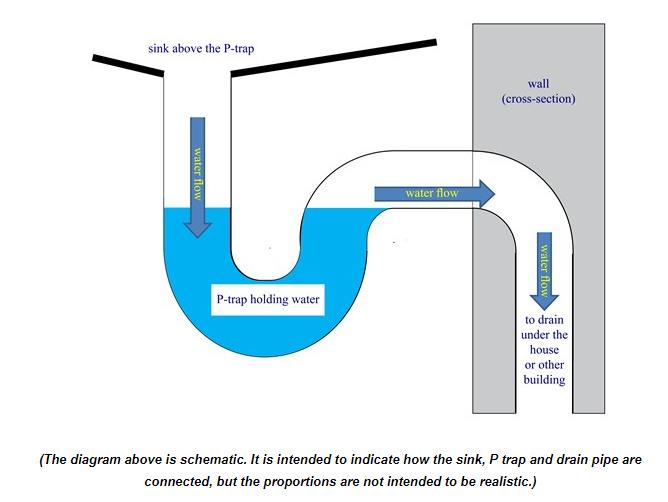 Environmental Health and Safety Bulletin: Dry Drain Traps and Odours
Check The Drain Traps!: Prevent sewer system odours from entering your work space
July 9, 2019 —
With the arrival of warm and dry weather, some buildings around campus may have issues with dry drain traps or p-traps. Most drains (sink and floor) will have a U shaped section in the pipe that would normally be filled with water. The water sitting in the pipe prevents odours from the sewer from entering into a building space. If a drain is not frequently used, the water sitting in the trap will evaporate allowing odours from the sewer system to enter the room.This can produce a variety of odours in the room or building.
The odours emanating from a dry trap may vary and present as:
Sewage
Rotten eggs or sulfur
Musty or mouldy smells
How do you find out if the odour in your space is caused by a dry trap? Take a look at the drains around your area.
Are there any sinks that have not been used in a while?
Are there any floor drains that are almost never used?
If you hold your hand over the drain, can you feel airflow?
These drains may have a dry trap that is allowing the odour to come up from the sewer. What can you do to fix and prevent dry traps?
Try pouring a few cups of water down the drain or running the tap to ensure the trap is refilled.
It can also be beneficial to include running the tap or running water down the floor drain weekly along with flushing eyewash stations and other regular maintenance in order to prevent a dry trap from occurring, particularly during the summer when there may be fewer people working on campus.
If you find the drain is clogged, contact Physical Plant immediately.