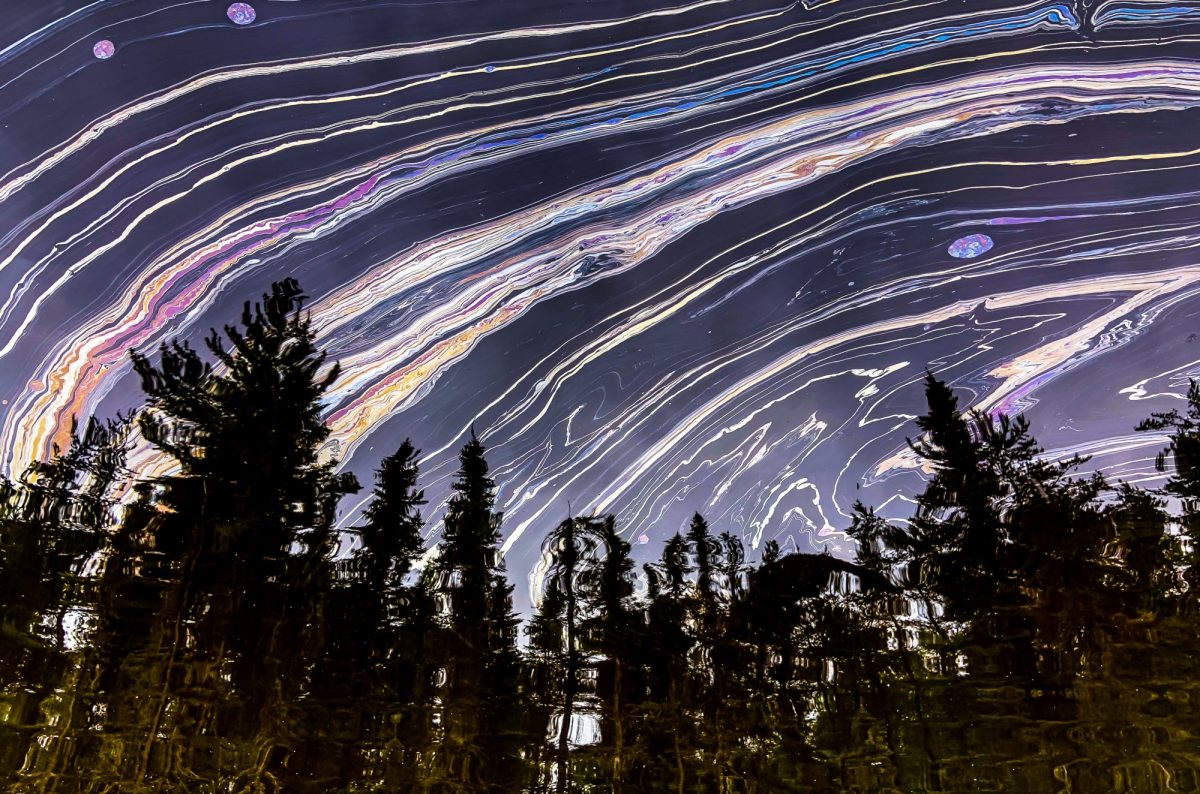 Environment and Geography grad wins NSERC photo contest
March 1, 2021 —
Tyler Black [M.Sc. (Environment & Geography)/20] recently won a Jury Prize and a People's Choice Award in the 2020 NSERC photography contest for his photo of an oil slick on a test lake at the Experimental Lakes Area reflecting the surrounding forest and sky. We caught up to Tyler to speak with him about his picture and his studies.
How did you get interested in photography? Have you always combined it with doing science?
I've always had some interest in photography, but it was only during my masters when I started getting into it more. Spending my summers at the IISD – Experimental Lakes Area (a remote research station in northern Ontario) provided some good inspiration. I ended up getting a drone which provided a new perspective to the lakes. One of the things I was told when starting grad school (and research in general) was to photograph everything so when it comes to communicating your research or prepping a poster/powerpoint, you aren't scrambling to find content. It was incredibly valuable advice, and I certainly don't have a shortage of content. This was really the reason for my start in science-focused photography.
With regard to the project on oil spill effects, what are you most interested in sharing with a wider audience and what questions do the public need to be concerned about?
We're at an important time in Canada's history and in the climate crisis battle that is going to shape the 21st century and beyond. One part of combating the climate crisis will be to understand how our energy choices — from sourcing and mining materials to transportation of those materials to market — are impacting the people and the environment. We already know that oil spills are damaging to aquatic organisms, but what are the long-term impacts, what organisms are most at risk and how can we better remediate affected areas? The easy solution to all of this is to stop transporting and spilling oil in the first place; but, until there is concrete action from our governments that address the social and economic complexities of this problem, oil spills will continue to occur. So, us scientists are left trying to inform policy makers on the potential impacts from oil spills.
Some work I did on water striders was just published at the end of December 2020 and was among some of the most interesting and, hopefully, impactful work I did during my masters. I looked at the effects of fresh diluted bitumen (an export of the Alberta Oil Sands and transported via pipeline) and a surface washing agent (Corexit EC9580A; used to remove oil from beaches, rocks, mangroves, etc.) on the mobility of water striders, and we found some alarming results showing a great sensitivity of water striders to both compounds together and on their own. I think this highlights the complexity of the issue around oil spills — they are damaging but the tools we use to deal with oil spills can also be just as damaging. The Kalamazoo River oil spill was a prime example of just how ill-prepared we are in dealing with oil spills of diluted bitumen as dredging and excavation of the river lead to extensive damage to benthic and riparian environments.
In addition to this work, I also looked at the impacts of surface sheening from simulated oil spills to emerging insects (things like mosquitoes, dragonflies, midges, and mayflies all have an aquatic life stage and emerge as adults to spend the rest of their days on land). We wanted to know if oil spills would influence the ability of these insects to cross the water-air boundary and to carry on to adulthood. This, surprisingly, hadn't been studied before and I am excited to share that research in the coming months. If folks are interested in this research and want to stay up to date, they can contact me via email or social media (Twitter: @_tylerandrew).
How's your new program going? Is there anything useful you brought with you from your UM experience? What things to you miss (from UM or Manitoba in general) and is there anything you're glad to be rid of?
Things are going really well! I am working on a project with the Haíɫzaqv First Nation in Bella Bella, BC and the University of Guelph, looking at the impacts of oil spills to marine clams. It is a great fit based on my previous work with insects and other invertebrates and oil spills at UM. Although, the transition from lakes to marine environments has been an interesting one!
As for Manitoba, I definitely don't miss the cold — but the river skating trail would be super nice to have right now.