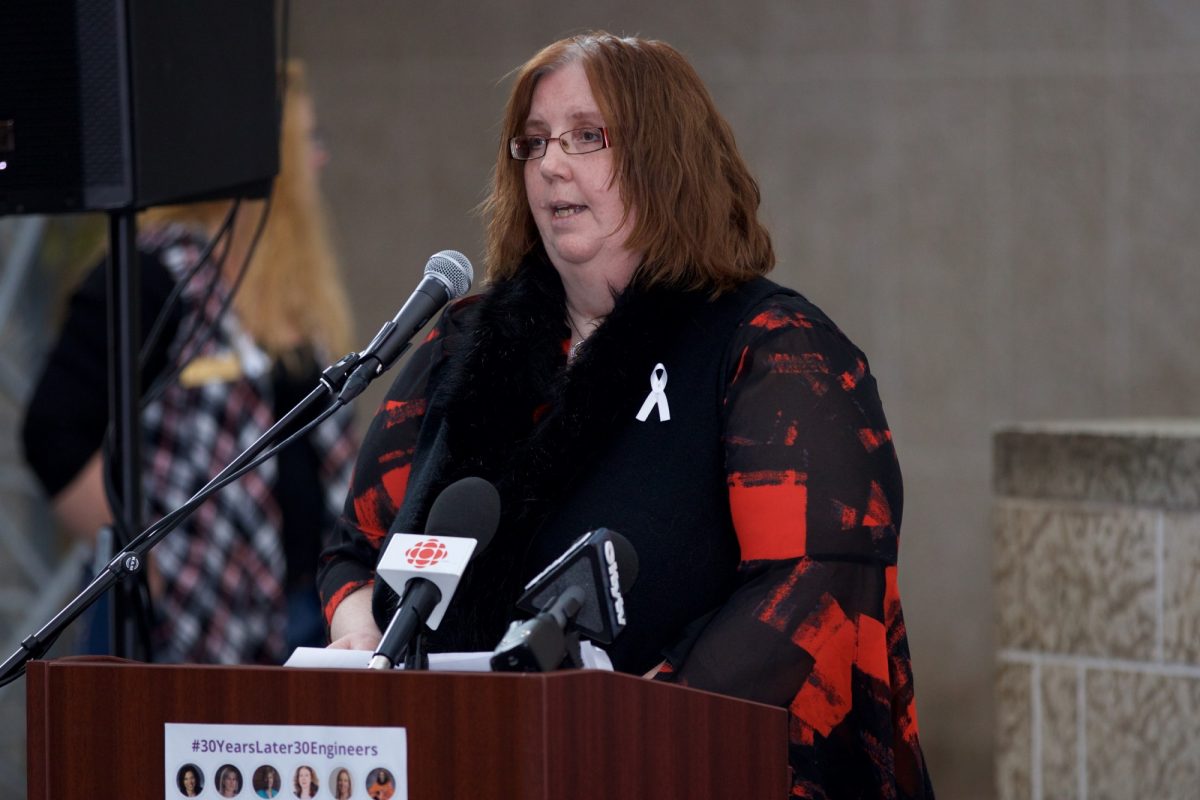 Engineering community mourns loss of one of Manitoba's finest civil engineers
October 21, 2021 —
The Price Faculty of Engineering mourns with the Manitoba engineering community on the passing of our friend and colleague, Ruth Eden. Eden was a mentor, a leader in Manitoba civil engineering, and a beloved friend to many. She was one of five women to graduate from the Civil Engineering program at the University of Manitoba in 1988, additionally earning Masters of Structural Engineering in 2002. Eden continued to work diligently for the province as an overseer for design, construction, maintenance, and more for provincial structures on Manitoba highways and water control networks. Eden was committed to her profession, providing support and guidance for three separate committees of the Canadian Highway Bridge Design code as well as becoming the 99th president of Engineers Geoscientists Manitoba in 2018.
Not only did Eden's influence touch the four corners of Manitoba, but her nurturing dedication to the engineering community garnered her a reputation of professionalism and affability. We asked a few of her colleagues to share some of their reflections on Ruth with us to honour her memory and legacy.
"It feels like I've always known Ruth Eden's name in the engineering community, but I had the opportunity to know her as a person since our years jointly serving on Engineers Geoscientists Manitoba Council. I enjoyed her sense of humour and the shared laughs, even amidst the business of governance of the engineering profession. I also enjoyed the opportunities in downtime moments to have a glass of wine and share what we both find meaning in our work.
As Dean of the Price Faculty of Engineering, I see her picture frequently as one of the women featured on our Celebrating Women in Engineering wall. She graduated and built a career at a time that was often defined by "first woman to…" and "one of only five women to…" And yet, Ruth always approached the profession with a sense of ownership and place that became a foundation for her extensive accomplishments."
– Dr. Marcia Friesen, PhD, P.Eng.,
Professor & Dean, Price Faculty of Engineering
"I was fortunate to visit Quebec City with Ruth for an Engineers Canada board meeting and annual meeting of members in the Spring of 2019. After the board meeting, Ruth and I were able to spend some time wandering around the Chateau Frontenac and admiring the sights and sounds of the city from the beautiful boardwalk.
Ruth was a trailblazer! She was the first female engineer hired by the Province of Manitoba and was always a strong supporter and advocate for diversity in engineering. I know she went out of her way to help young engineers, making them feel welcome. She will be greatly missed by the engineering community."
– Dawn Nedohin-Macek, P.Eng., FEC [BSc.(Comp.E)/02]
"I met Ruth my first week of classes in my first year of engineering in the fall of 1984. I didn't know many people as I was the only individual from my high school that entered the faculty. Ruth was so friendly and outgoing that she immediately included me in her circle. I quickly found out how brilliant she was. Ruth knew everyone and everything. She knew how to study, how to talk to the TA, how to find all the classrooms all over campus, which profs were the best, when the assignments were due and where the party was. She was essential to my survival in that first year. We were both passionate about encouraging young women to consider Engineering as a career. I tell my first-year students that you could always feel safe on a bridge in Manitoba because Ruth was in charge of that. I am proud that she was in my cohort. I am extremely grateful I got to know her and I cherish her memory now."
– Carolyn Geddert, P.Eng., FEC, EIR, [BSc.(ME)/88]
"One of my favourite memories of Ruth was when Ruth shared that what inspires her is serving the public – through engineering and through working in an organization that serves the public. It speaks to Ruth's dedication and thoughtfulness."
– Lindsay Melvin [BSc(ME)/02, MSc/04, MBA/15]
"I loved seeing Ruth use her great relationships and expertise to skillfully guide and support decision making for the betterment of Manitobans. She could work a room like nobody's business, and everyone loved talking with her. Her relaxed, easy-going no-nonsense direct approach was so refreshing and she was depended upon implicitly. This all stemmed from her deep knowledge of her profession and completely understated self-confidence…
Somewhat reluctant to take on the limelight, Ruth stepped up as President of Engineers Geoscientists Manitoba to provide leadership at a time when she was needed. As with everything, she made fulfilling that busy role look seamless despite her incredibly heavy work schedule. Ruth kept things in perspective which was always an inspiration to me.
When I joined the civil service in 2016, Ruth provided support to me in making that transition, which was invaluable in helping me to navigate unknown territory. More than giving me guidance, she listened and validated my feelings, and was a friend to me in learning my role in a line of work filled with tradition and unspoken expectations. It was wonderful to have a fellow engineer and confidante to debrief with after meetings and share a laugh. I will miss Ruth dearly, her family should be so proud of the life she lived and the positive impact she had on those of us who had the privilege of knowing her."
– Lesley McFarlane, P.Eng. [MBA/04]
Ruth was an inspiration to us all. Her spirit of innovation and wisdom nurtured not only the minds but the hearts of all those that crossed her path. We express our sincerest condolences to all of Ruth Eden's family, friends, and colleagues, as we mourn her loss and honour Ruth's incredible achievements for years to come.