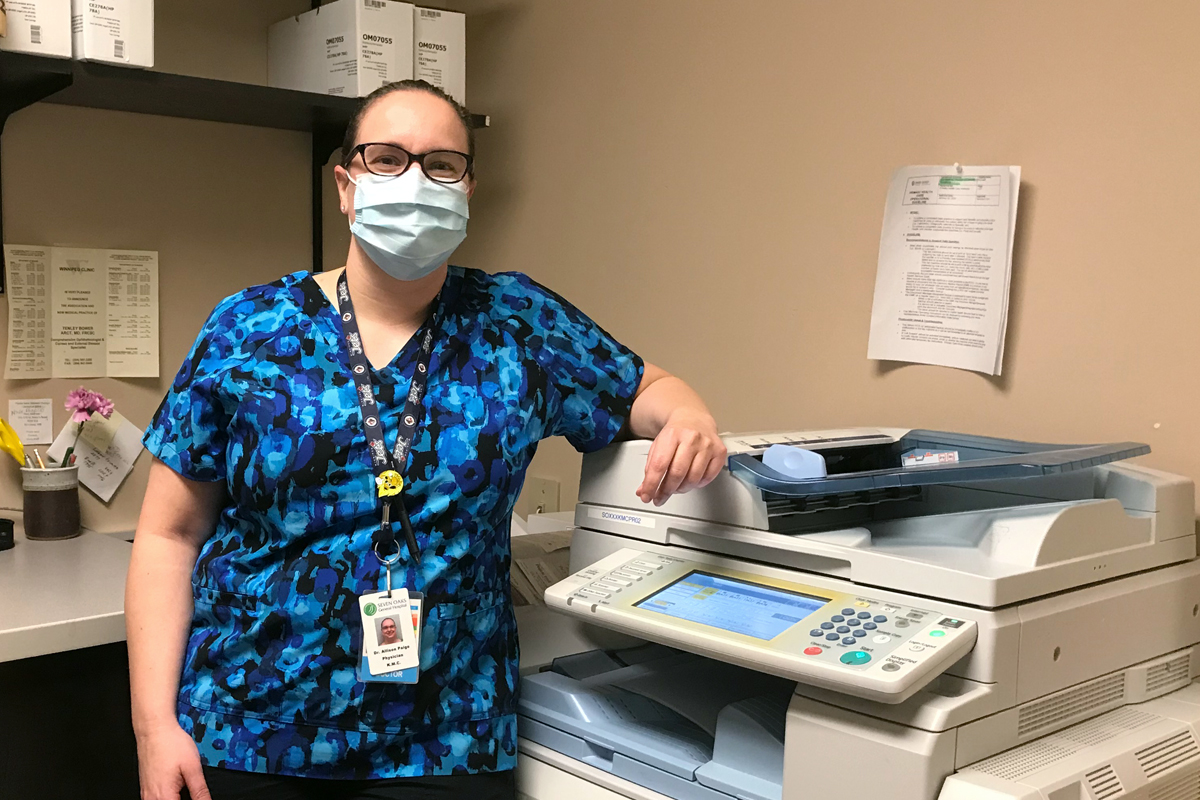 Engineering a fax fix
UM faculties partner in quest for quality improvement
February 23, 2021 —
A Winnipeg family medicine clinic is handling faxes from pharmacies much more efficiently, with far fewer errors, thanks to a University of Manitoba partnership focused on quality improvement.
At Kildonan Medical Centre, it used to take an average of 11 minutes for each fax sent by a pharmacy to reach the hands of the appropriate physician. Sometimes it took as long as 49 minutes.
Such faxes are usually sent to verify details about a patient's prescription, or to get the go-ahead to refill a prescription. The clinic received about 18 of them per day.
As of a year ago, a staff member was periodically printing out batches of faxes from the document queue and handing them out to nine doctors. The process was time-consuming. And so many errors occurred – often because pharmacies kept faxing the same prescription until they received a doctor's response, resulting in duplicates – that 20 per cent of the faxed queries got fouled up in some way.
"Those errors had implications for patient safety and were costing the clinic about $97 a day in staff time," says Christian Becker, a professional engineer who is managing director of the department of family medicine in the Max Rady College of Medicine, Rady Faculty of Health Sciences.
Kildonan Medical Centre is a teaching site for UM residents in family medicine. Becker knew there were many processes there that could be "leaner" – more efficient, less wasteful and better for patients.
He reached out to Vern Campbell, engineer-in-residence at the UM Price Faculty of Engineering, who teaches a course in operational excellence. The course gives fourth-year engineering students experience at working in teams to apply quality-improvement methods to real-world problems.
Through the partnership devised by Becker and Campbell, engineering students can now tackle health-care processes at family medicine teaching sites. As part of the reciprocal arrangement, two members of Becker's departmental staff took Campbell's course.
In the spring of 2020, they teamed with engineering students to address the Kildonan Medical Centre fax-processing routine – the partnership's first project.
After analyzing every detail of the fax-handling process – and calculating the error rate and other statistics mentioned above – the team decided to test the hypothesis that using the clinic's electronic medical record system would be more effective.
"The staff member responsible for delivering the faxes was asked to try sending them individually – not on paper, but electronically – to one doctor as a test subject," Becker recalls. "The results were so impressive that within one month, the change was rolled out to all the prescribers."
The new method reduced the average fax delivery time by more than 96 per cent, from about 11 minutes to about 24 seconds. With the process streamlined and paper eliminated, the error rate plummeted.
The physician who was the test subject is Dr. Allison Paige, a UM lecturer in family medicine. She is the associate director of quality improvement for the department and quality improvement lead for the medical centre.
"I was astounded when I found out how much time it was taking to manage each prescription fax that arrived at the clinic," says Paige. "I was even more astounded at how much time could be saved by a small adjustment in our process.
"I was so happy to have this project demonstrate that quality improvement methods can give back time and improve our work lives. I look forward to having more engineering students join us, because the project highlighted other processes that could be streamlined."
The engineering/family medicine partnership will have ongoing benefits, Becker says. It will expose family medicine residents to the scientific approach to quality improvement, introduce engineering students to health care as a potential career path, and give family medicine staff training opportunities to foster a culture of continuous improvement.
"We're hoping to have a family medicine resident take the engineering course," says Becker. "This interprofessional collaboration between two UM faculties has been eye-opening and inspiring for everyone."