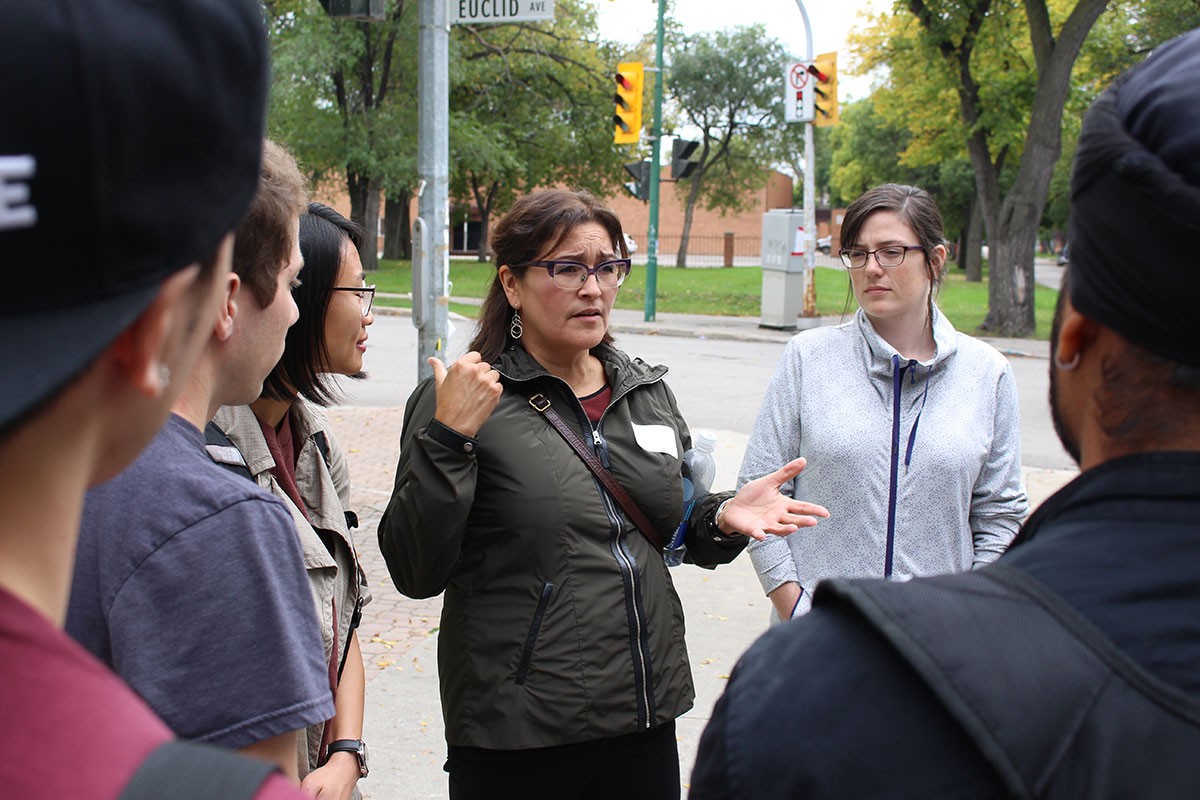 Engaging in our Community: First year students learn about the neighbourhood and each other
September 22, 2016 —
For first-year students in the Rady Faculty of Health Sciences, a steep learning curve is something that's to be expected.
The Engaging in our Community #RFHScollaborate event at Bannatyne campus held last week helped these students by supporting them to learn more about each other while also discovering more about their local neighbourhood.
Organized by the Office of Interprofessional Collaboration, Services for Students at Bannatyne and the Rady Faculty of Health Sciences, last week's event drew more than 400 first-year students in the Max Rady College of Medicine and the Colleges of Dentistry, Nursing, Pharmacy and Rehabilitation Sciences to participate in community site visits, Indigenous Games, and an opportunity for reflection and debrief back on campus.
Gaining an understanding of the inner-city neighbourhood – especially one just a stone's throw from the gleaming classrooms and state-of-the-art facilities in which most of the students will be honing their respective skills – is what makes the community site visits a vital learning exercise. Students visited such organizations as Siloam Mission, Pathways to Education, Dufferin Community School, Winnipeg Harvest, North Point Douglas Women's Centre and Hugh John Macdonald School.
Simran Diocee, a first-year respiratory therapy student who went to Siloam Mission, found the community site visit enlightening.
"I always thought Siloam was mostly a homeless shelter," he said. "I didn't realize they supplied medical and dental services too."
Following their bus tours, students returned to the Burton Cummings Community Centre where they participated in Indigenous Games, a series of fun teambuilding exercises that required students from across the Rady Faculty to work together while also getting to know one another better.
For Diocee, the Indigenous Games component represented more than just an entertaining diversion and informed him about a patient population he will serve in the future.
"They're a big part of the community," he said. "Learning from them can help bring all our professions together to work a little more closely."
As part of the Rady Faculty Office of Interprofessional Collaboration initiatives, this year, students from each of the colleges are organized into inter-professional cohorts of seven. The students will remain in these cohorts for two years of their respective programs. At the end of each term, each cohort is given an assignment that's meant to capture what the students have learned to date.
Laura Macdonald, one of the event organizers and an Associate Professor with the School of Dental Hygiene, said the collaborative aspects of the cohort will benefit the Rady Faculty of Health Sciences students in their school work and in their future careers as health-care professionals.
"This is the beginning of a two-year journey as these students learn to be inter-professionally minded as they proceed through the rest of their curriculum," she says. "Now that these students have met each other they will learn how to draw on each other and learn to respect each other's roles and responsibilities as they grow, develop and understand their own profession."