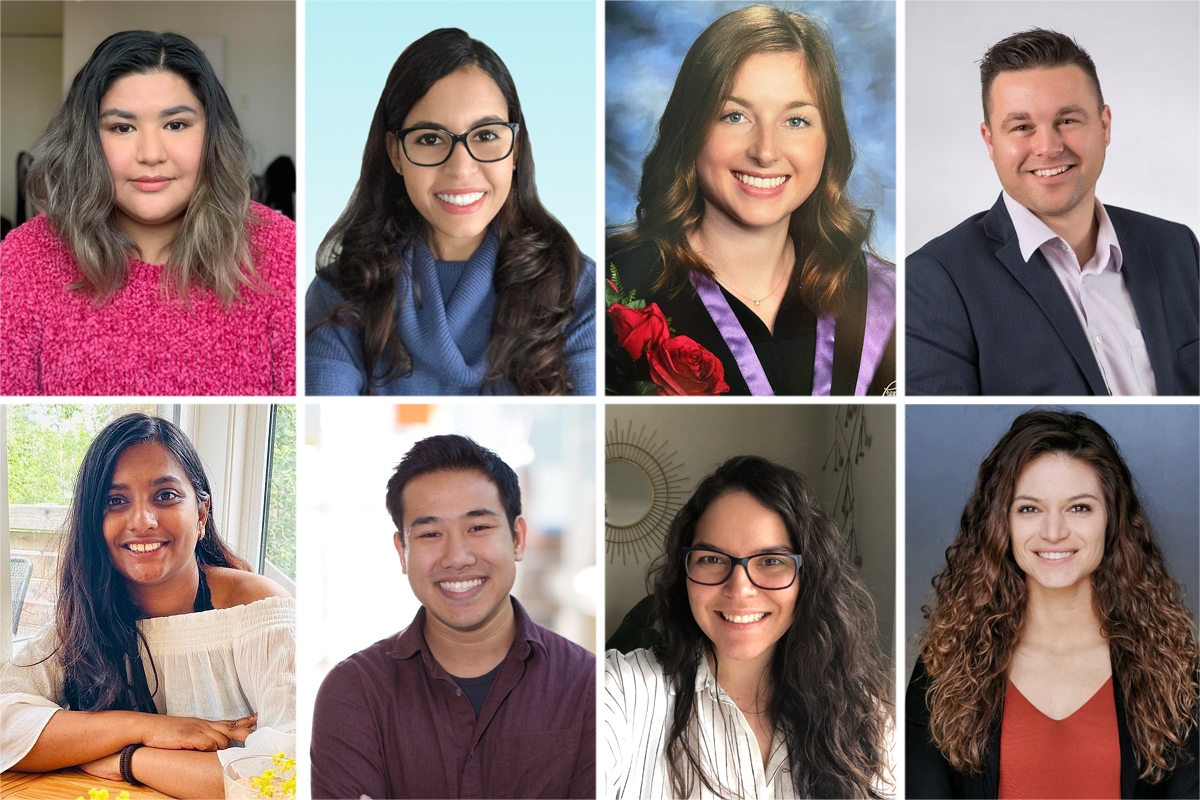 Eight grad students 'empowered' by Rady Faculty Dean's Prize
November 19, 2021 —
The Dean of the Rady Faculty of Health Sciences Graduate Student Achievement Prize was awarded to eight outstanding graduate students in 2021.
The award recognizes exceptional academic achievement, strong leadership skills and notable personal service of graduate students in the Dr. Gerald Niznick College of Dentistry, Max Rady College of Medicine, College of Nursing, College of Pharmacy and College of Rehabilitation Sciences.
"Congratulations to this year's recipients. This is a great accomplishment," said Dr. Brian Postl, dean, Rady Faculty of Health Sciences and vice-provost (health sciences). "The hard work and perseverance these students have shown has led them to this point in their academic careers and I'm eager to see what they all achieve in the future."
Each college could nominate one master's student and one doctoral student. Colleges without a doctoral program could nominate two master's students.
"Many congratulations to the awardees on being chosen for this prestigious and much-deserved prize," said Dr. Hope Anderson, vice-dean, graduate studies, Rady Faculty of Health Sciences. "The Dean of the RFHS Graduate Student Achievement Prize was established to bestow proud recognition of the important contributions made by our graduate students, and we send our best wishes for continued success."
PRIZE WINNERS
Corrine Clyne, a master of occupational therapy student in the College of Rehabilitation Sciences, is focused on understanding how the Western term "frailty" fits in relation to older First Nations adults. She said her professors have contributed to her success by being supportive throughout the program.
"This prize has encouraged me to keep working hard to advocate and ensure that culturally-safe care occurs for Indigenous clients in my occupational therapy practice," Clyne said.
Dr. Vivianne Cruz de Jesus, a PhD candidate in the department of oral biology at the Dr. Gerald Niznick College of Dentistry, is focused on understanding the role of taste genetics and oral microbes in the development of oral and systemic diseases, with an emphasis on severe childhood tooth decay. She said her supervisors have contributed to her achievements by providing opportunities to learn new research techniques, collaborate with other research teams and engage in leadership roles.
"Receiving this prize demonstrates that I'm on the right path towards my goal of becoming a clinician scientist," Cruz de Jesus said. "Receiving recognition for my academic achievements and community services during these challenging times is greatly appreciated and a very important motivation to continue doing my work."
Kailey Evans, who graduated in Fall 2021 with her master of physical therapy at the College of Rehabilitation Sciences, said she was overwhelmed and honoured to have been selected for the prize. She is passionate about working with older adults and has been a dedicated volunteer with them over the years.
"I am very grateful and excited to have competed my master of physical therapy so that I can continue to work with older adults in more of a rehabilitation setting," Evans said. "I hope to make a difference in their quality of life."
John Jackson, a PhD student in the College of Nursing, is researching how the amalgamation of nursing regulators affects the discipline of nursing. He said that it is a great honour to receive the prize and that his advisor, Dr. Elsie Duff, has been a great support.
"I hope that winning this prize creates space for further opportunities over time," Jackson said.
Alekhya Lavu, a PhD student in the College of Pharmacy, specializes in drug safety and pharmacoepidemiology, with a research program that focuses on medications in pregnancy and neonatal safety outcomes. She said that winning the prize has boosted her confidence and motivated her to keep going.
"Winning this award has acknowledged my leadership qualities, academic achievements and my personal service to fellow students, which has further strengthened my resolve to be a successful researcher in the future," Lavu said.
Toby Le, a PhD student in the department of medical microbiology and infectious diseases at the Max Rady College of Medicine, is exploring how DMPA, a commonly used birth control, is potentially linked to an increased risk for HIV infection. He said that this recognition wouldn't be possible without the continued support and guidance from his peers and mentors in the Fowke Lab.
"As a recipient of this honourable prize, I will uphold this award as a constant reminder to always strive for excellence and impact in my career," Le said.
Michaela Palmer, a master of science in genetic counselling student at the Max Rady College of Medicine, is focused on gaining a better understanding of the abnormal processes driving colorectal cancer development so that they can be exploited with new treatments to improve the lives and outcomes of those living with the disease. She said that the gratitude she feels has motivated her to pursue leadership, volunteering, community engagement and social accountability experiences to help others in the ways they have helped her.
"Not only is this award a symbol of the hard work it took to get into the master's in genetic counselling program at UM, it represents many of the values I hope to have as central pillars of my career and will inspire me to use my knowledge and future expertise to empower and connect with members of the community in a meaningful way," Palmer said.
Andrea Toews, a master's student in the College of Nursing, is researching how to best support health-care teams through the use of clinical debriefings after providing CPR. Throughout the COVID-19 pandemic, she has been working as a nurse in intensive care units and she said the experience has put her in a unique position to bring understanding and awareness to her research topic.
"I am truly grateful to be recognized for my achievements and contributions at this point in my academic career, and it further motivates me in my goals in clinical practice improvements," Toews said.