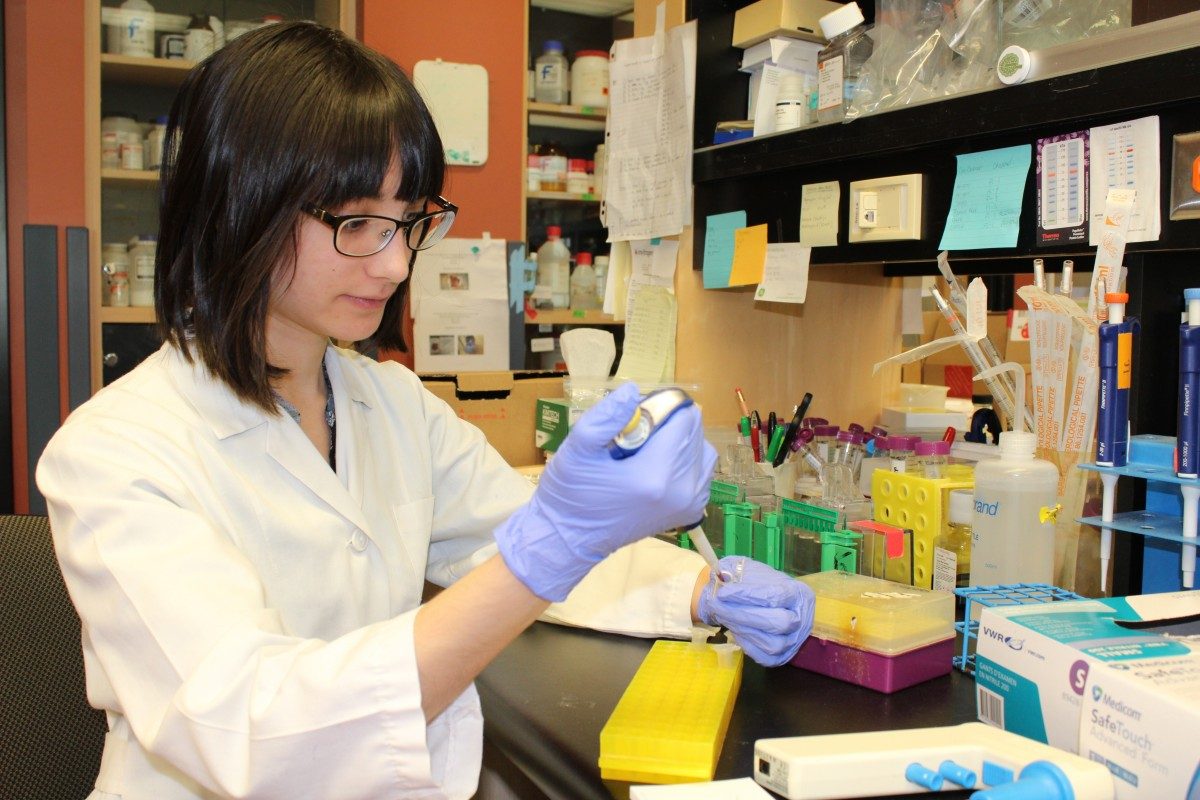 Eclectic researcher wages war on unseen enemy
April 10, 2017 —
Alexandra Ciapala is an introvert with a passion for biochemistry.
But the 25-year-old graduate student, nicknamed Lexi, is also an aspiring author who is writing a "sword and sorcery" fantasy novel.
She'd like to try her hand at science journalism. She loves drawing, painting, animation and theatre. She thinks she'll eventually become a clinical psychologist.
Put all those interests together, and you get an inkling of how Ciapala, a master's student in biochemistry and medical genetics at the Max Rady College of Medicine, Rady Faculty of Health Sciences, won second prize in the U of M's 2017 Three Minute Thesis research communication contest.
"It was the perfect mashup of science and art," says Ciapala.
"There's a lot of focus now on 'Find your one true calling and stick to it.' But I think of myself as more eclectic."
The competition challenged 30 graduate students, chosen from an initial field of 56, to explain their research to a general audience with no notes, one PowerPoint slide and a three-minute time limit.
Ciapala's thesis focuses on the role of a particular protein in the "supercharged" metabolism of cancer cells in chronic lymphocytic leukemia. She conducts research at the Research Institute in Oncology and Hematology, a joint institute of the university and CancerCare Manitoba.
She titled her three-minute presentation "Siege Tactics in Fighting the War on Cancer." Her projected slide was not a scientific diagram, but a painting of the siege of Constantinople in 1453.
We visited her in the lab to find out more.
Q: What's the biggest misconception people have about your research?
In my hometown, Fisher Branch, people hear that I'm doing cancer research and they think, "You're probably earning so much money!" People also think that it's fast. It could be 20 or 30 years until what you find out can be made useful.
Q: Can you describe what you're actually doing in the lab?
This lab is very focused on turning science into medicine. My protein is called Feline Gardner-Rasheed, or FGR. We want to figure out if it can be targeted with drugs. I'm studying actual cancer cells, either from patients or cultured in the lab.
Proteins are so small, you can't see them with a normal microscope. So we use indirect methods, like I change something about the protein and see what changes in the whole cell.
I also do drug treatments on the cells and use a type of microscopy that uses fluorescence. We can design antibodies to stick to the protein. If we stick a fluorescent light to the end of an antibody, like a beacon, we can use that to watch where the protein is going.
Q: In 2015, as a recipient of the Terry Fox Rising Star Entrance Studentship, you were able to spend four months at the BC Cancer Agency in Vancouver. What did you do there?
I was learning to use CRISPR, a method of genome editing, for making changes to the DNA of living cells. It's part of my arsenal.
Q: You're a huge fan of Japanese anime and of fantasy novelists like Robin Hobb. What parallels do you see between your creative passions and your scientific quest?
In a plot, even the most insignificant-seeming character can change the course of everything. Proteins are little characters. If my protein is doing something and I can find out what it is and influence it, I could change the course of the disease. It's very similar to writing a story.