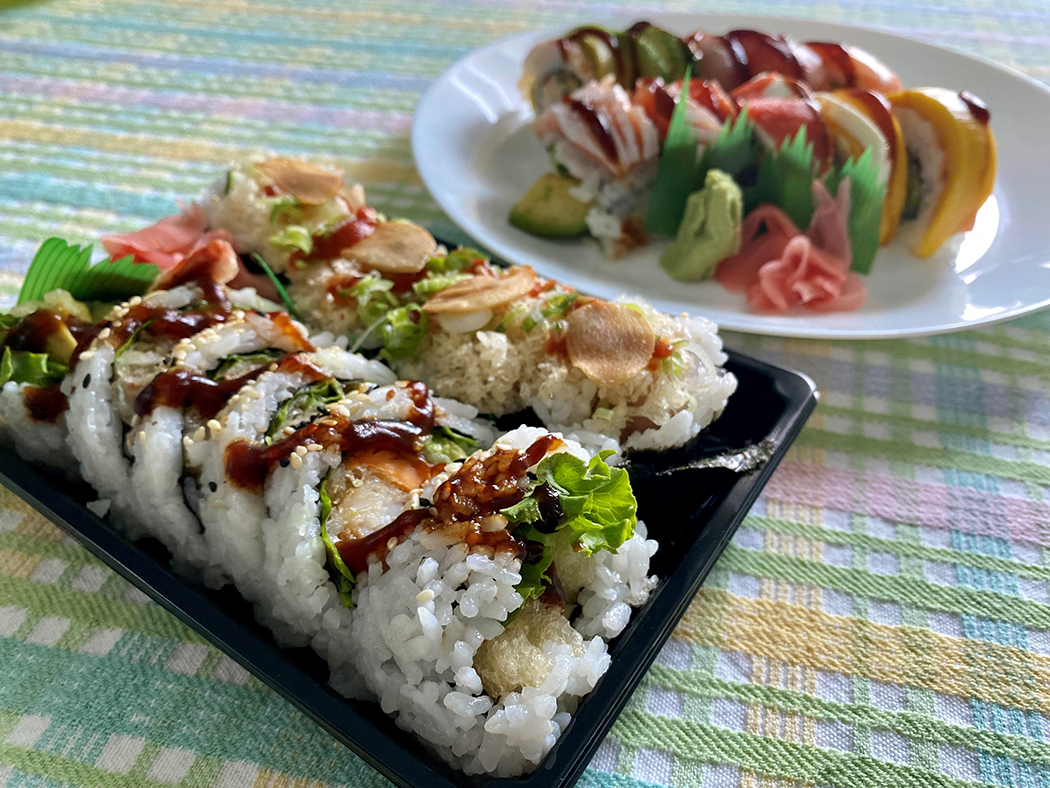 Eat local: Food for thought @ Bannatyne Campus
September 14, 2021 —
Faculty, staff and students who have been working remotely from home for 18 months will probably be craving a meal from their favourite lunch spot in the Brodie Centre or Bannatyne campus area as limited in-person activity ramps up.
Aramark Food Services' Starbucks, Tim Hortons and pop-up Burrito Splendido are open in Brodie Centre and the campus is surrounded by restaurants serving up international cuisine – from Ethiopian to Thai to Italian.
Head to Brodie or try a new eatery for dine-in, pickup or delivery where you'll be supporting a local business in the area and may even discover a new dish.
If you're now back working or studying on campus, you can cross Notre Dame Avenue or Sherbrook Street for a delicious meal from one of these restaurants:
Altanour Restaurant and Deli
587 Notre Dame Avenue
The menu at this Lebanese restaurant includes shawarma, kabob and falafel wraps. There are also more than a dozen platters to choose from, including biryani with a quarter-roasted chicken, grilled whole tilapia with rice and hummus topped with shawarma meat. For dessert, enjoy kanafeh, baklava or atief.
Gohe Ethiopian Restaurant
595 Notre Dame Avenue
This Ethiopian restaurant offers a variety of chicken, beef and veggie dishes – from doro wot to alecha wot to misir wot. If you can't decide on just one dish, try a combo and sample a variety of meat or veggie items. Dishes are served with injera.
Little Nana's Italian Kitchen
810 Beverley Street
Pizza and pasta are the featured items on the menu at this Italian restaurant. Pizzas range from the classic Margherita with pomodoro sauce to the more complex Semplice, which is topped with shrimp, chorizo, sundried tomatoes, asiago cream, ricotta and fresh pesto. Pasta dishes include spicy penne, spaghetti carbonara and fettuccine alfredo.
Tom Yum Thai
859 Sherbrook Street
This restaurant serves up a wide selection of Thai dishes. Appetizers include summer rolls, coconut prawns and stuffed chicken wings. Order Thai-style soups like tom yum and sukiyaki, or pad stir-fries like pad prik khing or pad peanut sauce. Or choose from a variety of fried rice, curry, noodle and fish dishes.
Watta Sushi
837 Sherbrook Street
Sushi is the star at this Japanese restaurant. Choose from a variety of classic rolls like the California, spicy tuna or dynamite. Or try the Lovely Roll, one of the special rolls created by Watta Sushi's head chef, made with deep-fried yam, cream cheese, fresh and smoked salmon, avocado and topped with tobiko.