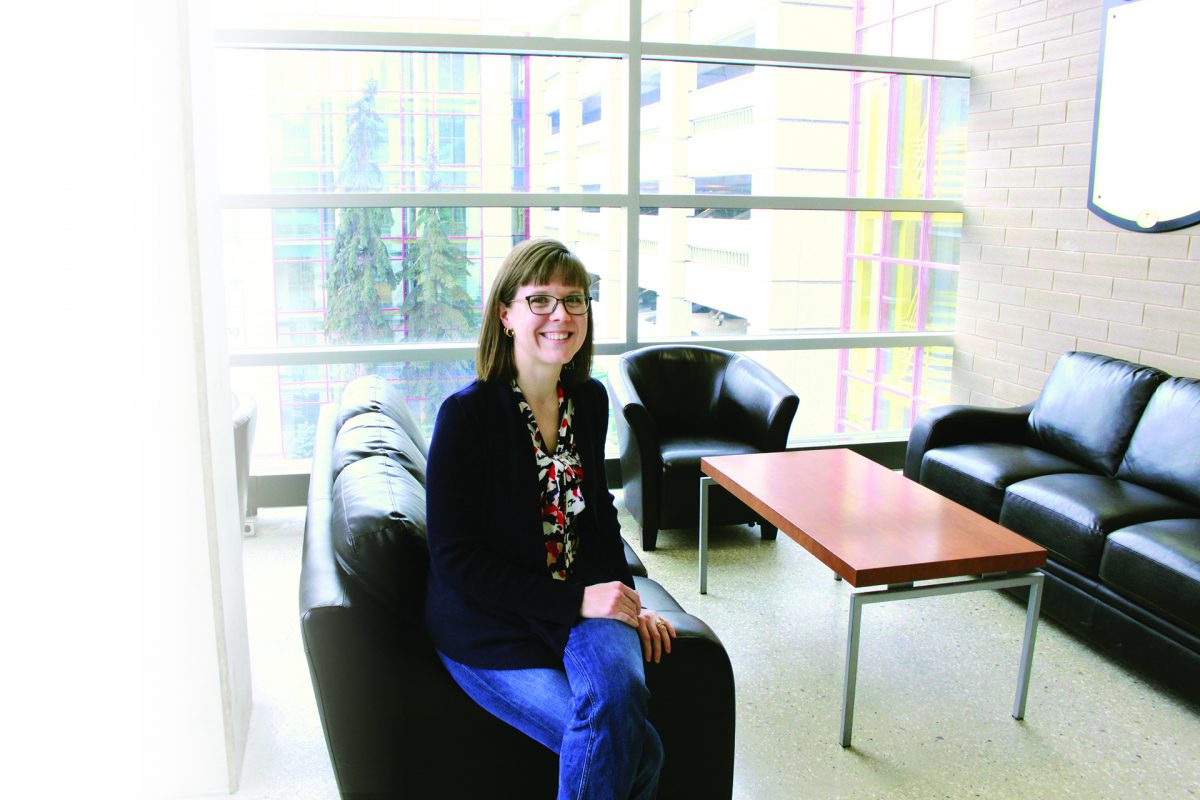 Early career UM pharmacy researcher wins CIHR award
April 29, 2020 —
Discovering how a reduction of blood flow to the brain may contribute to cognitive decline can help us better understand aging and the onset of dementia, according to a recent CIHR award recipient.
Dr. Jillian Stobart, assistant professor in the College of Pharmacy, has received a CIHR Early Career Investigator Award in Circulatory and Respiratory Health. The three-year, $345,000 award will assist Stobart in her research into the role of pericyte cells, which are vascular cells that wrap around blood vessels in the brain, and trying to understand the role these cells play in regulating brain blood flow and how this changes with aging.
There is a strong correlation between cognitive decline and a reduction in blood flow, which ultimately contributes to the onset of dementia in some people. Stobart believes this the result of the capillary cells not working as efficiently.
"My hope is that we'll have some really interesting results to characterize these cells and come up with a new angle to better understand cognitive decline and the reduction of blood flow with aging," she says.
The award is part of CIHR's mandate to develop and support researchers that are getting started in their careers, helping them gain independence, grow their research programs and hopefully set them up to be successful in other big funding competitions in the future. Only four awards were given out in Stobart's pool of applicants for this award and she ranked first.
Stobart says that finding out she received the grant was a surprise considering the competitiveness of the category. She is heartened to know that there is interest in her area of research.
"It was a pleasant surprise, especially with the dark times for research at the moment with all of us working at home and everybody's labs shut down," she says.
Over the course of the three-year project, Stobart will look at the progression of these cells in aging and how they change and their basic physiology to better understand how these cells communicate with each other.
"We've known for a hundred years that these cells exist in the brain but it's only been recently that we've developed the tools to study them more efficiently," says Stobart, "My research is taking advantage of some novel and exciting microscope techniques and new animal models that will allow us to really pinpoint these pericyte cells and figure out what their is role in regulating blood flow and how they communicate with other vascular cells."
The UM recently invested in the microscopic tool that Stobart will be using to do her work. She learned the techniques during her post-doctoral studies in Switzerland and is now helping to set up and establish the technology here in Manitoba. Stobart says this equipment will help her continue to grow her research program as well as open the door to collaborations with other researchers that are starting to branch out now that the technology is here.
"There are many different aspects of neuroscience and brain health we can study with these types of imaging techniques," she says.
Stobart is predicting that the project will lead her to find that the drugs that might be effective in preventing reductions in blood flow in the brain already exist.
"I expect to find that there are specific pathways and molecules that are changing with age. There are already drugs available that are used for cardiovascular treatments and I'm hopeful that my research will show that those drugs are possibly also beneficial for blood flow in the brain and cognitive decline in the future," she says.