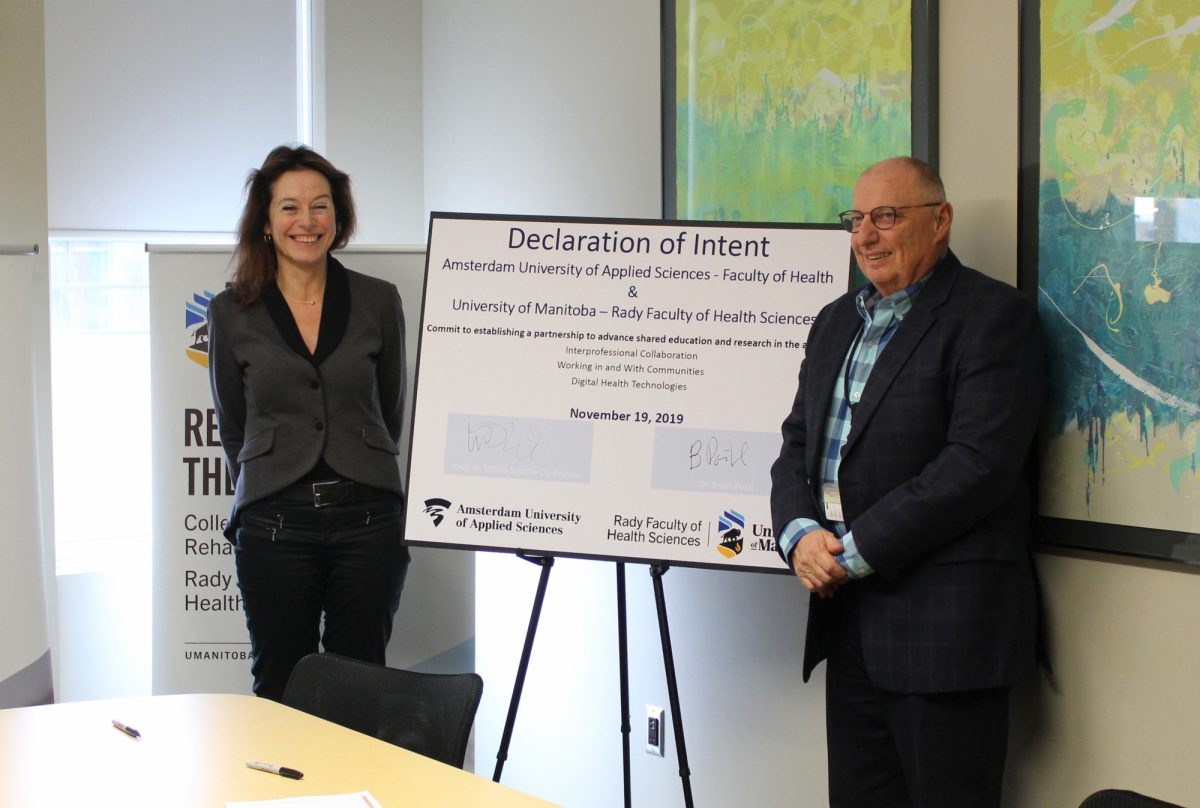 Dutch researchers welcomed at College of Rehabilitation Sciences
December 5, 2019 —
A new partnership between the University of Manitoba and the Amsterdam University of Applied Sciences (AUAS) looks to advance both institutions in the areas of rehabilitation sciences research and digital health.
The College of Rehabilitation Sciences, Rady Faculty of Health Sciences, hosted five members of the AUAS Faculty of Health on November 18 – 22. The visit included working sessions and discussions on three themes they plan to collaborate on: inter-professional education (IPE) research, working in and with communities and digital health technologies.
The universities were awarded a grant in June from the EU-funded Erasmus program to sponsor five lecturer/researchers from each facility to visit the other over the next two years. As part of the funding, representatives from the College of Rehabilitation Sciences will visit AUAS in 2020.
"We aim to bring new knowledge to our students, faculty and clinical community by promoting exchanges, collaborative research and new forms of outreach," said Dr. Reg Urbanowski, dean, College of Rehabilitation Sciences, Rady Faculty of Health Sciences.
During the visit, AUAS dean Dr. Wilma Scholte op Reimer and Dr. Brian Postl, dean, Rady Faculty of Health Sciences and vice-provost (Health Sciences), signed a declaration of intent to collaborate and advance shared education.
Among the highlights were a day trip to Lake Manitoba First Nation, where the college is involved in several initiatives through its Kiga mamo anokimin onji minoayawin project, and a visit to the Northern Connection Medical Centre, a Winnipeg-based primary care clinic that treats individuals from northern communities.
Dr. Margo van Hartingsveldt, head of the AUAS school of occupational therapy, said the visit to Lake Manitoba First Nation showed similarities between the universities' involvement in community partnerships.
"The aim in both countries is setting up projects for students to learn and recognize the enormous benefits they can gain from engaging in research or education in the community," she said. "For the U of M these projects are located in First Nation communities and for us, in the city of Amsterdam, in neighborhoods with many citizens with a low social economic position and a migration background."
The college also hosted a series of Illuminate speaker sessions, where faculty members from both universities shared overviews of their research with each other and rehabilitation sciences students.
One of the sessions focused on digital health technology and featured AUAS professor Bart Visser, along with U of M occupational therapy associate professors Jacquie Ripat, Amine Choukou and Ed Giesbrecht. The session focused on mobile health applications for older adults and people in wheelchairs and the use of technology such as sensors and remote monitoring systems in health-care practice, areas of research that are growing for both faculties.
Visser said he found the similarities to the universities' approach to digital health "striking," including mobile health applications aimed at behavioral change that have been developed. He said there is great potential to work together in this area in the future.
"It is a necessity to broaden the collaboration with computer sciences and engineering at both universities to make digital health a success," he said.
Urbanowski said the universities are finalizing details of faculty and student exchange agreements and developing an agreement on a joint research fund.