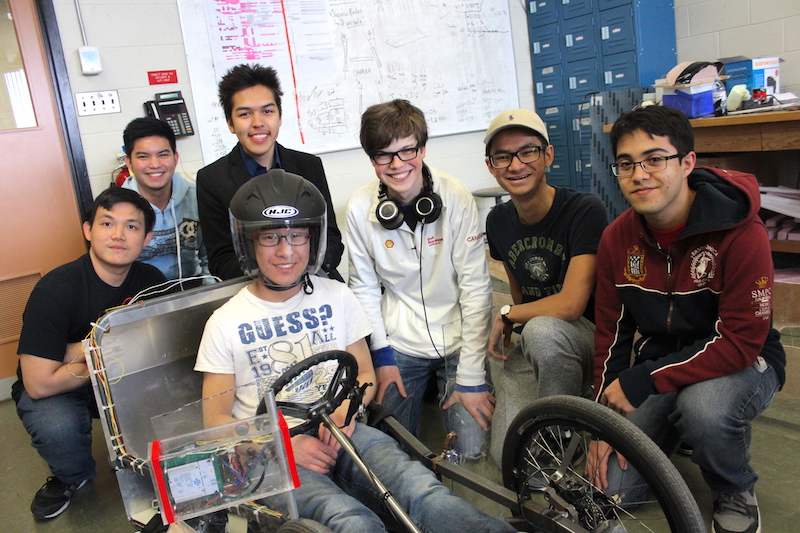 Drivers, start your batteries: Manitoban engineering students making their way to Motor City
April 25, 2017 —
republished from Winnipeg Metro
Twenty-four University of Manitoba engineering students were burning the midnight oil this week, building a battery-powered electric vehicle ahead of a road trip to Detroit Tuesday.
Between finishing up final tweaks, Mikskakakwan James Harper, 22, explained inefficiencies the UMEcoTeam is trying to iron out with the car — from tightening up loose bolts to eliminating wheel resistance and heat loss.
This is the first time U of M will send a team to the Shell Eco-marathon Americas competition, he said.
Once there, competitors try to travel the farthest on a single litre of fuel, going at least 35 kilometres per hour.
At last year's Eco-marathon in Asia, the winning battery-electric team from Thailand traveled 507 kilometres on their run.
By contrast, an alternative fuel team from Japan using ethanol as fuel clocked 2,040 kilometres.
Harper, a fifth-year engineering student originally from Sturgeon Lake Cree Nation in Alberta, spearheaded the project after a work placement at Shell.
He said he was surprised by how much interest there was from fellow students, who range in age from 18 to 25.
"Our team is very diversified and it definitely caters to a brand-new area of interest, compared to our existing vehicle competition teams here," he said, alluding to other vehicle competitions at the U of M. "We were already at 20 people in the first month (of September), so that meant to me, 'Wow, there was a gap here that needed to be filled.'"
Alan Huynh, a 20-year-old third-year engineering student, is excited to be the team's driver. He was chosen for the coveted role because he's one of the smallest in the crew.
"We did a test run yesterday and I was a bit nervous for that. But now, getting the feel for it — the wheel runs, the throttle and the steering — it's becoming more natural," he said.
Though he's graduating this year, Harper hopes U of M students continue improving on the project for years to come.
"It's part of a grander vision, a grander theme and a more conscious effort to use engineering skills to create sustainable products," he said. "And to ensure overall that the future of mobility is as environmentally-conscious and sustainable as possible."
By: Jessica Botelho-Urbanski Metro Published on Mon Apr 24 2017