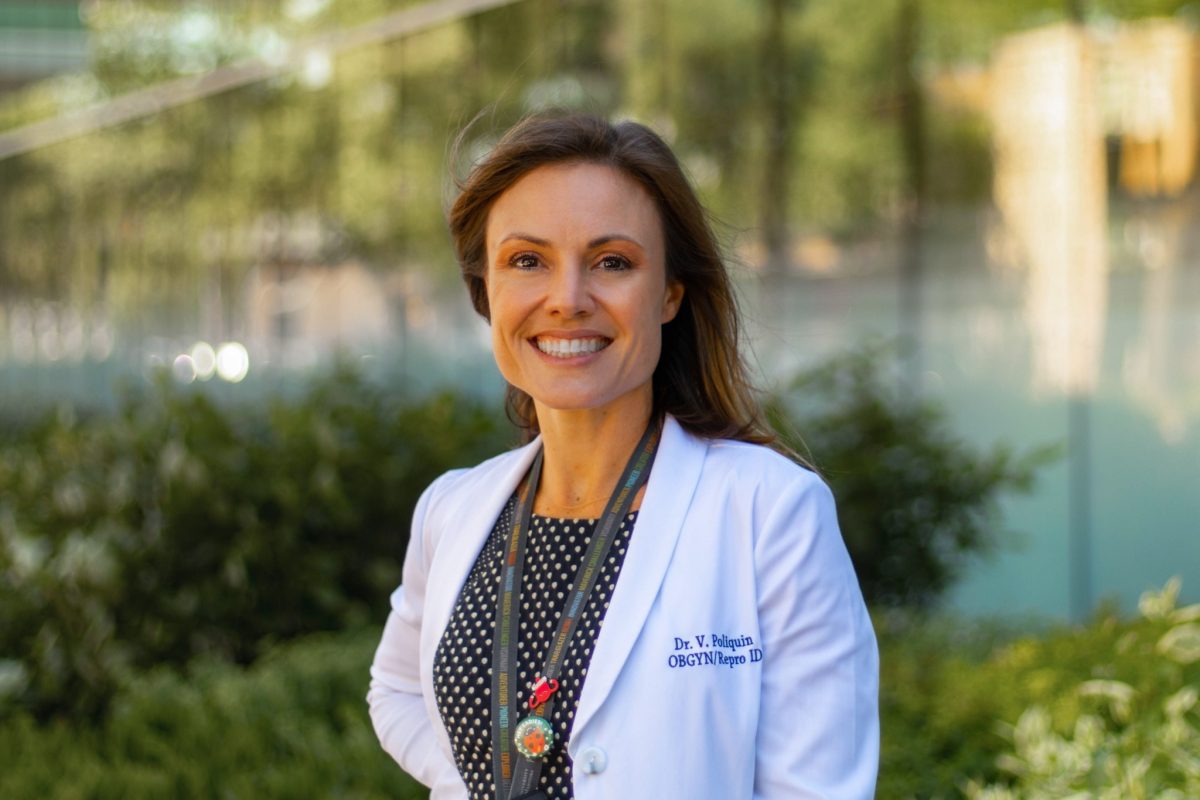 Dr. Vanessa Poliquin wins Canadian Medical Association Award
August 10, 2020 —
Dr. Vanessa Poliquin was awarded the Canadian Medical Association Award for Young Leaders (Early Career).
Poliquin, an assistant professor of obstetrics, gynecology and reproductive sciences, Max Rady College of Medicine, is one of two Canadian physicians to receive the award which is given annually to doctors who have demonstrated exemplary dedication and leadership, shown creativity and initiative, and acted as a positive role model for colleagues and peers.
"I found it hard to believe that there weren't others more worthy of this recognition," Poliquin said. "It was during the pandemic that it dawned on me that maybe receiving the award was a premonition of what was to come, because I began to feel that I deserved the award more during the pandemic than when I had actually been told I was receiving it."
Poliquin started her clinical practice in 2016 as a subspecialist in reproductive infectious diseases. In 2018, she became a full-time staff member of HSC Winnipeg Women's Hospital and a faculty member at UM. She is co-chair of the Society of Obstetricians and Gynecologists Infectious Diseases Committee.
While Poliquin was an on-call resident at UM, she noticed how little information there was to guide treatment of infections in pregnant women. She decided to reach out to Canadian reproductive infectious disease experts and worked with them to establish a distributed training program based at UM.
Since then, Poliquin has become one of the country's leading experts in the field. She has studied the immunization of pregnant women in Manitoba and discovered that immunization was almost never part of routine prenatal care before 2014. She has brought greater awareness of the issue to physicians across Canada through speaking engagements, publications of national guidelines and educational materials.
"Vanessa is an exceptional leader and a well-respected obstetrician-gynecologist amongst her colleagues, peers and patients," said Dr. Mary-Jane Seager, provincial specialty lead for Women's Health, Shared Health. "Her work during the pandemic has been instrumental in our health-care system's response, providing guidance to obstetrical-care providers and assisting with workforce planning throughout Manitoba while continuing to provide care for her patients."
Poliquin has been educating prenatal care providers on obstetric and gynecologic management during the pandemic. She continues to lead regional and national working groups to ensure pre-natal care providers have the most evidence-informed guidance at their disposal as the situation around COVID-19 evolves.
Poliquin will receive the award during a virtual ceremony in December.