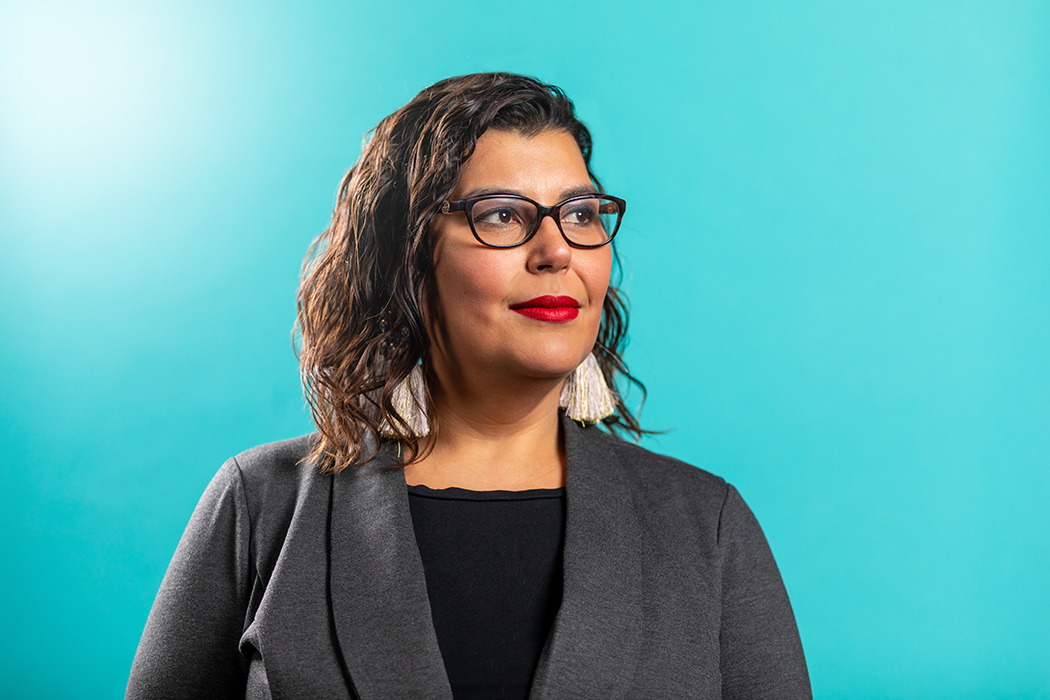 Dr. Marcia Anderson wins Lieutenant Governor's Award for Excellence in Public Administration
July 19, 2022 —
The Institute of Public Administration of Canada Manitoba region has announced that Dr. Marcia Anderson is the winner of the 2022 Lieutenant Governor's Award for Excellence in Public Administration.
The award, which was first handed out in 1987, recognizes the exceptional achievement of a person who has shown distinctive leadership in public administration in Manitoba or who has made a significant contribution in the field of public administration in the province.
"I'm honoured to receive this award," said Anderson, vice-dean Indigenous health, social justice and anti-racism, Rady Faculty of Health Sciences. "Since the time deputy minister Michelle Dubik reached out and asked for consent to nominate me I have spent a lot of time reflecting on the course of the pandemic. The work that we were able to do in support of First Nation communities, urban Indigenous communities, and diverse Black and racialized communities required so many people to share leadership, vision, commitment and love. People brought the best of their knowledge, experience and skills to do the best we could to close gaps in access and outcomes. That approach to serving our communities was what made the biggest difference in our pandemic response."
Anderson, a Cree-Anishinaabe physician, is a 2002 UM MD graduate. She serves as a medical officer of health for the Winnipeg Regional Health Authority and joined the Max Rady College of Medicine's departments of community health sciences and internal medicine in 2007.
"Dr. Anderson is highly deserving of recognition for her sustained leadership in advancing Indigenous health in the province, and for her unrelenting advocacy for the health care of Black, Indigenous and other people of colour during the COVID-19 pandemic," said Dr. Brian Postl, dean of the Max Rady College of Medicine, and dean of the Rady Faculty of Health Sciences. "She is an exemplary champion for health equity."
Anderson's influential leadership at UM has included advocating for a much more robust undergraduate medical education curriculum in Indigenous health, and for changes to the admissions process to increase enrolment of First Nations, Métis and Inuit students to medicine. In 2015, following the release of the Truth and Reconciliation Commission's final report, she led the development of the Rady Faculty's Reconciliation Action Plan.
Anderson's anti-colonial and anti-racism work at Ongomiizwin, the Indigenous Institute of Health and Healing in the Rady Faculty of Health Sciences, addresses the inequities and barriers Indigenous students may face in post-secondary institutions. Her work reflects her commitment to Indigenous learners and her passion for closing the health gaps experienced by Indigenous Peoples. In 2020, under her leadership, the Rady Faculty approved its Disruption of All Forms of Racism policy, the first post-secondary institution in Canada to pass an anti-racism policy.
With the onset of the COVID-19 pandemic, Anderson has excelled in a prominent public health role. She is the public health lead for the Manitoba First Nations Pandemic Response Coordination Team. This team, coordinated by Ongomiizwin, was created to support First Nations community pandemic planning, work collaboratively with partners to manage outbreaks, ensure First Nations communities receive accurate information, and track how the virus affects these communities.
Anderson has led provincial equity table discussions of the disproportionate impacts of COVID-19 on structurally disadvantaged populations. She has been instrumental in developing First Nations-specific COVID-19 surveillance information and has led the development of numerous resources, including guidance for spiritual practices during COVID-19 and the Manitoba First Nations COVID-19 Alert Levels. She frequently liaises between First Nations communities and the federal and provincial public health systems.
In 2018, Anderson served as a member of the cardiovascular and thoracic provincial clinical team to build Manitoba's first provincial clinical and preventative services program. From 2011 to 2016, Anderson was head of the section of First Nations, Inuit and Métis health at UM. During this time she implemented a plan that reduced the physician vacancy rate in Northern Manitoba from 50 per cent to five per cent.
The Lieutenant Governor will host an award ceremony at Government House at a later date.