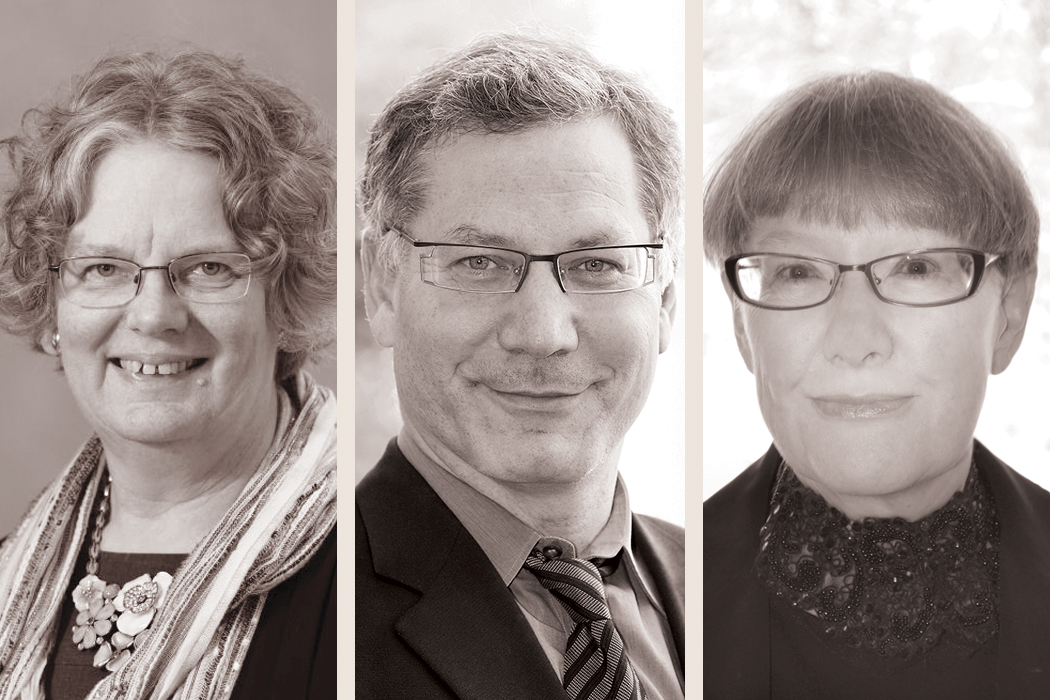 Newest Distinguished Professors celebrated at convocation
June 4, 2014 —
The University of Manitoba has elevated three faculty members to the status of "Distinguished Professor", a prestigious title whose rules dictate that only a maximum of 20 academic staff members may hold it at any one time.  It is the highest honour the University can bestow upon a professor.
The designation recognizes extraordinary, internationally-recognized, scholarly or creative achievement and an exemplary teaching record.
The newest Distinguished Professors are Dr. Charles Bernstein [MD/85] in internal medicine and Bingham Chair in Gastroenterology Research, Dr. Diana Brydon in English, film and theater and Canada Research Chair in Globalization and Cultural Studies, and Dr. Pat Martens [PhD/99] in community health sciences.
They were recognized at Spring Convocation 2014.
Dr. Patricia Martens, department of community health sciences
Dr. Martens is a Senior Scientists and former Director of the Manitoba Centre for Health Policy, an internationally acclaimed research centre at the University of Manitoba that focuses on population-based health services, public health and population health research. She is a Fellow of the Royal Society of Canada and a member of the Order of Canada and a Fellow of the International Lactation Consultants' Association.
Dr. Martens has been involved in various national committees, including Governing Board of the Canadian Foundation for Health Innovation, and Canadian Institutes of Health Research Advisory Boards. She has received various research career awards, and in 2010 she was named the YM/YWCA Woman of Distinction for Health & Wellness. She has been invited to speak at over 400 conferences around the world, and has published over 300 articles, reports, book chapters and abstracts. Her research interests include studies on health status and healthcare use, inequities, mental health, child health, and breastfeeding.
Dr. Martens began and co-directs The Need To Know Team, a collaborative research group of university academics working with planners from Manitoba's 5 Regional Health Authorities and the Manitoba Department of Health. This Team's research impact on health policy and planning was recognized through receipt of the prestigious CIHR's national KT Award for Regional Impact in 2005. In 2013, she received the R.D. Defries Award, which is the highest award of the Canadian Public Health Association. It is given for outstanding contributions in public health. Then, in 2014, she received the Justice Emmett Hall Laureat award for a lifetime of groundbreaking work that promotes the ideals articulated by Justice Emmett Hall: equity, fairness, justice and efficiency in Canada's health system.
Dr. Charles Bernstein, department of internal medicine
Dr. Bernstein is an internationally acclaimed expert in gastrointestinal and inflammatory bowel disease who has won numerous awards throughout his career, including the Rh Award for Outstanding Contributions to Scholarship and Research in the Health Sciences (1999). He received the Crohn's and Colitis Foundation of Canada Research Scientist Award (2001-2005), which he again won the following year (2005-2011), and in 2007 his peers voted him into Best Doctors Canada. In 2008 he was elected to the Canadian Academy of Health Sciences and in 2012 he was elected into the Royal Society of Medicine Health Sciences Division.
Dr. Bernstein earned his Medical Degree from the University of Manitoba in 1985 and completed his postgraduate training in internal medicine at the University of Manitoba. He has held many appointments at the University of California, Los Angeles and at the University of Manitoba since 1991, the year he received his Gastroenterology Board Certification from the Royal College of Physician and Surgeons of Canada and successfully completed the American Board of Internal Medicine's Gastroenterology Certifying Examination.
Dr. Bernstein is currently the Bingham Chair in Gastroenterology Research, the Section Head of Gastroenterology at the University of Manitoba, and Director of the University of Manitoba Inflammatory Bowel Disease Clinical and Research Centre, which he had led since 1994. This Centre has allowed for some of the most thorough population studies ever done in this field. One major project was the Manitoba IBD Cohort Study (a CIHR funded study), which followed approximately 350 patients for 10 years and is still ongoing, providing data describing predictors of outcomes: how IBD will evolve in certain scenarios and what determines disease outcomes. Other studies have examined the effects IBD has on bones, found links between IBD and asthma, and one study has recently homed in what could be a possible IBD-causing bacterium. His students, colleagues and collaborators throughout the world respect his vast expertise. He has published extensively in well-known specialty journals and has been an invited lecturer locally, nationally and internationally.
Dr. Diana Brydon, department of English, film and theatre
Dr. Brydon is a Canada Research Chair in Globalization and Cultural Studies and an internationally acclaimed literary critic known for her multifaceted and groundbreaking contributions to postcolonial literary and cultural studies.
Through her research at the University of Manitoba's Centre for Globalization and Cultural Studies, which she directs, Dr. Brydon assesses and develops ways in which research into globalization and the analysis of cultural practices can contribute to furthering trans-cultural understanding and interdisciplinary collaboration to address some of the challenges posed by globalization. Many common sense views of globalization are not supported by the evidence. By drawing on humanities and social sciences methods and perspectives, Dr. Brydon examines globalization and what it means for Canadian culture and Canada's place within a changing world system.
She has a strong record of bringing people together in collective projects that are shifting the terrain of knowledge production within interdisciplinary and transnational projects. Elected a Fellow of the Royal Society of Canada in 2008, she has published nine books, three special journal issues, 46 refereed articles, 38 book chapters, six chapters in refereed conference proceedings, and 53 book reviews. Her work has been translated into Chinese, Polish, and Portuguese.