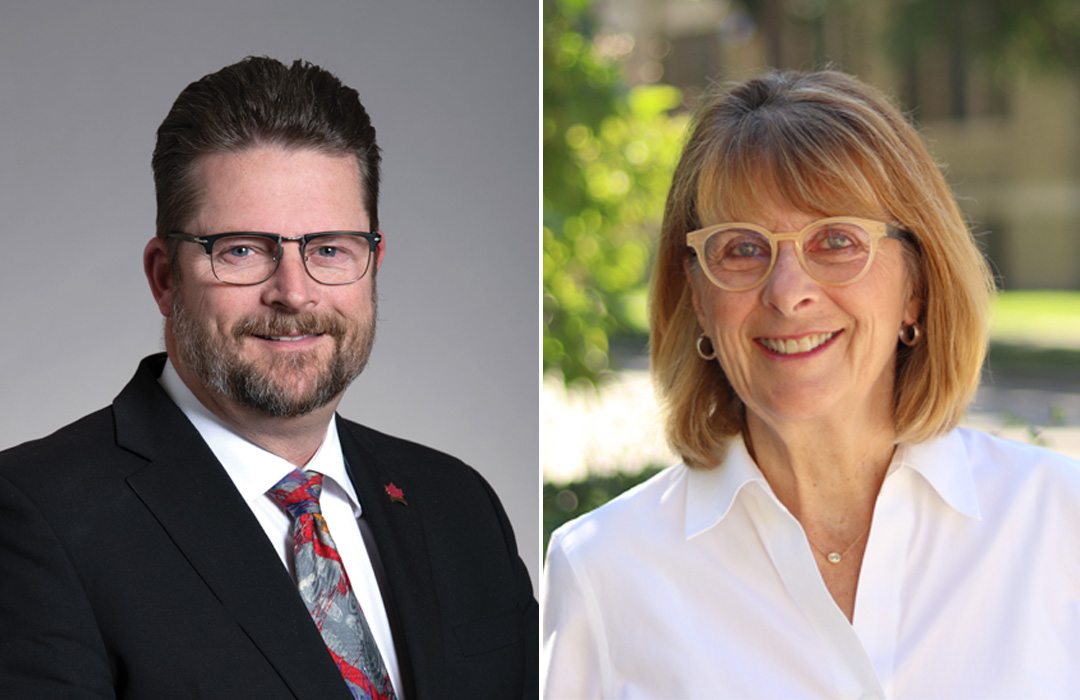 Distinguished dentist, dental hygienist to be honoured at alumni gala
September 9, 2022 —
A Winnipeg dentist who has been a local, provincial and national leader in the profession will be honoured during UM Homecoming with the Alumni of Distinction Award from the UM Dental Alumni Association (UMDAA).
Dr. Alexander "Sandy" Mutchmor, a 1983 UM graduate, will be this year's dentistry honoree when the Alumni of Distinction Awards gala is held at the Fort Garry Hotel on Friday, Sept. 23.
At the same event, the UM School of Dental Hygiene Alumni Association will recognize the contributions of retired faculty member Mickey Emmons Wener by presenting her with an honorary Alumni of Distinction Award.
Mutchmor, who was born and raised in Winnipeg, first participated in dental organizations as a student and has stayed involved throughout his nearly 40-year career.
He was a longtime board member of the Winnipeg Dental Society and the Manitoba Dental Association, serving terms as president of both organizations. He gave back to UM by helping to teach fixed prosthodontics at the dental school for eight years.
He became Manitoba's representative on the Canadian Dental Association board in 2011 and served as the organization's national president in 2019-20. He is a fellow of the International College of Dentists and of the Pierre Fauchard Academy, a service organization of dentistry leaders.
Mutchmor, who practises as a general dentist, has chaired many task forces, working groups and committees, demonstrating tireless commitment to advancing and strengthening the profession.
"Sandy is a man of honesty and integrity – an inspiration to us all," wrote his award nominator, Dr. Nancy Auyeung, director of continuing professional development at the Dr. Gerald Niznick College of Dentistry.
Although Wener is not a UM alumna in dental hygiene – she earned her bachelor's degree in dental hygiene at the University of Kentucky – she has been an influential member of the profession in Manitoba since moving here in the 1970s. She holds a UM master's degree in education.
Wener joined the UM School of Dental Hygiene faculty in 1978. She retired in 2012, having taught both dental hygiene and dentistry students. As an educator, she was committed to oral health promotion and community outreach. One of her initiatives was Soup Up Your Smile, an annual student outreach event for the homeless community.
"Few dental hygienists have accomplished what Mickey has … when it comes to promoting social justice and equity in oral health-care services for vulnerable populations," wrote Wener's nominators for the award, Dr. Laura MacDonald, associate professor of dental hygiene, and alumna Carol Yakiwchuk.
Wener's service to the profession included working to spearhead the passage of Manitoba's Dental Hygienists Act in 2005. She became the first council chair of the newly established regulatory body, the College of Dental Hygienists of Manitoba.
She has published widely, presented at many conferences and remains active as a consultant. Her honours include the Distinguished Service Award from the Canadian Dental Hygienists Association.
Tickets for the Sept. 23 Alumni of Distinction Awards gala at the Fort Garry Hotel, honouring Mutchmor and Wener, can be purchased through the UMDAA website. The event will also pay tribute to the Classes of 1970 and 1972.