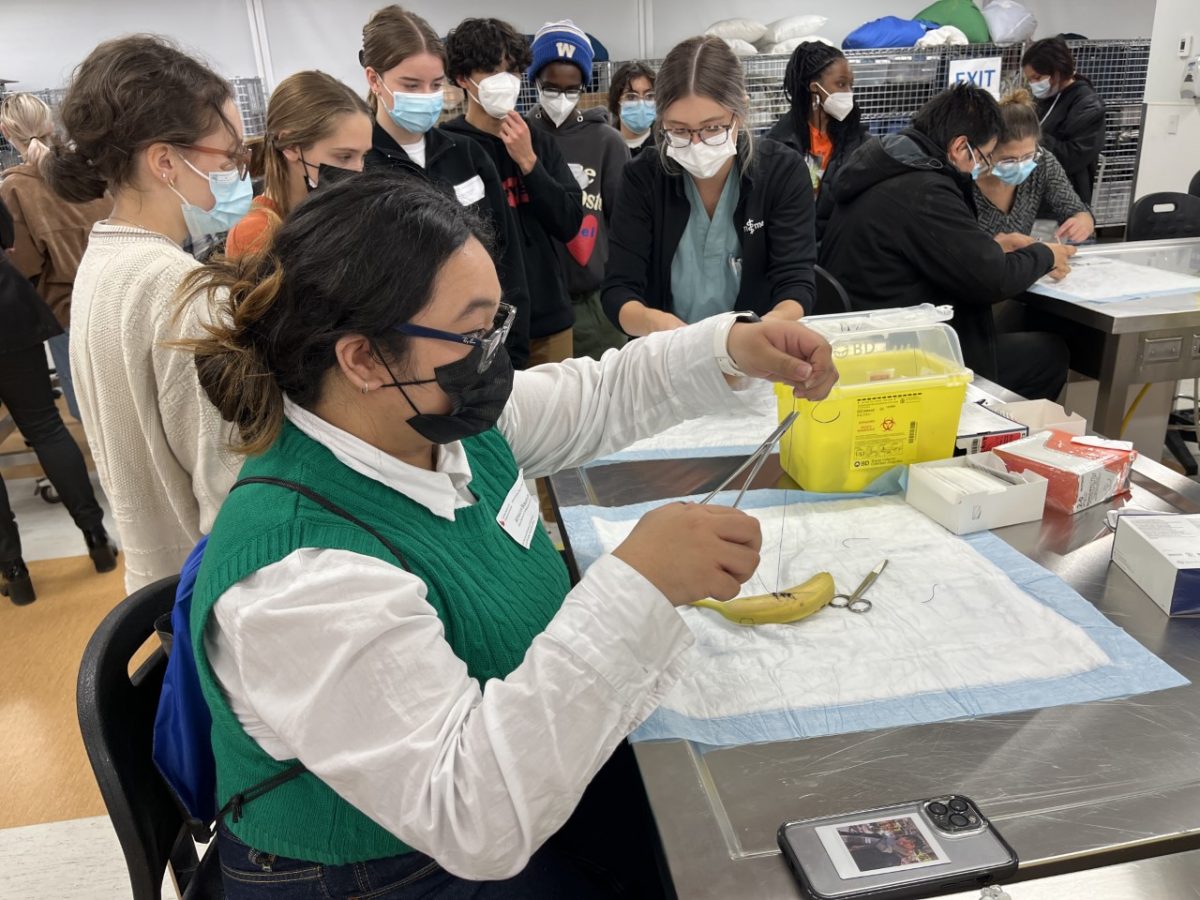 Discovery Day returns to Bannatyne campus for hands-on learning experience
November 18, 2022 —
Over 300 high school students from 70 schools across Manitoba attended the Canadian Medical Hall of Fame Discovery Days in Health Sciences November 10 to explore a wide range of career paths in health sciences-related fields with interactive workshops conducted by award-winning faculty members.
Hosted by the Rady Faculty of Health Sciences, the event took place in-person on Bannatyne Campus for the first time since 2019.
To start the day, students listened to the keynote lecture "Discovery, Pursuit and Everything Between" by Dr. Alain Beaudry, a Métis physician and economist, and chair of the Indigenous admissions stream in the Max Rady College of Medicine.
Beaudry told the students the inspirational story of the unusual career path he took that eventually led to his career in medicine and research, highlighting the importance of being patient when trying to figure out what kind of career to pursue.
"If you can latch on to areas that catch your interest through-out your career, you can be assured that you are on the right track towards a career that is meaningful," said Beaudry.
After the keynote, students attended two different sessions of 17 different workshops highlighting microbiology, nursing, dentistry, anatomy, occupational therapy, psychiatry and more. The workshops combined presentations and hands-on learning along with opportunities for discussion and Q & As.
"It's a fun opportunity to see different types of things you might want to do in the future for university, especially if you want to go into the medical faculties," said Atheicia Bautista, a grade 11 student at Daniel McIntyre high-school.
Bautista said she found the dentistry workshop "really fun" and also liked the hands-on aspect of the family medicine workshop that took place in the skills lab, where she got the chance to practice a variety of clinical skills physicians use on a daily basis, such as suturing and x-rays. "I really enjoyed it."
The final event of the day was the Health Pros Tell All career panel discussion and Q & As. The panel discussion, moderated by Lissa Foster, executive director of the Canadian Medical Hall of Fame, featured five health professionals from different fields who each shared their story of how they got to where they are today.
"The pandemic shone a light on the vital role health research and health care play in all our lives," said Foster. "Encouraging our youth to choose a career in this field where they can contribute in such a valuable way is important to the future of health for all Canadians."
Bautista said she will likely apply for one of the programs at the Rady Faculty of Health Sciences after high-school and that it helped to have the opportunity with Discovery Days to get comfortable with the campus and learn about the programs offered.