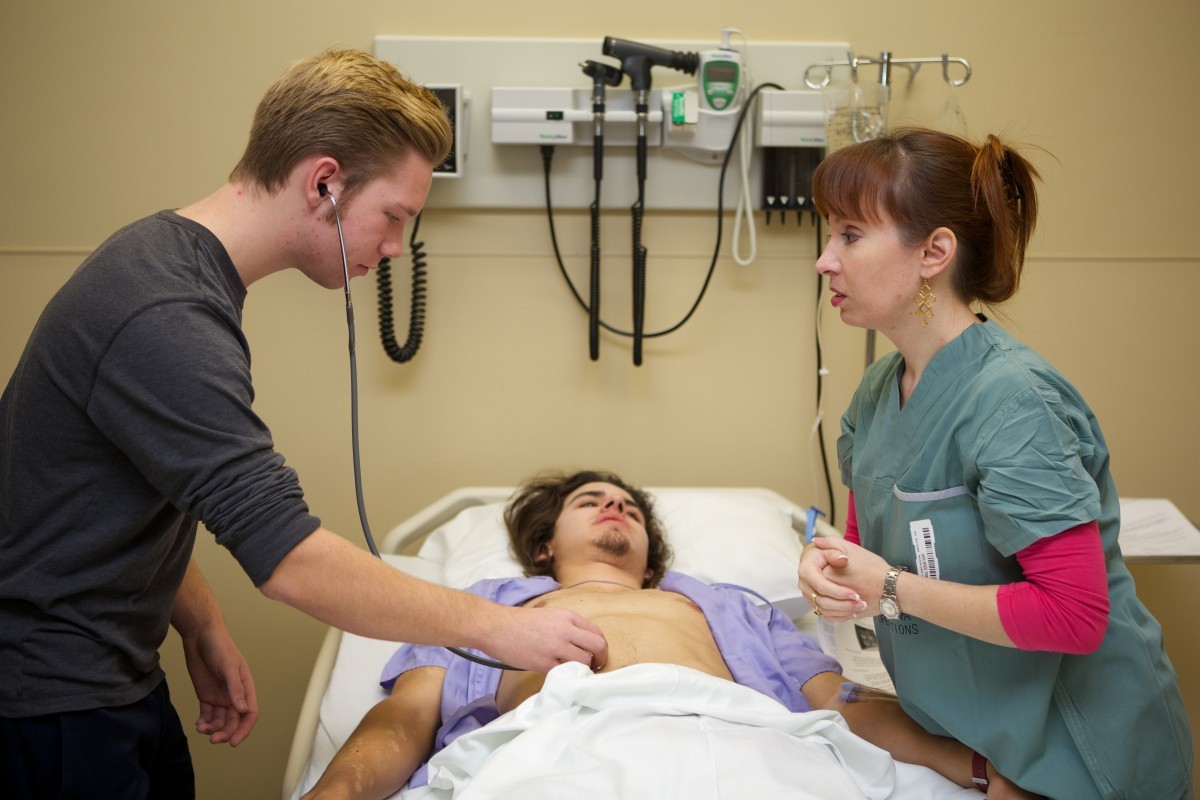 Discovery Day inspires local youth to explore careers in health sciences
October 30, 2015 —
On Friday, October 30, 2015 more than 290 high school students and teachers from 70 schools across Winnipeg and surrounding areas are converging on the University of Manitoba to explore careers in medicine and other health sciences. Some 25 per cent of these students are travelling from further than 350 kilometres away thanks to the generosity of sponsor travel bursaries.
At the TD Discovery Day in Health Sciences, hosted by the U of M's Faculty of Health Sciences, and The Canadian Medical Hall of Fame, students will speak with award-winning faculty members, take part in interactive workshops demonstrating real-world medical skills and get a clear picture of what it's really like to work as a health professional.
"We are excited to open our doors to high school students from across our province. This outreach program is an effective way to expose youth to careers in the health sciences and influence the future course of students from diverse populations," says Brian Postl, Dean of the Faculty of Health Sciences at the University of Manitoba.
When: Friday, October 30, 10:30 a.m. – 12 noon (media to check in at 10:25 a.m.)
What: Hands-on workshops at TD Discovery Day in Health Sciences at the University of Manitob
Workshop 1: HIV Research. This is a problem solving workshop where students are given a research question to address. By visiting lab stations in our HIV laboratory you are provided with enough information to "solve" the mystery.
Workshop 2:Occupational Therapy: Skills for the Job of Living. Have you ever thought about how you might make a meal with the use of one hand, safely move around your home in a wheelchair, or manage at work with mental health issues? Students will see (and try out) some of the ways occupational therapists can help people to live more independent and satisfying lives.
Workshop 3: Embryonic Stem Cells – The Future of Regenerative Medicine? In this workshop, students will see real mouse embryonic stem (ES) cells under a microscope. You will also watch and participate (as a group with a group leader from our lab) in conducting an "Alkaline Phosphatase assay".
Where:  Meet in Brodie Centre Atrium, 727 McDermot Ave., University of Manitoba Bannatyne Campus at 10:25 a.m.
For more information contact Garrick Kozier, Communications Officer, College of Medicine, Faculty of Health Sciences, University of Manitoba, 204-789-3828, or garrick [dot] kozier [at] umanitoba [dot] ca