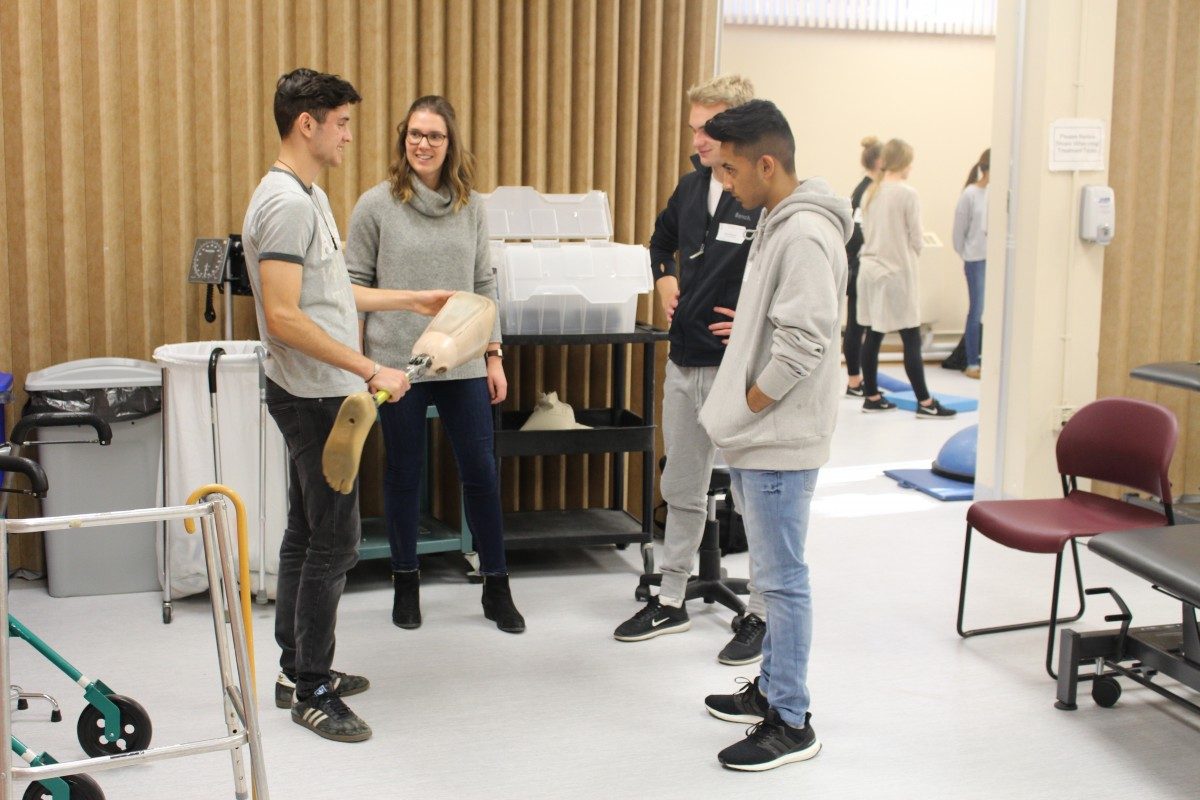 Discovery Day influences youth to pursue careers in health sciences
November 8, 2018 —
More than 330 high school students from 86 schools across Winnipeg and around the province will converge on the University of Manitoba on Friday, Nov. 9, to explore careers in medicine, rehabilitation sciences, pharmacy, nursing, research and other health sciences. Some students are travelling from as far as Thompson, The Pas and Churchill thanks to the generosity of sponsor travel bursaries.
At Discovery Day, co-hosted by the University of Manitoba's Rady Faculty of Health Sciences and the Canadian Medical Hall of Fame, students will interact with award-winning faculty members and researchers, take part in interactive workshops demonstrating real-world biomedical and other skills, and tour facilities, including Canada's only Level 4 containment laboratory where the Ebola vaccine was developed.
"We are excited to open our doors to young minds from across our province and see many of our research affiliates and partners also involved in this year's event," said Dr. Brian Postl, Dean, Rady Faculty of Health Sciences. "Discovery Day is a valuable opportunity for high school students to explore the diverse health sciences education and training we offer at the University of Manitoba and to expose them to the varied career opportunities in the health professions and biomedical sciences."
"Improving human health in Canada and around the world is vital to everyone's lives – and encouraging our youth to choose a career in a field where they can do this is equally vital," adds Lissa Foster, Executive Director of the Canadian Medical Hall of Fame. "More than 85 per cent of students who participate in this program across the country tell us this day helped them to solidify their plans to pursue a career in the health sciences, often helping them to identify a specific area of focus."
This program is free to student participants with support from national sponsor MD Financial Management and regional sponsors.
Agenda
Opening – Frederic Gaspard Theatre, Basic Medical Sciences Building, Bannatyne Campus
8:30 a.m. Opening Remarks
9:00 a.m. Key Note Lecture – Dr. Sara Goulet, Family Physician, Ongomiizwin, Indigenous Institute of Health and Healing
9:30 a.m. Key Note Lecture – Linda Lam, third-year medical student
10:00 a.m. Workshops begin
Media are invited to interview/video participants at 10:00 a.m. at the following workshops by meeting in Brodie Atrium, 727 McDermot Ave.:
• Nursing Skills with Injections and Ostomies
• Respiratory Therapy
• Ongomiizwin: Cultural Teachings and Indigenous Health
• A Day in the Life of a Microbiologist
Full workshop catalogue available online.
ABOUT THE CANADIAN MEDICAL HALL OF FAME
Established in 1994, the Canadian Medical Hall of Fame (CMHF) is a national charitable organization that fosters future generations of health professionals through the celebration of our country's rich medical history, scholarship and awards programs, and the delivery of both local and national education programs for youth. Annually, six individuals are recognized for their extraordinary contribution to improving the health of Canadians and people world-wide. This enduring tribute to Canada's medical heroes is showcased on the CMHF website www.cdnmedhall.org and in a portrait gallery, exhibit hall and media theatre located in downtown London, ON.