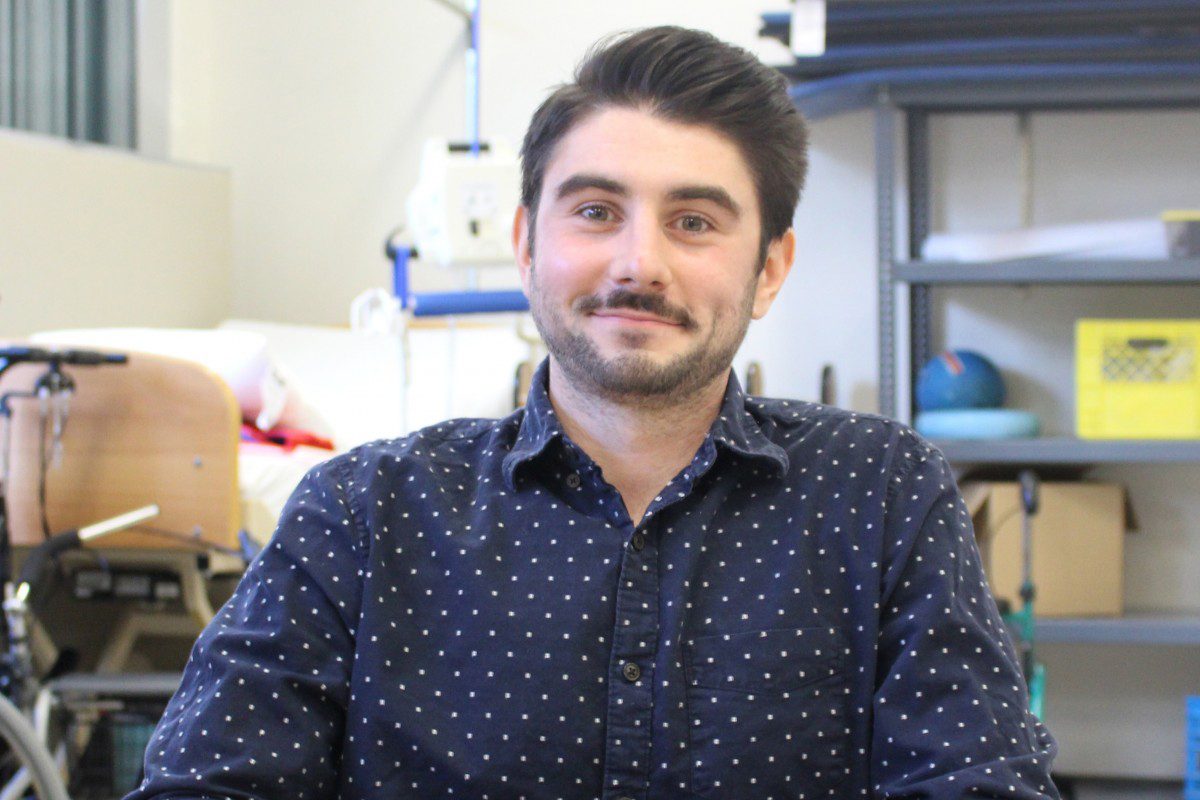 Discovery Day drives OT student to find his career path
November 7, 2017 —
Atley Durette always knew he wanted to be involved in some area of health care but didn't have a focus until he came to Discovery Days as a grade 12 student and discovered occupational therapy.
"I didn't know much about occupational therapy but my dad said I should try it out," Durette says. "I signed up for Discovery Day and came here to the Bannatyne campus. I fell in love with the profession. They did everything they could to 'peacock' the profession and ever since graduating from high school in 2011 I've been dedicated to becoming an OT."
Co-hosted by the University of Manitoba's Rady Faculty of Health Sciences and the Canadian Medical Hall of Fame, Discovery Day gives Grade 11 and 12 high school students the opportunity to speak with award-winning faculty members, take part in interactive workshops demonstrating real-world medical skills and get a clear picture of what it's really like to be a health professional.
Now in his second year of the Master of Occupational Therapy program, Durette is excited about the array of possibilities in his chosen field.
"During a fieldwork placement I was at Community Therapy Services (CTS) and the Society for Manitobans with Disabilities. A lot of it involved wheelchairs and seating and there was also a home care portion with CTS and I absolutely fell in love with that part of the career," he said. "I like being out in the community and I like getting to know these people in their own context. There were many areas that I maybe could've gone into but they did such a good job at Discovery Day a few years back I just wanted to do this."
The pattern of inspiring future healthcare professionals at Discovery Day may be repeating itself. Gurman Toor, a grade 12 student from Faith Academy, said that he was inspired after attending an info session on physiotherapy.
"I've been thinking about what I want to do. I wanted to do chiropractic first but I like the idea of treating the patient so they don't have problems in the future so that's why I kind of want to do physical therapy now," he said. "I always knew I wanted to do something that was a mixture of medical and physical at the same time. Physiotherapy really met in the middle for me."
More than 370 high school students and teachers from 81 schools across Winnipeg and surrounding areas converged on the University of Manitoba Friday, Nov. 3 to explore careers in medicine, rehab sciences, pharmacy, nursing and other health sciences.