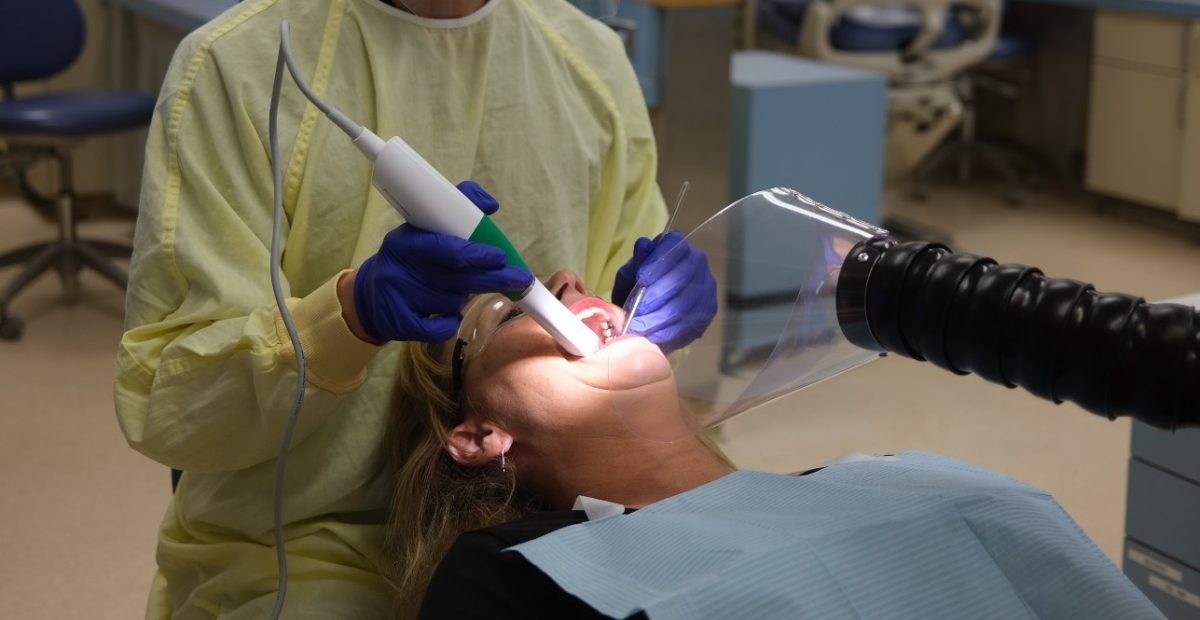 Making a good impression: Digital dentistry revolutionizes scanning
February 4, 2021 —
Students in the Dr. Gerald Niznick College of Dentistry will use digital technology for the first time to create dental impressions of patients visiting the undergraduate clinic.
The fourth-year students will use Planmeca Emerald intraoral scanners to create 3D models of patients' teeth and gums. This process eliminates the need for creating the more time-consuming, traditional alginate impressions.
Instead, the students will use a handheld wand connected to a computer to scan the teeth and gums of a patient. A computer program then creates a 3D model of the mouth that will be used by a lab to develop a crown.
Dr. Charlene Solomon, assistant professor, division head prosthodontics, Dr. Gerald Niznick College of Dentistry, said there are plenty of benefits to using intraoral scanners including patient comfort.
With intraoral scanning, the alginate used to make the traditional impression does not need to be placed in patients' mouths, which, she said, can cause some people to gag.
Another advantage is that if a student needs to implement any changes to a preparation, the patient isn't required to return to the clinic for another appointment. Solomon said that because they have an immediate digital image of their preparation, the student can easily make corrections at the chairside and immediately rescan the preparation.
"Digital dentistry has really revolutionized how we do things and it needs to be incorporated into the curriculum," Solomon said. "Students thrive on this. The young people love digital technology. They get excited when they use scanners, and that translates to patients getting excited about the process."
Fourth-year student Derek Oryniak is one of the learners looking forward to gaining clinical experience with the state-of-the-art intraoral scanners.
"Our hope is that learning these techniques in school under the supervision of expert instructors will help us gain insight into these techniques and their appropriate application," Oryniak said. "Having this option available for patients will provide them additional choices and hopefully enhance their experience."
Dr. Rene Chu, assistant professor, department of restorative dentistry, and digital dentistry advisor, Dr. Gerald Niznick College of Dentistry, said that the college has used intraoral scanners in the past for training students before they enter the clinic. While he said they were good for learning, the technology has advanced in the past five years to where they can use the new scanners in the clinic because they are much faster.
"All of dentistry is moving towards greater and greater inclusion of digital technologies," Chu said. "For the school to stay up to date and continue to be a leader in dentistry we have to incorporate these technologies, so our students have access to it. Upon graduation, many of the students will work in environments with access to advanced digital dentistry and we are happy to provide the foundational training for their future successes."
The college purchased three intraoral scanners as part of the Dr. Gerald Niznick Advancement of Implant Medicine fund to introduce digital dentistry into the college's dental clinics.