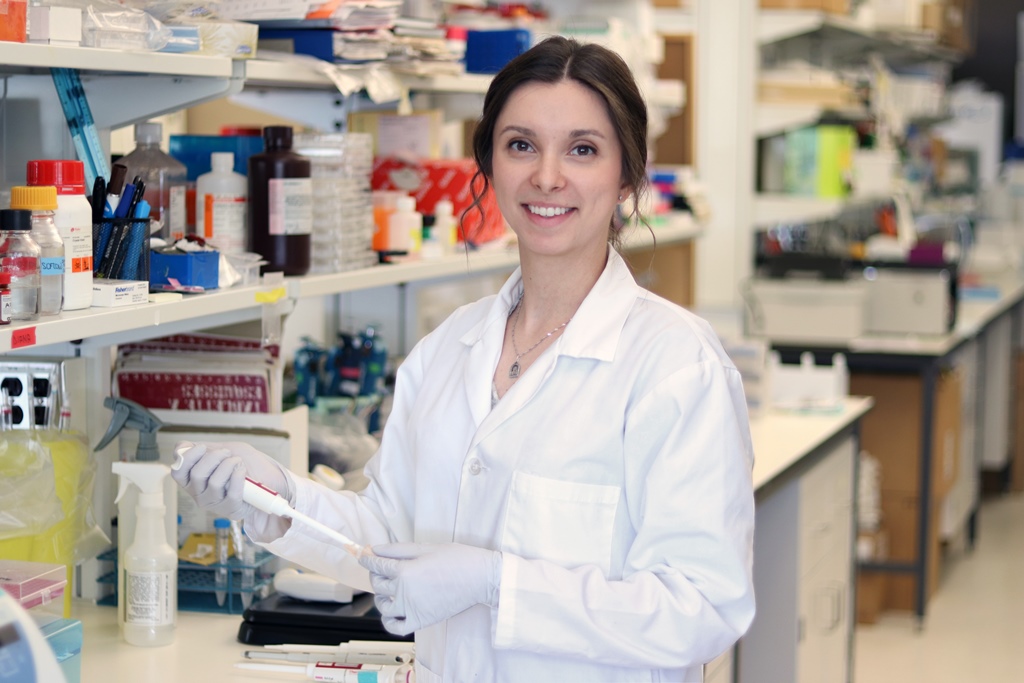 Rady grad student profile: Diana Topolnitska's love of science inspires her cancer research
July 31, 2023 —
Diana Topolnitska was born in Husyatyn, Ukraine, and came to Manitoba at age three where her family established roots and found success. Topolnitska, now a PhD student in the department of immunology at the Max Rady College of Medicine, is a 2018 Fourth-Year President's Scholar and recipient of a Canadian Institutes of Health Research graduate scholarship. She works under Dr. Afshin Raouf, associate professor of immunology.
UM Today sat down with Topolnitska to talk about her pathway to a PhD program and what motivates her to conduct immuno-oncology research.
What inspired you to pursue your field of study?
Fighting cancer is hard on the body's immune cells. They get tired and then they stop targeting the cancerous cells. Essentially, immune cells exposed to cancer cells don't get a break from stimulation, causing immune cell dysfunction.
Due to the failure of conventional cancer therapies over an extended period of time, research efforts have become increasingly focused on manipulating a patient's own immune cells, in particular the T cells, to fight against cancer cells. That's been successful against some types of cancer, but they've had limited benefit against breast cancer tumours. One of the reasons for this is due to the development of a dysfunctional phenotype.
Our research group is interested in identifying the mechanisms involved in the development of T cell dysfunction in the breast tumor microenvironment.
You were recently awarded $17,850 by Research Manitoba and CancerCare Manitoba to pursue a research project, Insight into the Cellular and Molecular Mechanisms of T Cell Dysfunction in the Breast Tumor Microenvironment. What was your reaction?
I was ecstatic and immensely humbled to receive the award. It is a great honour.
Why did you choose the University of Manitoba for your graduate studies?
After my undergraduate degree in microbiology at UM, I starting working part-time at a pharmacy, but I soon felt the pull of academia again and began exploring options for graduate studies. I found my principal investigator (PI) on Twitter. Welcome to the 21st century!
I was interested in both Dr. Raouf's work and the rapidly evolving field of immuno-oncology, so began my master's degree at UM with him in 2021. I fast-tracked into the PhD program in January 2023.
What else motivates you to do the work you do?
I've loved science ever since I can remember, so a career in research just feels right. It is very intense. But it's love for the project that keeps me going.
What are your plans when you finish your studies?
After I complete my PhD, I plan to continue on to postdoctoral studies. As of right now, my dream is to become a principal investigator and have a lab of my own.
This Q&A is part of a series on UM Today this summer featuring Rady Faculty of Health Sciences graduate students. You can find more grad student profiles here: #Radygradstudents.