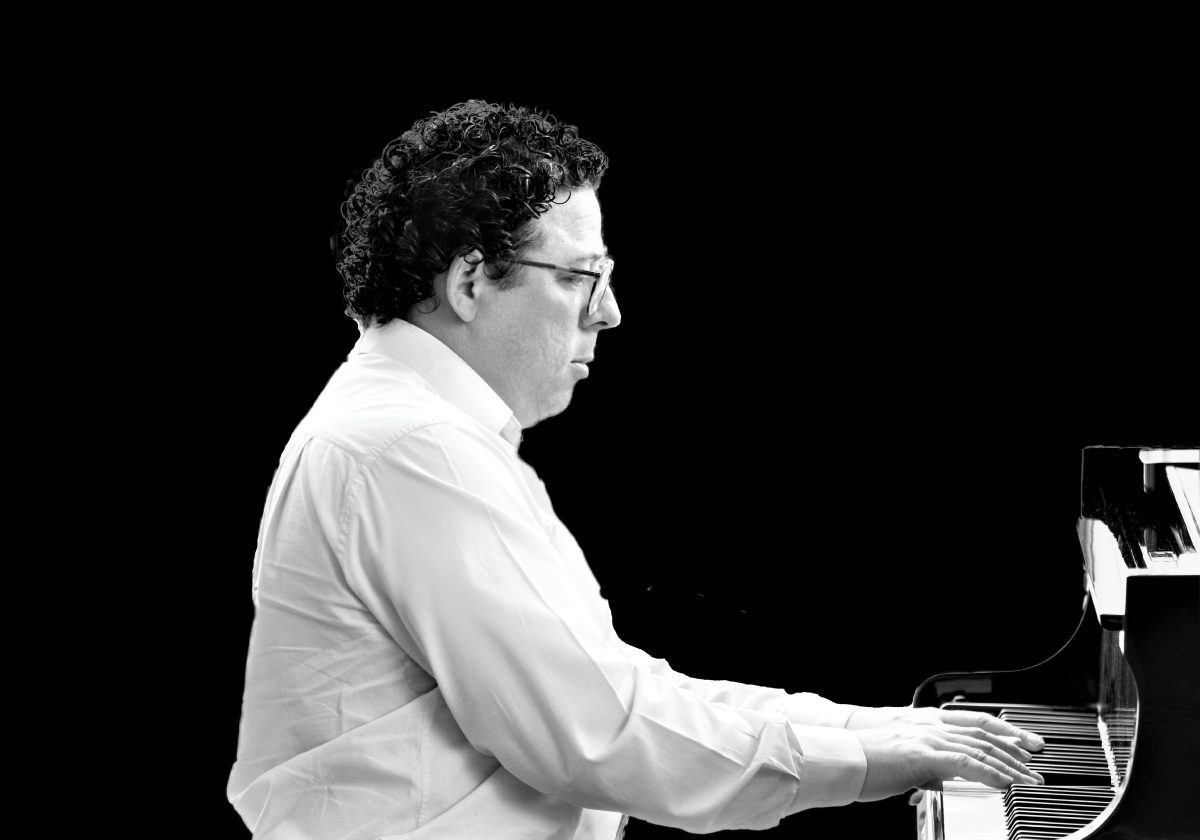 Dhiego Costa's piano playing will take you to a different realm
2020 DFOM graduate Dhiego Costa is so cool, but his piano playing is red-hot!
July 28, 2020 —
NOTE: We in the Desautels Faculty of Music are incredibly proud of our students. While COVID-19 is sidelining in-person commencement ceremonies around the globe, we want to find alternate ways to celebrate our graduates and give them the recognition due to them. Until we can gather together to properly applaud the years of study and practice that have led to this milestone, please join us in congratulating our 2020 Desautels Faculty of Music graduates.
Today we celebrate Dhiego Costa!
Dhiego Costa lives and breathes music, and has been a regular fixture of the practice rooms and jazz ensembles in the Desautels Faculty of Music, always giving stunning performances. Costa has remarkable talent and an assiduous work ethic, and the combination of his cool demeanor and warm personality are marvellous. However, he wasn't always on the path towards music. Surprisingly, we have Brazilian journalism to thank for his entry into music.
"It's a funny story how everything started, because no one in my family plays an instrument of any kind," says Costa, who hails from João Pessoa, Brazil.
"My father used to read a lot of newspapers and magazines back then. He was a subscriber of a famous magazine in Brazil, and I remember that there was a monthly magazine that came with a special edition about classical music," says Costa.
"A classical series CD came with it. My father did not care about the CD, he just wanted to read, but I DID care about the CD. I can't remember everything about that CD, but one thing I sure remember: Beethoven Piano Concert No 5 Op.73 – Emperor," he says of the moment that changed everything.
"That was the first time I listened to classical music, and that track just blew me away. I didn`t understand what I was listening but I knew right there that music was something that I wanted to do as a career, but I did not know exactly what I wanted to be," he says.
And so his journey to discovery began. Shortly thereafter, at age 16, Costa began playing keyboard.
"My start in music happened by accident, actually," he says.
"There was never an intention to get me on keyboard lessons. What happened was that our next door neighbours – two brothers who had moved from another town to do some business in my hometown. They happened to know how to play the keyboard – not professionally, but just for fun. My parents enrolled me and my siblings to take some private lesson with them, and that is where everything started. My brother and my sister dropped out, but I kept going and going," he says.
"They say it is too late to start learning piano at this age, but it is never too late," Costa says.
"I guess you just have to work harder to catch up the time you missed when you were younger!" he explains.
After completely a bachelor of music in Brazil, all of Costa's hard work has now earned him a Master of Music with a focus on jazz piano!
Costa makes playing the piano look effortless, and he is as well-versed in classical music as he is in jazz. With his gorgeous and soulful playing coupled with his incredible technical skills , we'd say he's caught up very well!
In the faculty
When Costa first considered doing a master's degree, he found the University of Manitoba online, and reached out to the Jazz Faculty, where he met the professor who would become his mentor.
"Dhiego first contacted me from Brazil about our Master of Music program, and after a year of back and forth, he moved here with his family," says Will Bonness, associate professor of music in jazz, and Costa's eventual major practical study instructor.
While the jazz faculty knew that Costa was a remarkable pianist, they could not have known just how much his presence would enrich the faculty.
"We were so lucky to have him here!" exclaims Bonness.
"He has been a fantastic addition to our music community, bringing knowledge of and experience with Brazilian music to our jazz program. He made enormous progress in his two years with us, and I am excited to see what he does next!" says Bonness.
During his time in the faculty, Costa performed in the small jazz ensembles of both Fabio Ragnelli [assistant professor of music in jazz drum set] and Will Bonness [associate professor of music in jazz piano].
"Both ensembles were an amazing experience to me – I really mean it," he says.
He even found a touch of home in his ensemble work.
"Fabio is an incredible drummer and he is really into Brazilian music as well, he knows a lot of Brazilian stuff!" says Costa.
The group even arranged some Brazilian music for the ensemble's performances. Costa initially found the adaptation to ensemble work challenging.
"I just had got out of a full time job playing piano solo for over six years in a restaurant," he explains.
"Although the ensemble is a small and more intimate setting, with a few instruments, and was different from what I was doing before. That format was new for me and I was kind of learning my role and function on the go. Jazz was not my background. Everything I knew about jazz was self-taught pretty much," he says.
Still, he adjusted well, and in the ensemble met a group of peers, and a Canadian family.
"I'm glad I had the opportunity to have great musicians in my ensemble. We helped each other," he says of that first year in Canada.
Ragnelli was impressed by Dhiego's talent and ability to adapt.
"Dhiego was an absolute pleasure to work with. His passion for music and improvisation is unprecedented," says Ragnelli.
"I look forward to hearing him in the many years to come!" he adds.
It was in this first ensemble that Costa performed one of his favourite songs learned in his time in the DFOM.
"The most exciting tune I performed was 'What a Little Moonlight Can Do' by Billie Holiday," he says.
"It was vibrant, really up tempo (320 BPM). I mean REALLY fast," he says of the challenging piece.
"It was so energetic and powerful. It kept me focused one hundred percent one during the performance, I couldn't even blink. That was the fastest song I have ever played in my whole life," he says.
"On top of that I had to improvise as well – oh my God. But at the end of the day we pulled it off!" he says of the proud moment.
The next year, Costa performed with Will Bonness' small jazz ensemble.
"On my second ensemble things got crazier – I mean that in a good way, but it was tough!" says Costa.
"We called ourselves the odd-meter ensemble, and challenged ourselves to work on odd-meter time signature tunes. For some of the members odd-meter wasn't as challenging as it was for me. I really struggled with it," he admits.
"I did not used to play odd meter at all, but I pulled it off, thanks to Will and his odd meter exercises, and it helped a lot," adds Costa of how he strengthened his technique for odd-meter.
"It's still a long road to go, I am not done yet!" he says.
"Beside the odd meter stuff, we also worked on our original tunes," he says.
The ensemble was set to perform a show comprised entirely of original compositions for their last ensemble performance of the year, another challenge that Bonness had suggested.
"Unfortunately, we couldn't perform due to COVID-19. I wish we could get together to get that performed. Who knows?" he says.
In addition to his two small jazz ensembles, Costa also threw himself into work with Derrick Gardner's University of Manitoba Jazz Orchestra, and was among the performers offering a solo in UMJO's performance during the university's announcement that fundraising for the Desautels Concert Hall had been completed.
Credit recital
Due to the disruption caused by COVID-19, the Desautels Faculty of Music had to cancel all of its remaining events for the 2019-2020 season. In addition to final ensemble performances, about 40 student credit recitals were cancelled, including those of graduating students, whose final credit recitals serve as a sort of capstone project showcasing what they have learned throughout their studies. Fortunately, Costa was able to perform his recital only a week before the pandemic prevention efforts began.
Costa is certainly glad for that.
"My proudest moment [in the faculty] was my final recital," he says.
"I sat on the piano and I felt confident and secure. I knew that all my hard work had paid off in that moment. I could show off everything that I learned and absorbed during my time at the UofM. I was really happy for what I had accomplished. It was a big difference," Costa says of that evening.
"I m so proud to be part of this faculty," he adds.
As part of his credit recital, Costa was asked to prepare a blues song, a ballad, an up-tempo song, and an original composition. With Bonness' blessing, Costa also had the chance to incorporate his own culture into his final recital.
"One thing that I like about Will is that he was really open for whatever I wanted to play. He was very flexible, so I also had a chance to perform the music from my own country – Bossa Nova, Samba, and Baiao pieces," says Costa.
Faculty mentors and acknowledgements
From day one in the faculty, Dhiego has been thankful for the support and guidance he has received.
"Will Bonness was my faculty mentor," he says.
"Like everybody else I had my own personal issues that I had to deal with. Sometimes it unsettled my academic performance," he admits.
"With Will, I didn't have to worry about that. Although we were in an academic setting, he was not only concerned about me as a student, but as a human being," Costa says of Bonness.
"He showed understanding and empathy in the down moments, and this was really valuable to me. Will is an incredible human being with a good sense of humour and a great teacher," he adds.
"In music, usually we play things where we don't really know what we are doing theoretically, just because we learned by ear. I was this type of student – I knew a lot of stuff, but didn't know what I was doing. Will on the other hand has a really deep knowledge of music theory, he could name every move I made on the piano. We were the perfect match," says Costa.
"I would like to thank Will Bonness for being patient, and for his incredible musicianship," says Costa.
I would also like to thank Fabio Ragnelli for the Art of Jazz Listening course and the Jazz Ensemble – it was a huge addition to my musicianship," he says of Ragnelli's guidance.
"Thanks to Derrick Gardner for leading the University of Manitoba Jazz Orchestra. I m so proud to be part of it. It provided me a full big band experience setting," he says of his time with UMJO.
"Thanks to John Gordon for the jazz theory review – thanks for opening up your office for us," he says of Gordon, associate professor of music in jazz.
Gordon is a big fan of Costa's as well.
"Dhiego had a great two years with us, and he's been a joy to get to know and work with," says Gordon.
"His growth was exceptional during his time with us, and he's been a big part of our program and community, accompanying numerous recitals, and helping out with teaching," says Gordon of Costa's contributions to the faculty.
"Finally, he's just a great person! Humble, positive, supportive and caring. I'm looking forward to seeing and hearing what the coming years bring for him!" adds Gordon.
"A big thanks goes to my peers that I spent most of my time with: James Prescott [Guitar], Tetyana Haraschuk [drums], Ilya Osachuk [bass], Zachary Rushing [voice], Kevin Lewis [Sax], Jared Beckstead [Bass], Anthony Bryson [Trombone], and Robert Turnbull [Guitar]," says Costa.
Finally, Costa is grateful for the financial support that made his journey from Brazil to Canada possible.
"I would not be here if it weren't for the full scholarship support I was awarded," he says.
"The scholarships didn't only pay for my entire master degree, they also helped me with my living expenses," says Costa, who was a recipient of the International Graduate Student Entrance Scholarship, the Desautels Faculty of Music Graduate Jazz Award, and Dr. Bonnie Buhler Graduate Scholarship in Music.
"I had the privilege to meet and play Dr. and Mr. Buhler. The concert we did in their house was a kind of giving back for what they have done for us students," he says.
"Thank you," he says to the Buhlers.
Next steps
As for the future, Costa has already begun, and the pandemic's onset has not slowed him down. For Jazz Winnipeg's "Apart Together" online concert series, which was implemented due to COVID-19, Costa performed with the Zachary Rushing Quartet, which features fellow Desautels students and graduates Zachary Rushing (voice, Jared Beckstead (bass), and Kevin Waters (guitar). The benefit of the livestreamed concert was that Costa's family and friends in Brazil acould attend, and they flooded the comment section, offering praise and well wishes, with one commenting, "How wonderful to see my friend Dhiego and these great guys playing music for us to cleanse our souls. This right here is too good!"
The quartet followed up their live-streamed performance with a sold-out, in-person (socially-distanced, of course) concert on July 26th at the Dalnavert Museum. The concert had a "Roaring 20s" theme, featured music from the golden age of jazz, and was hosted by Jazz Winnipeg.
Though he's clearly keeping busy, Costa is looking forward to a more relaxed pace now that he is finished with his master's degree!
"It was a really intense two years for me at UofM," he says.
"I just want to relax a little bit and enjoy my family and friends. As musicians we never stop, we are always learning and playing. Right now I m gonna focus on teaching private piano. I'm playing the piano for two churches in Winnipeg. I also started a new project at home recording and producing some music," he says.
Side note: with how much he has going on, we're not sure that Dhiego actually knows what it means to relax! He's such a hard worker!
"There are a lot of things you can do as a musician, teaching – private or schools, recording, playing in different context and settings, etcetera. My long plan goal is to get the Manitoba teaching certificate to be able to teach at regular schools," he says.
Ever the teacher, Costa has some advice for incoming DFOM students:
"The school is gonna give you all the tools you need to be a brilliant musician, and it is up to you to make the most of it. No matter where you are, your success depends of yourself. Work hard, be honest with yourself and practice, practice and practice!" he says.
"The best place in the world to learn is with your peers, playing, and being a fundamental part of your ensemble. Do your homework and take everything seriously and you will be just fine," Costa says.
We're delighted that Costa and his family will be staying in Manitoba! How lucky Winnipeggers are that they get to enjoy his music!
Congratulations, Dhiego!