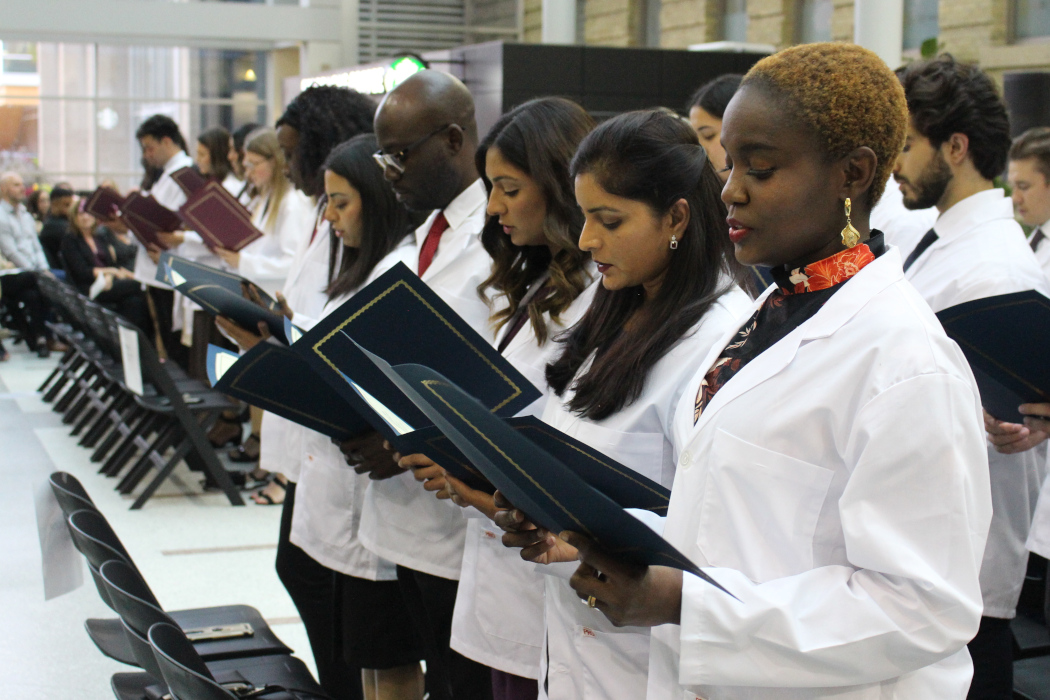 Dentistry, dental hygiene students pursue their dreams
September 13, 2023 —
When Cody Magun donned his white coat at the Dr. Gerald Niznick College of Dentistry's White Coat Ceremony last week, he was one step closer to realizing his dream of becoming a dentist.
That dream began in a small Yukon town when Magun was a teenager with braces. Through visits with an orthodontist and the routine of taking care of his teeth, he developed an interest in dentistry.
"It's what catapulted me on this path," said Magun, who is First Nations and grew up in Watson Lake, Yukon.
His path led him to Toronto to train to be a dental hygienist, and he worked in that profession for several years. In 2018, he started taking prerequisites for dentistry at Yukon University and then at the University of Alberta.
Now that Magun has started dental school, he wants to encourage others from northern communities to live out their dreams, too.
"It might take you five years, 10 years, but it's worth it, and now that I'm here, I can't believe it," Magun said. "I'm so happy I took all those steps, and if I can do it, you can do it."
The White Coat Ceremony was part of UM dental school's Opening Assembly that took place on the evening of Sept. 7 in the Brodie Centre atrium on the Bannatyne campus. The event welcomed 29 members of the dentistry Class of 2027, six students in the International Dentist Degree Program (IDDP) Class of 2025, and 26 learners in the School of Dental Hygiene Class of 2025.
Dr. Anastasia Kelekis-Cholakis, dean of the Dr. Gerald Niznick College of Dentistry, welcomed the students and talked about the importance of the White Coat Ceremony.
"As part of our ceremony tonight, you'll be receiving and donning the white coat that will be a symbol of what your profession and society will expect of you," Kelekis-Cholakis said. "This white coat is a symbol of the responsibility that is now being placed on your shoulders."
When first-year IDDP student Shivani Bharkhada donned her white coat, she said it was a privilege.
"It felt so nice," Bharkhada said. "You just feel like you've made it. Like I'm one step closer to my dream."
Bharkhada was born and raised in Toronto, but she completed dental school in Hungary. She said UM's IDDP was her top choice for a program that offered a pathway for her to practice dentistry in Canada.
"It was an easy pick," she said. "The University of Manitoba offers a lot more clinical experience than other universities."
Mary Bertone, director of the School of Dental Hygiene, welcomed the students and told them that the ceremony was a time to look forward with pride to the career they were about to embark on.
"It is also a time to take a moment and ponder the bond you share with all past students, like you, who have committed themselves to delivering oral health care services to our community and beyond," Bertone said.
Dental hygiene student Priya Meyler is looking forward to pursuing her career and said the Opening Assembly was exciting.
"It's a great thing to have at the beginning of the year because it gets us all together and gets us ready together," Meyler said. "We're preparing for the hard times, and the good times, and the fun and exciting times we're going to go through."
Meyler was inspired to become a dental hygienist because she won't just be helping people, but she'll also be preventing health problems.
"You can teach people how to prevent caries and all that stuff, so they don't actually have to come and see you for really serious problems," Meyler said.
As well as the White Coat Ceremony, the students recited the Community Code. Elder Margaret Lavallee gave a blessing, and greetings were given by Dr. Scott Leckie, president of the Manitoba Dental Association, and Jennifer Upward, president of the Manitoba Dental Hygienists Association.