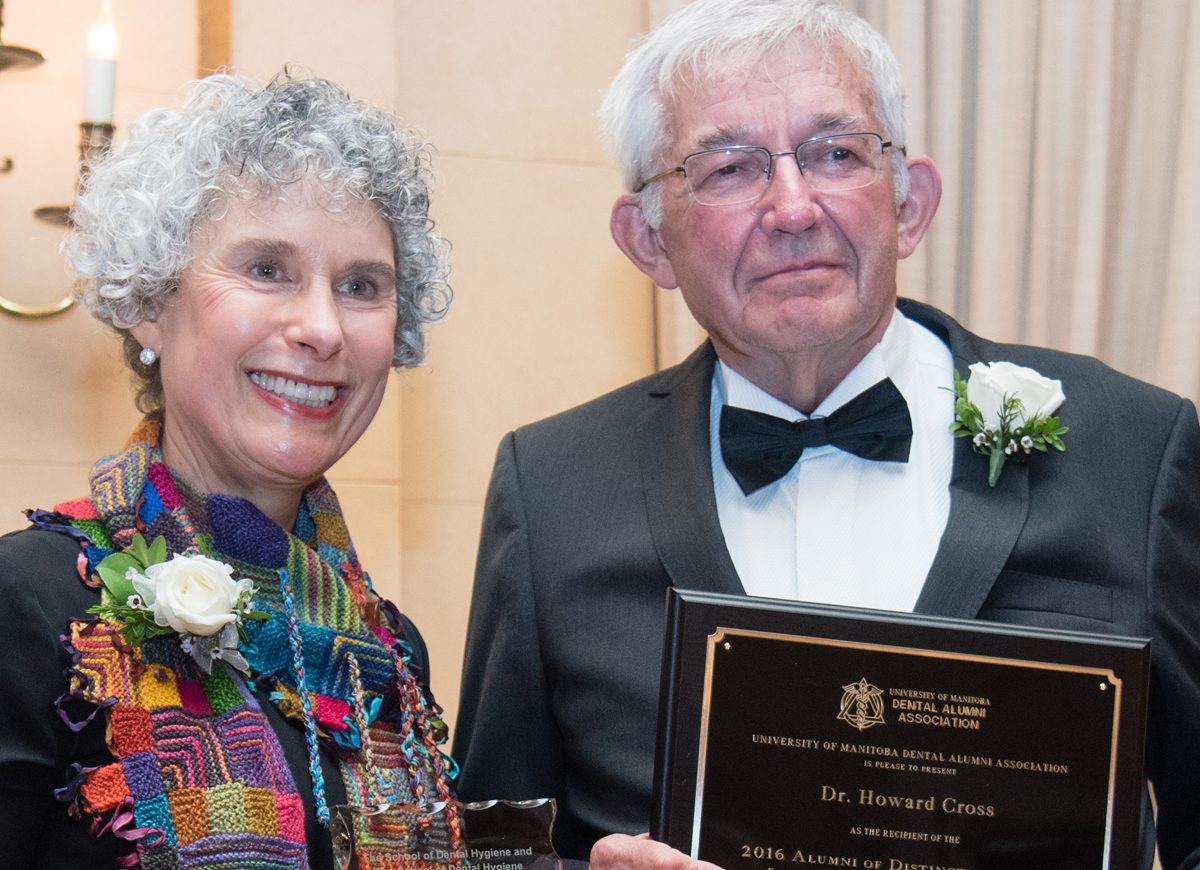 Dentistry and dental hygiene alumni honoured at awards gala
October 17, 2016 —
A renowned children's dentist who led the University of Manitoba's Hospital Pediatric Dentistry program for 35 years has vowed to retire soon.
"I am now in my 78th year and still working. I love what I do," Howard Cross, recipient of the 2016 Alumni of Distinction Award from the U of M Dental Alumni Association, told nearly 200 guests at a Homecoming weekend gala at the Fort Garry Hotel.
"I would like to formally announce here, before all of you, that I will absolutely retire after one more year.
"Unless I change my mind."
Cross, a member of the Dentistry Class of 1965, continues to serve as a faculty member in pediatric dentistry in the Department of Preventive Dental Science, College of Dentistry, Rady Faculty of Health Sciences. After practising for more than half a century as a hospital dentist, he said he still finds treating children "far easier and more pleasant than treating adults."
Cross has been particularly influential in serving dental patients with special health-care needs. In 1980, he was instrumental in the creation of the Manitoba Cleft Lip and Palate Program, now part of the Craniofacial Dysplasia Program. Cross has also been a leader in outreach work, supporting patients with limited access to dental care, including those in Northern Manitoba.
Dr. Frank Hechter said in his introduction of Cross, "Throughout his career, Howard chose to avoid the limelight and notoriety for the quiet, intrinsic knowledge that he had made – and continues to make – a significant difference."
Arna Shefrin, a member of the Dental Hygiene Class of 1970 who now lives in California, was honoured with a 2016 Alumni of Distinction Award by the U of M School of Dental Hygiene Alumni Association.
Faculty member Diane Girardin said of Shefrin, "Her education in dental hygiene . . . became a springboard to achievement, not only as a practising hygienist, but as a noted educator, researcher, author, speaker and consultant."
Shefrin became the first North American-trained dental hygienist to be licensed to practise in the United Kingdom. She was the first dental hygienist to have an article published in the Journal of Dental Education.
In the 1980s Shefrin transitioned to the pharmaceutical industry, working on innovative research projects. In the 1990s she established a consulting firm with a clientele that included large pharmaceutical firms. During this time, her work focused on the ethical dimensions of clinical trials, and she lectured and published on this topic.
Looking back on her time at the U of M, Shefrin recalled, "Our exceptional clinic instructors stressed two key concepts: firstly, that we must provide a full measure of the best care possible to our patients; and secondly, that we must be worthy of the trust placed in us. I have tried to live by these ideals ever since. . . .
"The program here gave me a strong foundation not only on which to build an incredible career; it also shaped the ethical underpinning to my life. . . . For that foundation and for what I learned here, I am profoundly grateful."
The sold-out awards evening, in the elegant Provencher Room, also featured a tribute to the Dentistry and Dental Hygiene Classes of 1966, with alumnus Dr. Don MacFarlane speaking on behalf of the dentists and alumna Virginia Jamieson on behalf of the hygienists.
"We joke that our class was the best ever…our class became a family over the four years in dental school. It started in first year with a cooperative, helping approach – it was not competitive. This is reflected in the excitement and enthusiasm we share for our reunions every five years," said MacFarlane.
Jamieson noted, "It's a pleasure to reconnect with classmates, see old friends and reminisce about the great education we received at the University of Manitoba."
Many of the Class of 1966 50th anniversary celebrants took a walk down memory lane the next morning attending the Rady Faculty of Health Sciences' Dean's Homecoming Breakfast and College of Dentistry tour on Bannatyne Campus.
View the AOD Dinner photo gallery.