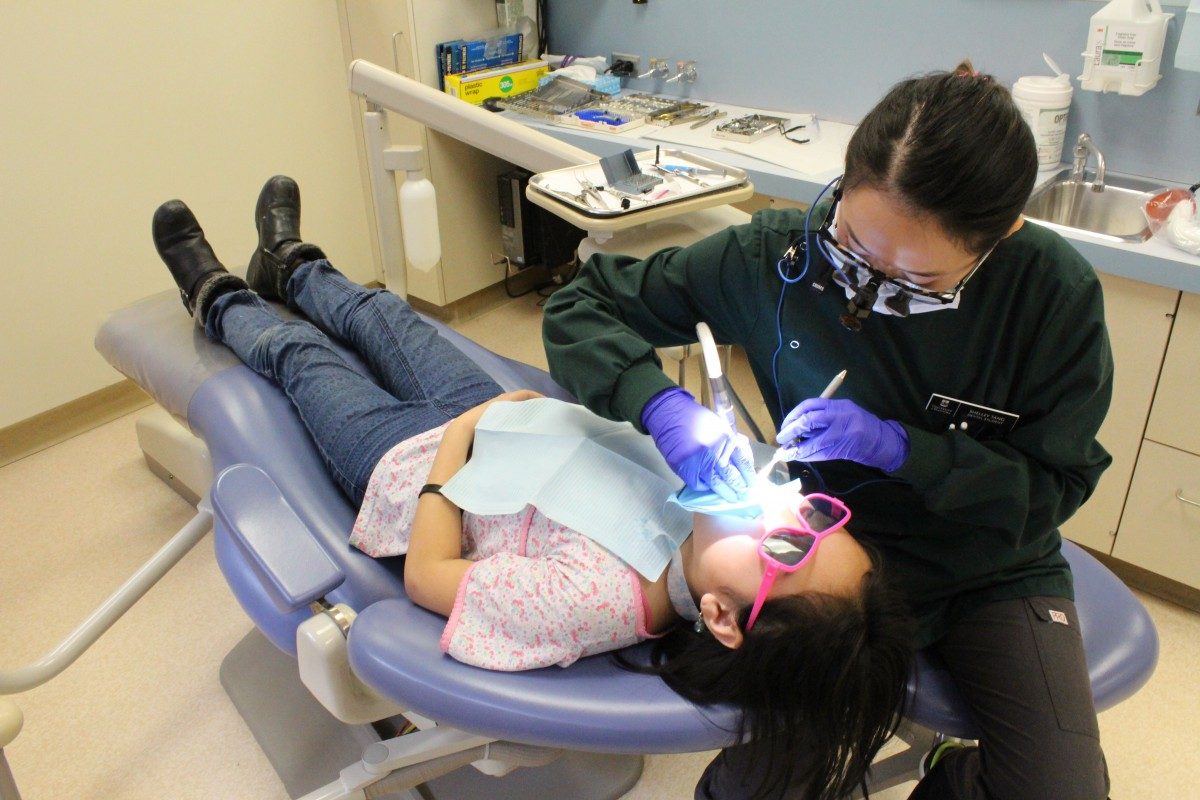 Dental clinic goes kid-friendly on Fridays
April 5, 2017 —
The first time 10-year-old Ehnay had an appointment at the College of Dentistry as part of her school day, she was apprehensive.
"I was a little shy and nervous because I didn't know what was going to happen," said the Grade 5 student from David Livingstone School.
But once she was treated by a third- or fourth-year dentistry student, under the supervision of a pediatric dentistry resident, she didn't mind coming back.
"They can fix your teeth," Ehnay said as she completed her third visit, taking off the pink sunglasses supplied to shield her eyes and choosing a prize from an array of stickers and small toys.
"Your teeth have to stay healthy so you can eat."
Introducing children to oral care and making sure cavities or other problems are treated promptly is routine for many Winnipeggers. But for economically disadvantaged families, who often face language, cultural and transportation barriers as well as financial ones, dental care can be out of reach.
That's why almost every Friday during the school year, the main clinic at the College of Dentistry, Rady Faculty of Health Sciences, provides free care to students from 16 inner-city schools in Winnipeg School Division.
"We're serving a community where there's a high need," said Dr. Brad Klus, assistant professor of preventive dental science and acting division head of pediatric dentistry. "This program helps ensure access to every child, and assists each child to achieve optimum oral health into the future."
Each fall, dentistry students visit participating schools to assess children's teeth, focusing on Grades 2 to 6. Children who are most in need of treatment are referred to the university clinic.
With parental permission, kids are bussed to the Bannatyne campus for Friday appointments. This year, 2,200 children were screened and more than 300 will receive treatment.
The outreach program was established 19 years ago. For the past 12 years, it has flourished with support from Variety, the Children's Charity of Manitoba.
"The Variety Children's Dental Outreach Program has immediate and lasting benefits for participating students and their communities," said Shanlee Johnson, program coordinator at Variety. "It supports the parents in accessing services that we take for granted. The children learn to be proactive about proper dental care – a skill to last a lifetime and instil in their own children."
For dentistry students who rotate through the Friday clinic, a key benefit is learning techniques for working with young patients, whether it's saying "Roar like a lion!" to get a kid to open wide or describing dental sealant as "nail polish" for teeth.
Third-year students Shelley Tang and Meet Thakkar said using child-friendly language is reassuring and makes dental procedures understandable for kids. "When we put a rubber dam on, we say 'raincoat,'" said Tang. "We call the needle a 'freezing wand,'" added Thakkar.
Klus emphasized that it takes a strong partnership between the dental college and the school division to coordinate treatment plans, scheduling, bussing and parental communication. "A lot of teamwork goes into making this program happen," he said. "Without Variety's funding support, we wouldn't see the success that we do."
"The parents appreciate it hugely," said Gary Burling, a community support worker at King Edward Community School who has been accompanying students to the clinic for four years. "The dental students are always very kind and caring."