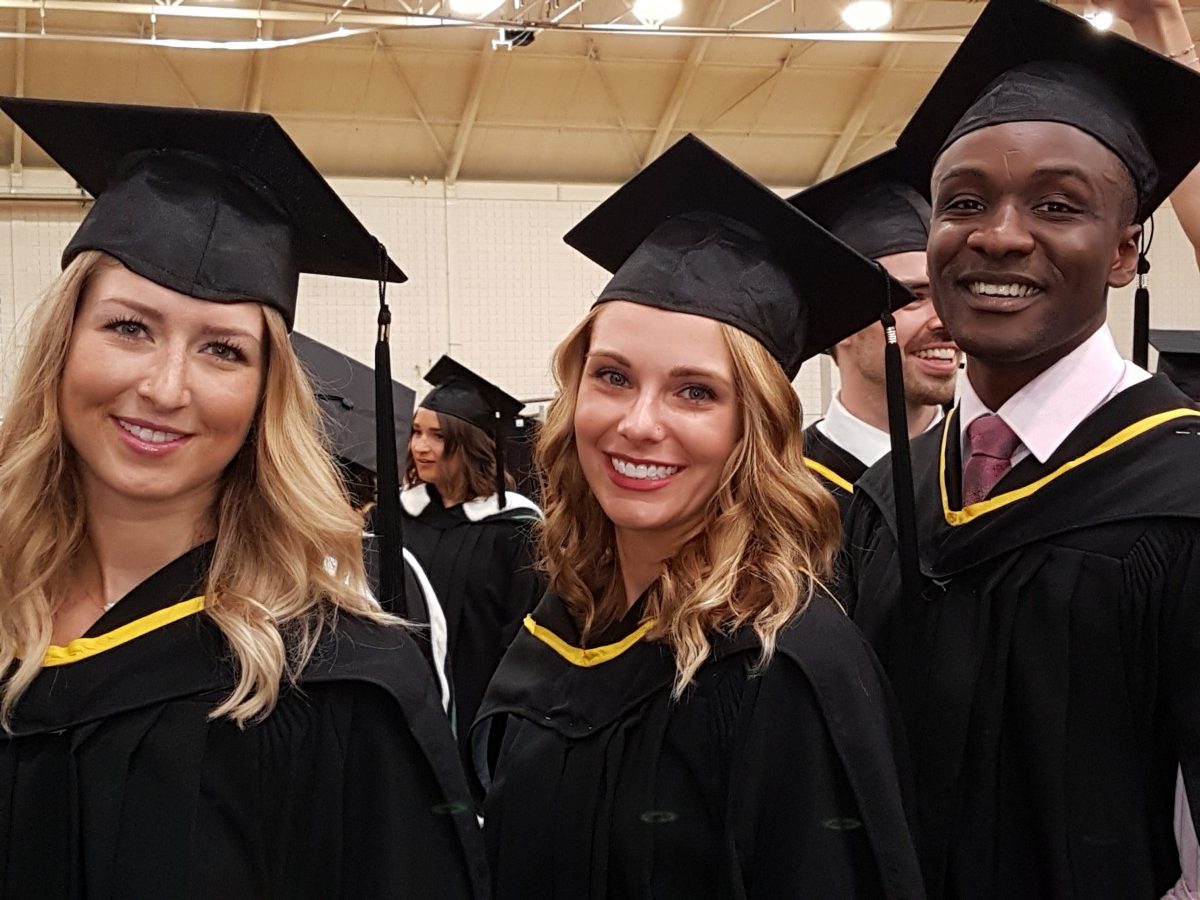 Dental classes of 2017 graduate with smiles all around
June 13, 2017 —
Dr. Anthony Iacopino just might be getting sentimental as he heads into his final year as dean of the College of Dentistry in the Rady Faculty of Health Sciences.
Either that, or the 35-member Class of 2017 – the 10th class to graduate during Iacopino's tenure – really has been exceptional.
"We've had exemplary attitude and professionalism from this class," the dean said in his speech at the June 8 Grad Breakfast put on for dentistry and dental hygiene grads by the Manitoba Dental Association.
"They all passed their board exams on the first try. They've provided outstanding patient care and done a tremendous amount of community service…. I think that's as good as it gets."
Addressing the dentistry class, which included career-changers such as a former paramedic and a former veterinarian, the dean added, "With your enthusiasm and abilities, the future of our profession is in good hands."
Graduate Ryan Howard, 26, not only served as the Senior Stick but earned a slew of honours. He won the University Gold Medal for highest standing upon graduation, the John W. Clay Medal for the highest overall average in the four-year program, the Canadian Dental Association Student Leadership Award, and five other awards or prizes.
Iacopino quipped about the outstanding graduate, "Ryan, the dean's position will be open if you'd like to apply."
Howard is moving on to a general practice residency at Health Sciences Centre, which will allow him to focus on oral surgery and serving patients with special needs. "I've realized that dentistry can have a huge impact on people's lives," he said.
Amirali Ghodousi, formerly a dentist in Iran, is one of five in the class – along with students trained in Brazil, India, Russia and Poland – to graduate from the International Dentist Degree Program (IDDP). The program prepares internationally trained dentists for accreditation in Canada. The IDDP students join the class for the third and fourth years of study.
"I got my licence (to practise in Canada). I'm really, really happy," said a beaming Ghodousi, 32, who praised the college for being friendly and supportive. His sister Sherry was an IDDP graduate two years ago. He is joining her in dental practice in Winnipeg.
Another graduate with a family member in the profession is Lisha Mehta, whose brother Rick is a U of M-trained dentist. Mehta, 27, is also a career-changer. She graduated from the U of M in dental hygiene in 2012. After one year of practice, she opted to return to university to become a dentist.
"I realized I wanted more," said Mehta, who continued working as a hygienist in the summers throughout dental school. "I wanted to be able to help my patients on more of a restorative level, not just preventative. "
It's no longer unusual for hygienists to become dentists, Mehta said, and she received nothing but support and encouragement for her choice. "All my hygiene instructors were like, 'We're proud of you. This is where you're meant to be.'"
Mary Bertone, director of the School of Dental Hygiene, told the 26 graduates in hygiene, "Keep learning, stay connected and give back to your community."
That resonated with Jasmine Bonenfant, the gold medal winner in dental hygiene. She formerly trained as a dental assistant during Grades 11 and 12 in a joint vocational program between Tec Voc High School and Red River College. After working as a dental assistant for six years and taking evening courses to earn prerequisites, she was ready to become a hygienist.
Bonenfant, 27, said what she especially valued about the U of M hygiene program was its emphasis on community outreach at sites such as Mount Carmel Clinic.
"It let us go out into the community and experience access-to-care issues. I always just thought, 'Dental hygienists are in the office, scaling teeth.' The community health experience opened my eyes to a broader scope that I didn't know existed."