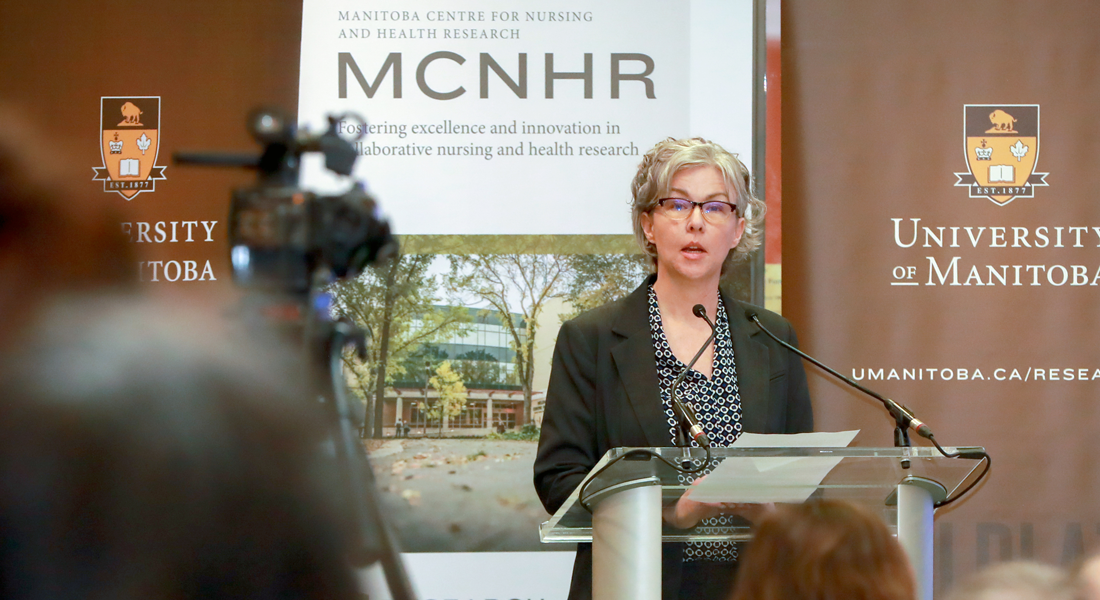 Delivering for Midwives
November 23, 2020 —
As the College of Nursing gets ready to introduce its bachelor of midwifery program in September 2021, the program's director, Kellie Thiessen [PhD/14], hopes to see change in how policy-makers approach the profession.
She points to a need for better access to maternity care options in rural and remote Manitoba. And she hopes for greater recognition of the benefits of midwifery care, both to childbearing families and to an efficient health-care system.
"Part of my role is clinical, so I'm aware of current issues in the maternal and child health system," says Thiessen, who in 2017 was one of the first Canadian midwives to receive a Career Development Award from the Canadian Child Health Clinician-Scientist Program.
"This program has groomed me to think like a clinician-scientist and bridge the gap between research initiatives and clinical practice."
The associate professor of nursing wants to see more midwives in roles that influence the profession. "We need to mentor midwives to ensure we have those voices at policy tables, in circles of research and in managerial and leadership roles," she says.
Thiessen is originally from Wichita, Kan. She earned bachelor's degrees in nursing and Spanish at Eastern Mennonite University in Virginia before completing a master's in nursing with an emphasis in midwifery from Georgetown University in Washington, D.C.
In 2014, she earned her PhD at UM through the applied health sciences program and joined the College of Nursing faculty. She was also invited into the Children's Hospital Research Institute of Manitoba mentorship program for new investigators.
She was mentored by Michelle Lobchuk [BN/92, MN/95, PhD/01], associate professor of nursing, and Dr. Richard Keijzer, research director for the department of surgery in the Max Rady College of Medicine. She says both were instrumental in helping her to overcome early challenges and navigate her clinician-scientist role.
Thiessen's doctoral thesis analyzed the issues in Manitoba midwifery since it became a regulated profession in 2000.
"There had never been a notable health workforce strategy," she says. "Twenty years later, midwifery still has not been fully integrated into the health-care system, and there have been many barriers precluding its expansion."
Those barriers, she says, include negative perceptions of midwifery. Research is one way to demonstrate that negative assumptions are inaccurate.
This year, Thiessen published two studies comparing costs and outcomes associated with three types of maternity care providers in Manitoba: family doctors, obstetricians/gynecologists and registered midwives.
"Measuring the cost of maternity care is complex," she says. "But in general, some cost efficiencies were found in midwifery because it involves fewer medical interventions and uses fewer hospital resources.
"Our studies also showed that midwifery clients had significantly shorter stays in the hospital."
In 2019, Thiessen and a First Nation Elder received more than $800,000 from the Canadian Institutes of Health Research to study maternity systems in northern communities.
"We're working collaboratively with Indigenous and Inuit advisory groups in four jurisdictions across Canada that include 11 northern communities," she says. "We want to describe and compare maternity policy effects on Indigenous people and other maternity-care stakeholders, looking at their physical, social, emotional and spiritual well-being."
Midwives are educated to have a unique skill set that helps to empower clients, Thiessen says. A midwife spends time with expectant parents, ensures that they're informed about birth options, and respects their decisions in a way that is not often seen in health care.
"People have become dependent on the health-care system in a very dysfunctional way and, as a result, they don't know how to have conversations with health-care providers," Thiessen says.
"Informed choice discussions, which are part of the fundamental philosophy of the midwifery care model, are one key step in improving the health-care environment and putting the onus on the person to make more informed decisions for their own health."