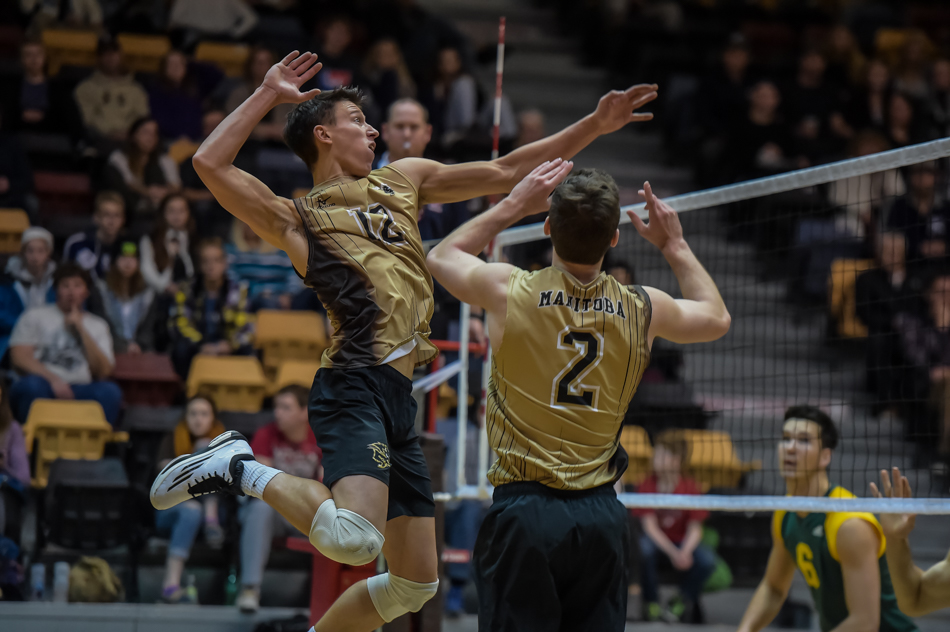 Crosstown rivals meet on campus
Bisons take on Wesmen as 26th Duckworth Challenge reaches its conclusion
December 7, 2016 —
The University of Manitoba Bisons volleyball teams hit the court Thursday against the Winnipeg Wesmen.
It's part of the 26th Duckworth Challenge, which was started by the late Dr. Henry E. Duckworth in an effort to profile the intense – but friendly – rivalry between the University of Winnipeg and the University of Manitoba.
What makes the Duckworth Challenge unique is the format: Games are held at both universities in Winnipeg, and involve volleyball, basketball and women's soccer. Each year the venue for the sports is alternated.
The 2016-17 edition of the Duckworth Challenge is tied so far heading into the volleyball matches. Women's soccer started the Challenge and ended in a 1-1 tie. In basketball, Winnipeg won 79-71 in women's while Manitoba won 79-78 in men's action.
Since the soccer match ended up in a tie, the challenge reverts back to the tie-breaking formula.
All the games during the 26th annual Duckworth Challenge will count in the Canada West standings, as they are conference regular season matches.
Bison men's volleyball player, Kevin Falconer will be taking over the @umanitoba Instagram account on game day to give you a peek at preparation leading up to one of the most anticipated match ups of the year.
Don't forget, Thursday is also U of M Alumni night where all University of Manitoba alumni can get in to the games for $5. Kids 12 and under are free. Catch all of the action at Investors Group Athletic Centre, men play at 6pm and the women take the court at 7:30pm.
For more information visit gobisons.ca.