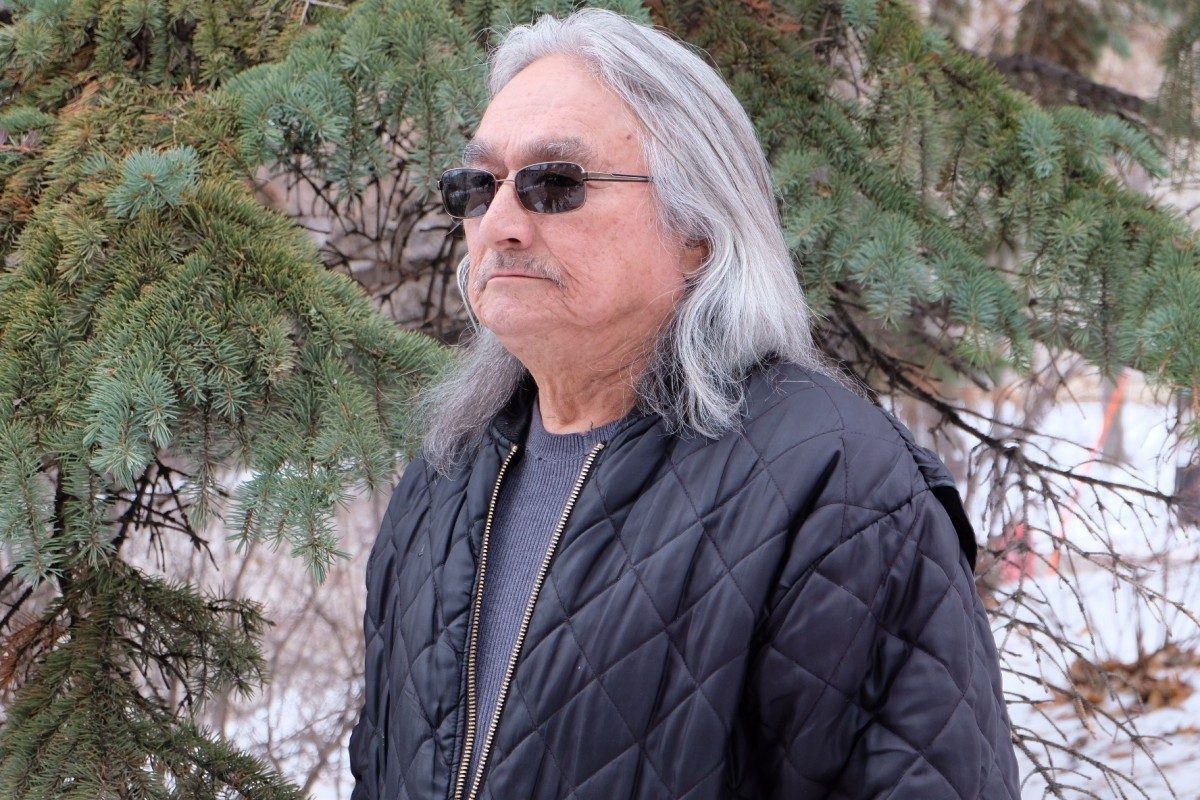 Cree-Métis poet and storyteller latest Writer-In-Residence
Centre for Creative Writing and Oral Culture welcomes Duncan Mercredi
January 17, 2019 —
Cree-Métis poet and storyteller Duncan Mercredi is the newest Writer-In-Residence at The Centre for Creative Writing and Oral Culture (CCWOC) at the University of Manitoba. Mercredi will work with students, faculty, staff, alumni and members of the public from January to April 2019.
Mercredi was born in Misipawistik (Grand Rapids) and grew up listening to his grandmother's stories. His affinity for the wilderness and his sensitivity to the deep cultural prejudices of the broader culture inform his writing. He has published four poetry collections, including Spirit of the Wolf: Raise Your Voice and The Duke of Windsor: Wolf Sings the Blues. He is a long-time member of Winnipeg's Indigenous Writers Collective and was also a contributor to ndncountry, the special joint issue of Prairie Fire and CV2. Duncan lives in Winnipeg.
Mercredi shared that he is looking forward to working with students in this residency and discovering "what the students are thinking about when it comes to the three solitudes we experience in this country and city. Three solitudes, you ask – Indigenous/Métis, Caucasian, French – we have always had three solitudes, and each of those solitudes have their own street views/homeland issues they rarely share to the others unless it's negative."
"We are thrilled to have the opportunity to learn from Duncan Mercredi this term," says Warren Cariou, CCWOC Director. "Duncan's creative work and mentorship perfectly represent the values of CCWOC. His storytelling in the Cree/Métis tradition is incredibly engaging, funny and profound and his celebrated poetry and fiction writing also builds from the strengths of his storytelling knowledge. Duncan will help us to understand our place, our languages and ourselves in new ways. It is an honour to host him at CCWOC." Cariou encourages aspiring storytellers and writers to take this opportunity to learn and benefit from Mercredi's advice and experience.
INDIVIDUAL WRITER CONSULTATIONS
As part of Mercredi's role, he will be available by appointment to writers of all levels every Thursday from 12:00 pm to 2:30 pm and 4:00 pm to 5:30 pm to April 3, 2019. To consult with Duncan Mercredi, students, faculty, staff, alumni and members of the public are encouraged to contact him by email or phone 204-480-1067 to arrange a free meeting.
WRITING WORKSHOP
He will also be hosting a free seven-week literary workshop throughout the residency. The workshop, entitled Street Stories, will explore the creative possibilities of the written and spoken word, focusing on storytelling techniques, as well as on short stories and poetry, from a highly autobiographical perspective. Beginning with the Rougarou tradition of telling the same story in different ways, participants are invited to re-assess not only how a story is told and interpreted, but also how oneself is interpreted. Ideas of personal identity highly inform one's writing and telling, so participants will be encouraged to consider how their sense of self fluctuates in geographical, ancestral, urban and rural spaces – and how such fluctuations, in turn, influence and inspire one's writings and tellings. Register for the workshop by emailing the Centre at ccwocwir [at] umanitoba [dot] ca.
Street Stories
Thursday afternoons, January 31 to March 21 (excluding February 14)
2:30 pm – 4:00 pm, Room 390A, University College
WELCOME EVENT
The CCWOC will welcome Duncan Mercredi to the University of Manitoba at a reception where he will give an inaugural reading. All are welcome to this free event.
Tuesday, January 22, 2019
2:30 pm, Room 108, St. John's College
For more information, please contact Susan Rich susan [dot] rich [at] umanitoba [dot] ca, Centre for Creative Writing and Oral Culture.