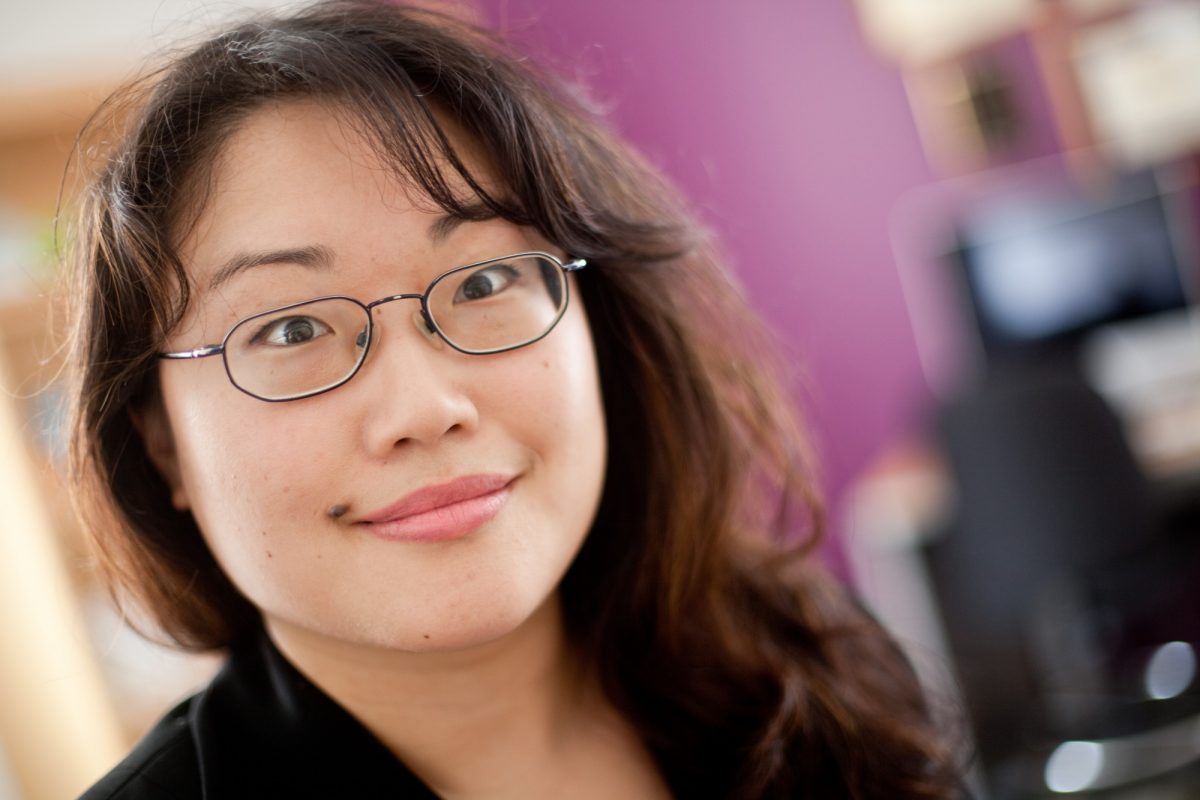 Creative voice shines light on women's stories
Get to know Dr. Nancy Kang, Women's and Gender Studies
October 16, 2020 —
Dr. Nancy Kang is a Tier II Canada Research Chair in Transnational Feminisms and Gender-Based Violence and an Associate Professor of Women's & Gender Studies in the Faculty of Arts. She joined the University of Manitoba in 2018.
Her current research examines narratives of alternative mothering, inter-racialism and racial, sexual and gender-based violence against women of colour in North America and beyond. "I'm intrigued by the narratives of women whose rebellious spiritual, personal or professional paths have resulted in sometimes violent retribution," says Kang. Studying the stories of various survivors can "offer a more comprehensive grasp of violence as an endemic societal problem."
The Social Sciences and Humanities Research Council says Kang's cross-border research "highlights how gender-based violence has long been integral to our understanding of national identities. It will promote dialogues that better engage diverse voices in the tasks of truth-telling, compassion-building and policy-making for a safer future."
Kang has relayed her research through traditional mediums such as papers, articles, reference sources and books. But atypically, she also presents her findings through various creative writing venues including personal essays and poetry. It is an original and expressive way to convey historical and cultural analysis. Earlier this year, Kang won two international awards for her writing and scholarship.
Cave-like, a lash-fringed darkness
they would handle it, she and her little sister, this city life.
– from "In Blocks of Light, She Calls Back" by Dr. Nancy Kang
In June 2020, Kang was named the poetry winner of the inaugural Elizabeth Alexander Creative Writing Award from the renowned interdisciplinary journal Meridians: feminism, race, transnationalism housed at Smith College in the United States. She was awarded the honour for her soon to be published poem "In Blocks of Light, She Calls Back". The poem tells the story of a random victim of violence. Kang explains, "The poem mediates on the interruption/eruption of violence in the life of a young woman just trying to make a life for herself and her sibling in an unnamed city. She is working and attending school concurrently, exhausted with obligations but persevering. When she is cut down by a stray bullet on her way home one night, a casualty of someone else's battles, the reverberations are profound. It's frustration shrapneled into words and images." Through her writing, Kang relates the story to everyday life. "The city alluded to in the poem is Baltimore, which is a place I respect and miss deeply, but also one that resists easy idealization. The woman's perseverance reminded me of a number of my former students, both men and women. The poem asks us to take her pain personally even if we don't know her. In the text, I reference the stark but fleeting beauty of ordinary things, the anchoring but also disturbing power of technology, the persistence of injustice, and the sick velocity of sudden, senseless loss."
In April 2020, Kang won the Guy Alexandre Paper Prize from the Latin American Studies Association for the best paper in English, French, Spanish, Kreyol, or Portuguese on a Haitian or Dominican Studies topic presented at the LASA International Congress in 2019. "Ciguapismo: Rhina P. Espaillat's Feminist Hermeneutics of Loss" explores how mythologies have ongoing relevance in contemporary life and can richly articulate specific national, transnational, and broadly human experiences, as well as highly personal ones. Kang comments, "Ciguapas are mythical creatures, typically represented as naked, comely women with uniquely backwards feet. Such anatomy renders their path virtually untraceable. Legend suggests they inhabit remote mountains and forests in the Dominican Republic, preying on men. This essay steps away from the predatory archetype, formulating a theory of women's loss through the motifs of descent and ascent, as well as the 'forward backwardness' epitomized by the ciguapa's feet. Using the work of Dominican American poet Rhina P. Espaillat (born in 1932), I outline the feminist paradigm of ciguapismo, a fundamentally paradoxical mode of understanding how women endure in times of grief, violence and alienation. It is a form of personal, societal and even environmental reckoning."
Kang says she is "honored to be able to bring recognition of this type-for feminist scholarship and feminist-centered creativity-to the WGS Program as well as the Faculty of Arts, who have both facilitated my work at the U of M as a Canada Research Chair."
This term, Kang is teaching two courses: WOMN 2530: Writing Women's Lives, which explores an array of diverse women's experiences through different genres of literature and an honours seminar, WOMN 4200, which focuses on mothers as transformative agents prompting students to combine theory with self-reflection and critical analyses of contemporary feminist texts, including graphic novels, memoir and short films.
While she continues to teach, pursue research and write, Kang acknowledges that this academic year has brought both challenges and new experiences. For example, she recently conducted a mid-term oral examination for a graduate student located in Norway. The exam ran from midnight to 3 am (thanks to the time zone difference) in front of a virtual audience, including the Ph.D. candidate's family in a different country. Along with her colleagues, Kang has had to work hard to adapt to the widespread disruption. "I am reminded of African Canadian poet Marlene NourbeSe Philip's memorable image of a sledgehammer smashing into a wedding cake," says Kang. "Everyone's resilience is a source of hope and premise for gratitude."