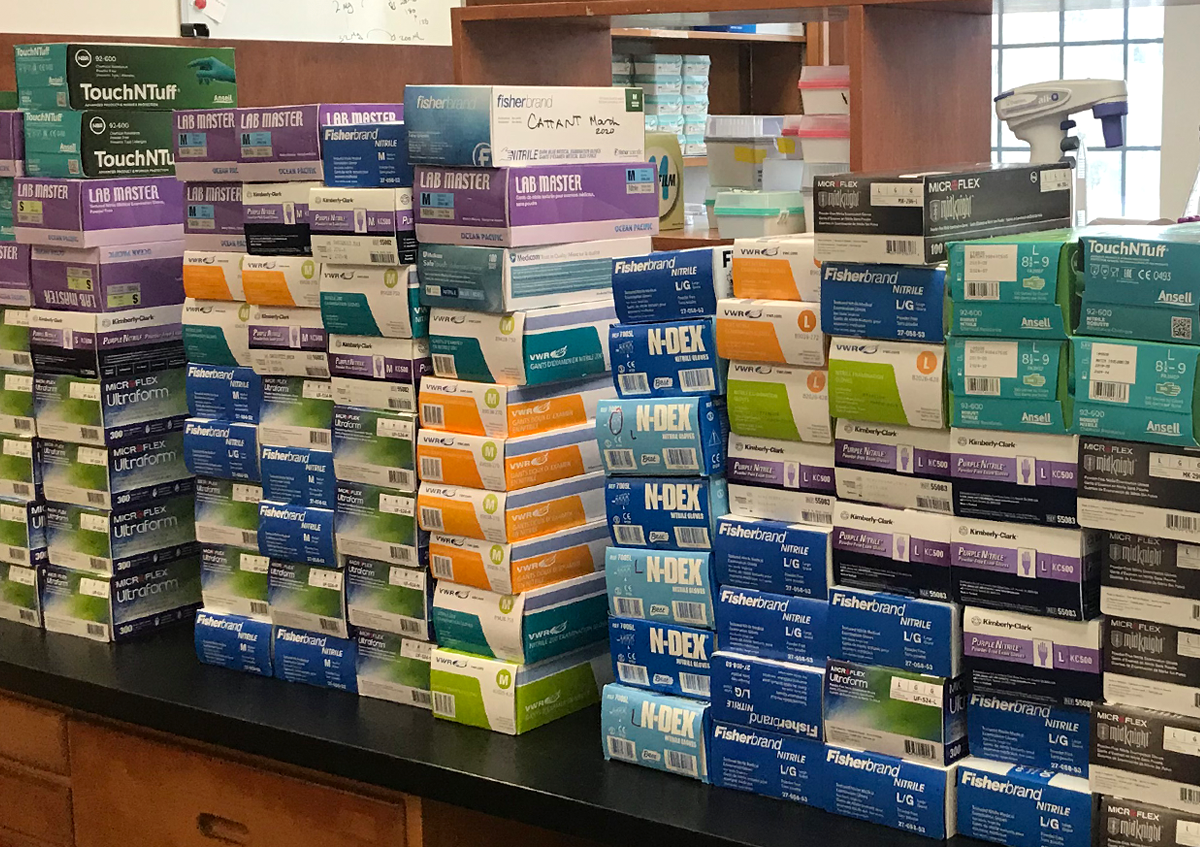 UM scientists pull together to collect equipment for health-care workers
April 15, 2020 —
A microbiologist from the Fort Garry campus and a medical microbiologist from the Bannatyne campus have teamed up to collect protective gear for health-care workers in the COVID-19 fight.
"This has been a great cross-campus initiative," says microbiologist Dr. Aleeza Gerstein, an assistant professor in the Faculty of Science who studies fungal pathogens. "Everyone just wants to do something to help."
"What started out as a conversation on Twitter turned into this grassroots effort," says Dr. Jason Kindrachuk, assistant professor of medical microbiology and infectious diseases in the Max Rady College of Medicine and Canada Research Chair in the molecular pathogenesis of emerging and re-emerging viruses.
"People are continuing to contribute whatever they can. People from vastly different backgrounds at the university – virology, microbiology, chemical engineering, you name the field – have come together to get things done."
In mid-March, Gerstein had the idea to put out a call to UM research scientists. She hoped that with their labs closing in response to the COVID-19 pandemic, researchers might have personal protective equipment (PPE) such as gloves, masks, safety glasses, face shields and gowns to donate to the disease-fighting effort at health-care facilities.
Gerstein contacted Kindrachuk, who agreed to be the point person on the Bannatyne campus. The two put the word out by email and on Twitter.
Gerstein enlisted Dr. Max Turgeon, an assistant professor of statistics, to quickly build an inventory website where scientists could list equipment they had to donate. "We had about 20 U of M labs respond, split pretty evenly across the two campuses," Gerstein says.
Donations on the Fort Garry campus included about 135 boxes of nitrile gloves, 10 boxes of vinyl gloves, 200 dust masks, a few boxes of N95 masks, and several hundred aprons and gowns.
"I packed my Prius full to the brim with boxes, and on March 27 I delivered them to the Winnipeg Regional Health Authority procurement office, where they happily took them," Gerstein says.
"I think there's more that can be donated. There are places like tattoo parlours, dentists' offices and auto mechanics that use gloves and masks. We're hoping to extend this beyond the university."
On the Bannatyne campus, Kindrachuk says, with the assistance of the UM Environmental Health and Safety office, gloves, protective gowns, safety glasses and face shields have been collected from labs, along with chemicals such as ethanol and isopropanol for disinfectant use.
Eager to encourage more supply donations, Gerstein now has a COVID-19 page on her lab website that lists all the kinds of equipment that health agencies have requested, and instructions on how to donate or loan them.
The page includes calls for equipment such as infrared thermometers for the Winnipeg Regional Health Authority (WRHA) and video baby monitors for St. Boniface Hospital, as well as PPE and chemicals for the WRHA.
A separate page, linked from the first, details supplies requested by the Cadham Provincial Laboratory and the Public Health Agency of Canada (PHAC), including chemicals that are used in testing for COVID-19.
Gerstein's page also includes opportunities to volunteer with PHAC, the WRHA or the province-wide Shared Health, or to contribute data to COVID-19 research studies. Anyone with information to add to the site can email Gerstein at aleeza [dot] gerstein [at] umanitoba [dot] ca.
Kindrachuk says he and Gerstein will continue to publicize requests for equipment. "We're trying to remain on top of what's being asked for," he says.
The Rady Faculty of Health Sciences has also collected lab supplies for donation or loan to Shared Health or PHAC. The items include masks, hospital-grade sanitizer, thermometers, and medical equipment such as intravenous poles, vital-sign monitors, infusion pumps and oximeters.