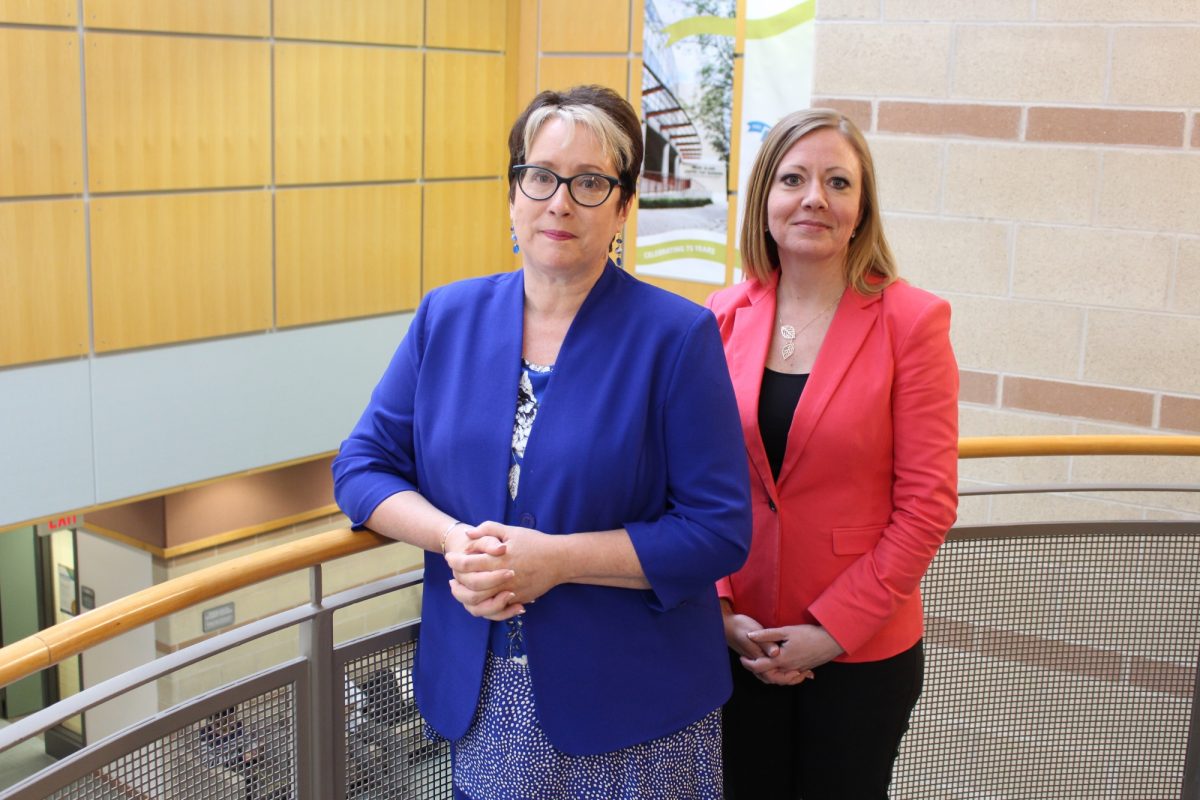 Course develops current and future health care leaders
June 27, 2019 —
To be a strong leader, one also must be a strong learner.
This is something Dr. Susan McClement and Cheryl Dika of the College of Nursing, Rady Faculty of Health Sciences recently learned by taking part in the Academic Health Sciences Leadership program, a course offered by the George and Fay Yee Centre for Healthcare Innovation for mid-career professionals who are entering leadership roles in health care or health-related academics.
Both are fairly new to their leadership positions. McClement, who has been a faculty member since 1998, was appointed associate dean of research last year. Dika started her position as director of curriculum integrity and faculty development last year, following three years as director of the college's nurse practitioner program.
McClement found the program to be helpful in learning leadership skills, with topics ranging from project management to health system sustainability and social responsibility.
"The course really helped me to think about and look at issues from a more macro-perspective," she said. "It allowed me to switch my thinking and helped my growth in terms of thinking like a leader. We know things are complicated, but they're often more complicated than you initially perceive."
Dika said one of the most valuable parts of the program was that it allowed her to reflect on her own experiences and abilities as a leader.
"We focused on areas of strength and opportunities for growth, keeping in mind that effective leaders are also reflective," Dika said.
McClement and Dika were two of four nursing faculty in the program last year. Other participants included faculty members from other Rady Faculty colleges, and mid-level leaders from health and government backgrounds.
The course uses a small group discussion format featuring experts from a variety of backgrounds. Last year's speakers included Dr. Brian Postl, dean of the Rady Faculty of Health Sciences, Lori Lamont, chief operating officer of the Winnipeg Regional Health Authority, and Brock Wright, chief executive officer of Shared Health Manitoba.
"We had unprecedented access to top-drawer people, which we really appreciated," she said. "I mean how many people get three hours of unfettered access to someone like Brian Postl?"
All students are required to complete a capstone project that is meaningful and relevant to their work as part of the curriculum.
McClement's project sought to identify factors that contributed to the delays experienced by researchers awaiting ethical approval for their projects from the Education Nursing Research Ethics Board.
"The course helped me think about this problem using a systems-based approach, which in turn enabled the identification of a wider repertoire of potential strategies," McClement said.
Dika's project explored mentorship models and the challenges that occur when there are fewer mentors than mentees.
"The traditional one-on-one mentorship model wasn't going to work," she said. "The course allowed me to explore different models of mentorship and gave me access to experienced health professionals that I otherwise would not have had the opportunity to work with."
The program, which runs one evening a week from September to February, is heading into its ninth year. Class sizes are usually under 20 and there have been a total of 141 participants to date.