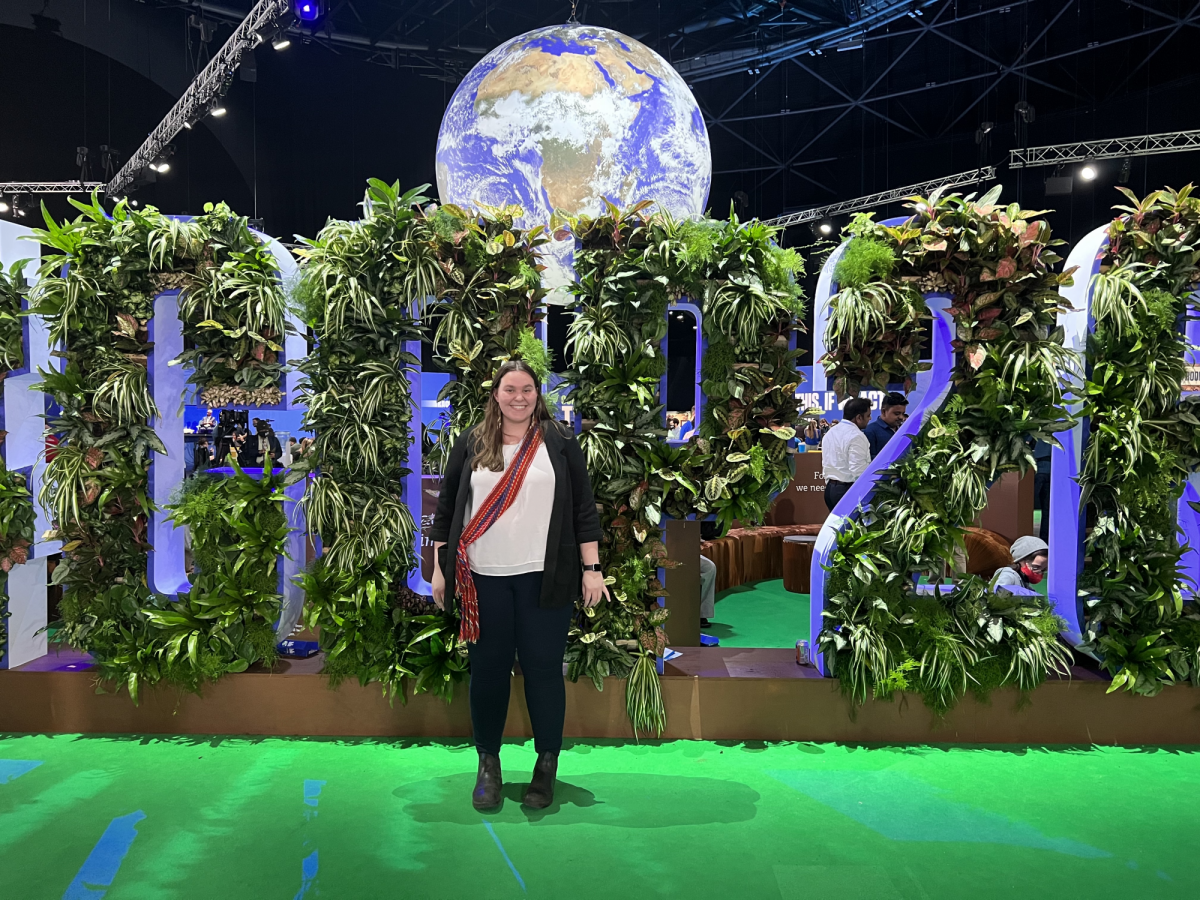 COP26 experience helps guide research
September 6, 2022 —
Fiona Lebar, B.Env.Sci.(Hons.) 2022, traveled to Glasgow, Scotland for the UN Climate Change conference last fall. She is beginning the Master of Environment program in the department of Environment & Geography, under the supervision of Stephane McLachlan in the Environmental Conservation Lab.
How did the opportunity come up for going to COP26?
The idea of me going to COP26 came together only two weeks before the conference. There was an opportunity for an Indigenous student to attend COP26 through funding provided by Wa Ni Ska Tan, Dam Watch International, Save Our Rivers, and Free Rivers Fund, to help advocate for hydro-impacted communities in Canada. As a Métis woman with a background in environmental science I was a great fit for this opportunity. I had previously volunteered with Dam Watch International through one of my university courses, so I had a fairly good understanding of the impacts of hydro-development both in terms of social and environmental issues. I went to COP26 with a member of Dam Watch International who lives in Labrador. Once at COP26 we met up with other individuals from different river and anti-hydro organizations located in Amsterdam, Chile, Germany, and the United States, to protest future hydro-development and advocate for the rights of Indigenous individuals who were and continue to be impacted by hydro organizations.
What was one defining moment, or a couple, of your experience there?
One of the defining moments of my time at COP26 was on my very first day of the conference when I participated in the march for climate justice. The energy at the march was a mix between fear for our future and optimism that if we work together, we might have a shot at stopping further future effects of climate change. Another experience from COP26 that will last with me for a lifetime was seeing the signs that the civilians outside the entrance to the conference put up each day. There was one sign in particular that stood out to me, it was a painting of eyes with the words "we are watching you." This sign was a powerful reminder that the decisions made at this conference would impact the lives of billions of people around the world and that real change needs to happen now.
What is your Master's project?
My Master's project studies northern Indigenous community gardening and greenhouses as a viable solution to food sovereignty issues and as a medium for cultural reconnection. I am working in Thompson for the next two years with the Manitoba Metis Federation to assist in getting a community garden and greenhouse operational.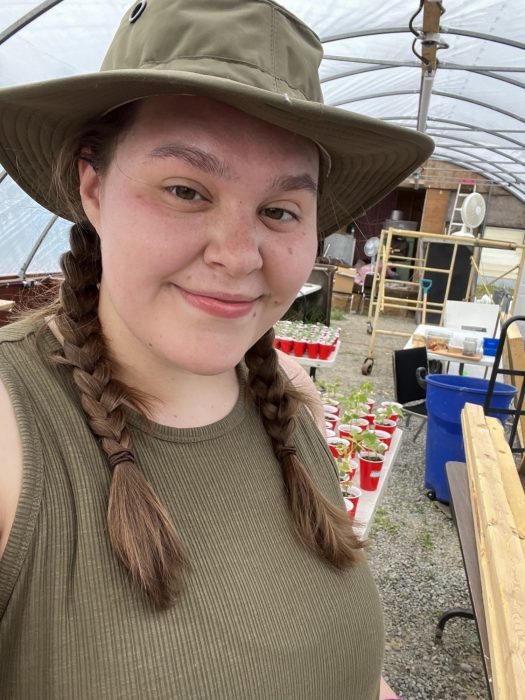 I will also be interviewing individuals from smaller northern communities in Manitoba who have already created operational community gardens and greenhouses. To me, the ability to help communities create solutions to real world climate issues they are facing by using what I've learned in university courses is incredible. My experience at COP26 helped me realize that I wanted to focus my future research on advocating for Indigenous individuals and communities in the environmental sector. I grew up very disconnected from my Métis heritage due to previous generational trauma and because of this I felt I wasn't Indigenous-enough to be an Indigenous environmental advocate. COP26 was the first time I truly represented my Métis heritage in a professional setting and it gave me a newfound confidence in my Metis heritage and my abilities to represent my culture.
Did going to COP 26 or any other experiences outside of school help you make decisions about academics?
Another experience that has helped me make decisions about my future research projects is my involvement with the Office of Sustainability. In my third year of university, I was a volunteer sustainability ambassador at the Office of Sustainability and conducted a waste audit of the Dafoe library on the Fort Garry campus. I was fortunate to be offered a position at the office after my time as an ambassador and I have worked there for the last year and a half. I found through all the different projects I worked on that what I enjoyed most was working with people and engaging with UM community members. Through my experience at COP26, working at the Office of Sustainability, and through courses during the later years of my undergraduate degree I have been able to determine I want to focus on working with people and communities to solve climate issues.