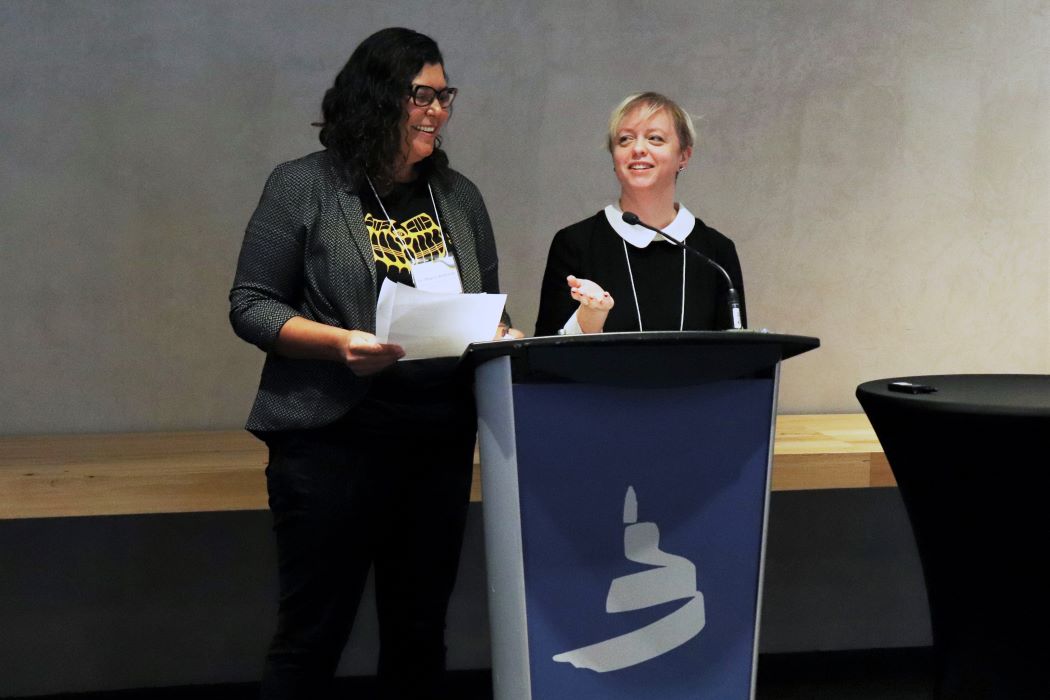 Community governance essential for Manitoba's race-based health data, speakers say
February 10, 2023 —
Manitobans will soon be asked to voluntarily declare their race, ethnicity or Indigenous identity when they receive care at hospitals.
The province will be the first in Canada to systematically collect this data from patients when they access care. The purpose of amassing and analyzing the data is to address inequities in health care.
The initiative is led on behalf of Shared Health by Dr. Marcia Anderson, executive director of Indigenous academic affairs at Ongomiizwin, the Indigenous Institute of Health and Healing in UM's Rady Faculty of Health Sciences.
"The only reason to collect racial, ethnic and Indigenous identifiers in data is so that we can measure … how systemic racism is happening in health care, intervene, and then check to make sure that our interventions are actually making a difference," said Anderson, who is also vice-dean Indigenous health, social justice and anti-racism of the Rady Faculty.
The initiative was jointly announced on Feb. 2 by UM, Shared Health and the province.
That morning, Ongomiizwin and the UM-based George & Fay Yee Centre for Healthcare Innovation, also a partner in the initiative, hosted a discussion of community-owned, race-based health data at the Canadian Museum for Human Rights.
"As a health system … we are trying to take critical steps to disrupt racism and discrimination in all forms," Monika Warren, chief operating officer of provincially co-ordinated health services at Shared Health, told about 150 in-person and online attendees.
Beginning in April 2023, patients at hospitals, including emergency rooms, will routinely be asked to self-identify during registration by choosing from a list of Indigenous, racial and ethnic identities.
The central point made by speakers and panelists at the event was that BIPOC (Black, Indigenous, People of Colour) communities must have governance over the use and release of the data.
Because there is a risk of race-based data being misused to cause harm, speakers said, transparent governance agreements must be maintained between the health system and BIPOC communities. The data must be collected in a culturally safe way and must only be used to advance health equity.
"We must ensure that we … don't end up reinforcing biases and stigma," said Kasari Govender, British Columbia's human rights commissioner, who spoke via videoconference.
Anderson noted that there are established agreements between Canada and Indigenous Peoples for data governance. "How do we apply those same principles around community ownership and data sovereignty for diverse Black and racialized communities?" she asked.
Anderson and Dr. Jillian Waruk, senior epidemiologist with the Government of Manitoba, gave a presentation showing that when Manitoba started collecting voluntary race-based identifiers in the spring of 2020, the data quickly exposed the disproportionate effects of COVID-19 on BIPOC communities. This knowledge allowed for targeted efforts, such as improved vaccine access, that saved lives.
Fewer than two per cent of patients declined to declare their identity, Anderson noted.
Based on the principle that the data would be controlled by the communities, Waruk released the COVID-19 data only with approval from an advisory council of experts from BIPOC communities.
Any request for the release of data was discussed by this council based on key considerations for race, ethnicity and Indigenous identity data collection and use, adopted by the Office of Anti-Racism in the Rady Faculty of Health Sciences.
Panelist Dr. Randy Fransoo works at the Canadian Institute for Health Information, which has established pan-Canadian standards for the collection of race-based data. Manitoba's use of COVID-19 data was "a shining example" for the rest of Canada, he said.
The other panelists were Karen Sharma, executive director of the Manitoba Human Rights Commission; Dr. Tina Chen, distinguished professor of history and executive lead (equity, diversity and inclusion) at UM; and Dr. Delia Douglas, director of the Office of Anti-Racism in the Rady Faculty.
When an audience member commented, "We've been data-collected to death" and questioned whether the initiative would lead to improved health care for First Nations, Anderson agreed that the project must lead to "concrete, deliberate action."
"Data collection … is not the end of the line," she said. "It's the starting point of an intervention."