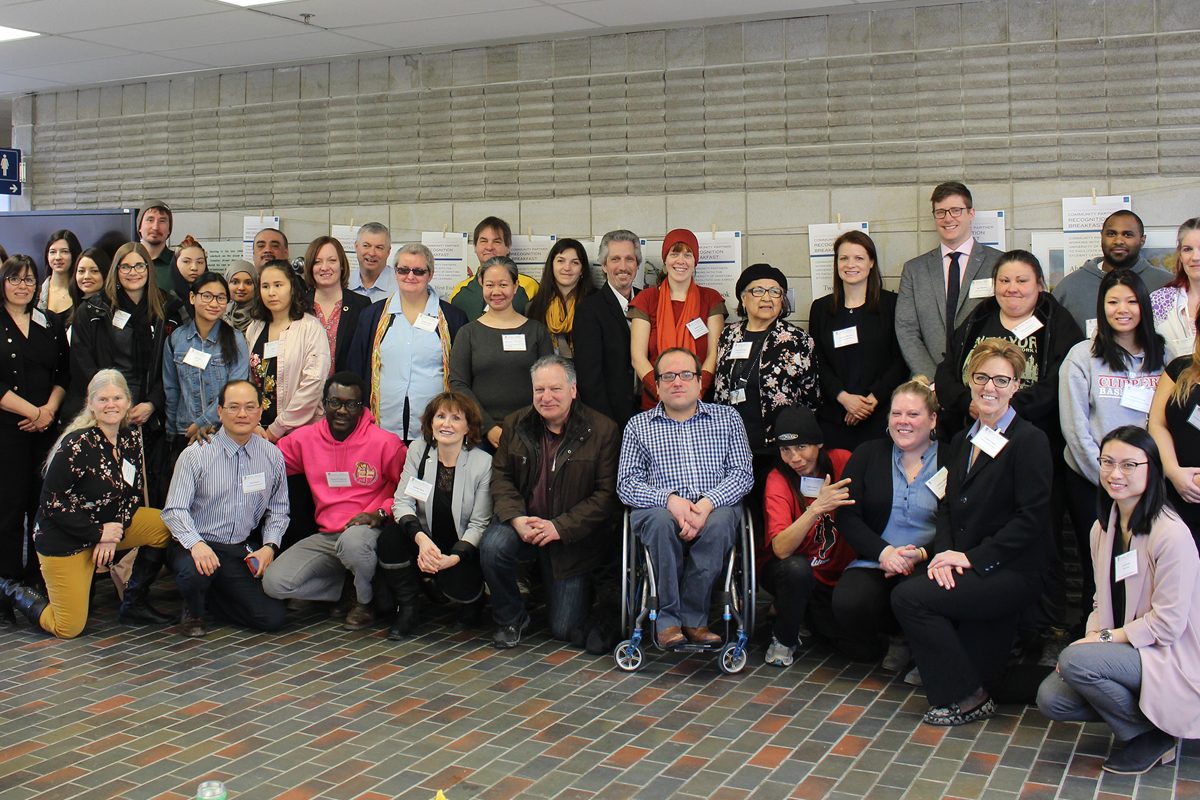 Community engagement celebrated
March 16, 2018 —
Hugh John Macdonald middle school principal Vinh Huynh was worried about one of his students. She hadn't been attending classes and he wanted to be sure that if she wasn't at school, she was at least somewhere safe.
"She'd been walking around here," said Huynh, gesturing to Bannatyne/Health Sciences Centre (HSC) campus, which is just down the street from Hugh John Macdonald School. "It was warm and it was safe. Without even knowing it, you helped a young lady at risk."
Huynh, pictured right, was one of the nearly 100 guests who attended the Community Partner Recognition Breakfast on March 15. Hosted by the Rady Faculty of Health Sciences Office of Community Engagement, the event was a "thank you" to the many community partners and organizations who support Rady Faculty students in a variety of ways, such as accept students into their organizations for service learning/volunteering initiatives; visit campus and contribute as lecturers or guest speakers about important topics such as food security, healthy sexuality and substance use; and offer students the opportunity to participate in innovative programs, such as CanU, Jacob Penner Park, and WISH Clinic.
Huynh's first contact with the U of M was when he reached out for volunteers to help complete a mural at William Avenue and Kate Street in 2012. It was the beginning of the kind of relationship Huynh hoped for with U of M and HSC: instead of his students and their families visiting as patients and clients, they would walk through the door as front-line workers and decision makers. "And it all starts just by feeling welcome," said Huynh.
Students from Rady Faculty of Health Sciences are already a familiar sight in the community. Last year alone, 480 students from across the faculty took part in on-site learning in organizations throughout the city.
"Max Rady College of Medicine is the only medical school in the country that has service learning as a mandatory part of the curriculum," said Sharon Bruce, associate professor in Community Health Sciences and acting department head. "If something is mandatory, it is valued."
She points out that while our campus is full of experts in all kinds of knowledge, it is the people in the community who hep students put that information into context. "It's too easy to think we know everything. Taking our students and faculty into your world to see what things are really like is a big deal – it's a very big deal."
Second year medical student and service learning representative Maira Ahmed says being involved in Let's Talk Science, a volunteer program that brings science to kids in the community, has introduced her to people from all walks of life.
For Ahmed, broadening her horizons is just one more way she's getting ready for her career as a physician. "These kinds of opportunities truly complement our learning in the classroom," said Ahmed. "It's also another way we can live out our responsibility to give back to the community."
Just as important as reaching out is the opportunity for members of the community to come in. Karen Cook is the project manager, community engagement for community health sciences.
"Our campus is located in a vibrant, inner-city community," said Cook. "As neighbours, we have valuable resources that can be shared." That might be weekend basketball in a university parking lot or it might be our Biomedical Youth Program science camp.
But to Cook, the important part is recognizing that as an institution, we're not an island – we're part of the fabric of the community and the wider city.
"We want to strengthen those bonds," affirmed Dr. Ian Whetter, the director of the Rady Faculty's Office of Community Engagement. "We have lots of book knowledge, but what we need more of is heart knowledge. And that's where we need your help."