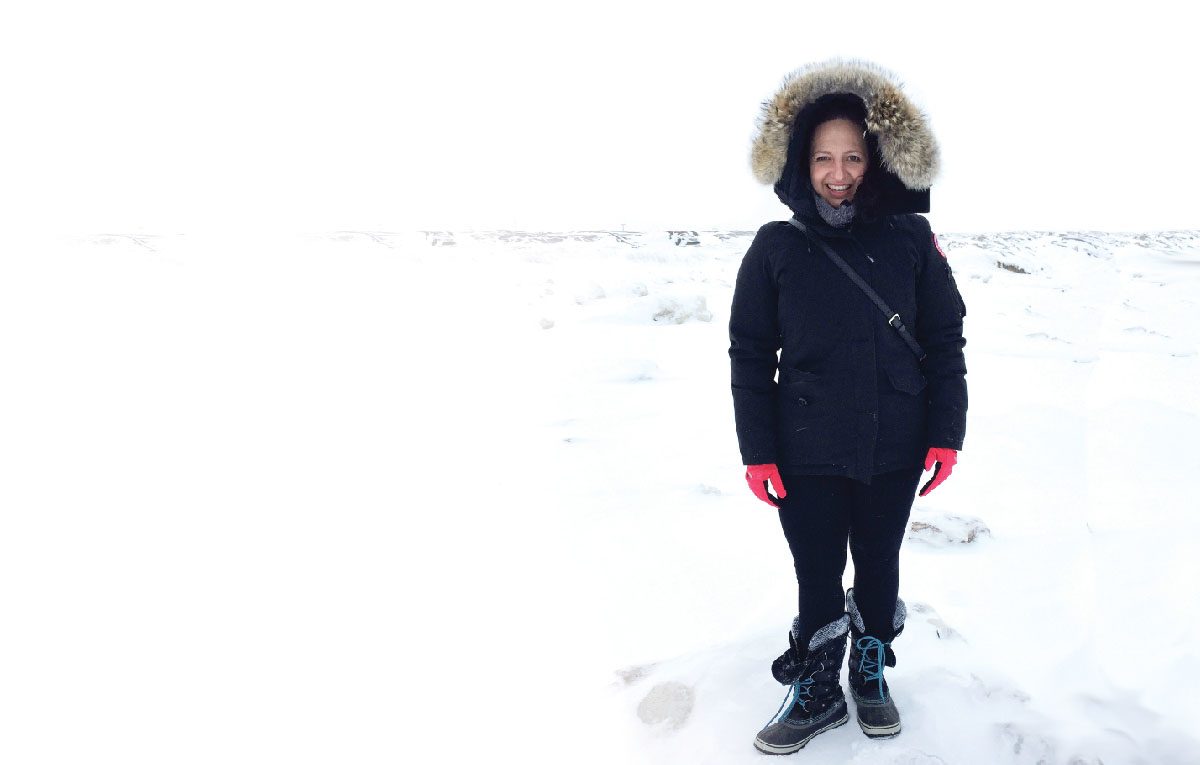 Committed to community
October 23, 2018 —
Anyone who has spent time with Mary Bertone [Dip.D.Hyg./05, B.Sc.D.Hyg./11, MPH/15] knows how deeply she cares about providing care to underserved communities.
"I've always believed in service and giving back," says the high-energy director of the School of Dental Hygiene at the Dr. Gerald Niznick College of Dentistry.
Bertone, who has led the school since 2014, was recently appointed to an additional leadership role. She is the first dental hygienist to serve as director of the dental college's Centre for Community Oral Health (CCOH). She has had front-line involvement with the non-profit centre since she graduated as a hygienist 13 years ago and started working for the CCOH in health promotion.
You might think that with all her responsibilities, Bertone would step back from caring for patients. But she feels it's essential to stay involved. "It keeps me real," she says.
She is particularly committed to hands-on care at the CCOH clinic in the far-northern community of Churchill, Man. She has been flying to the "polar bear capital of the world" since 2005.
"I used to go once or twice a year," she says. "Now I try to go three or four times a year. I am the hygienist for Churchill, and then I bring other hygienists up there with me." The CCOH, formally established in 2000, operates six community clinics, including the one in Churchill. Each provides both clinical and health-promotion services. "We go where no one else goes, to increase access to care," Bertone says.
The Access Downtown Dental Clinic on Winnipeg's Main Street provides care to inner-city residents and sees many patients who are newcomers to Canada. The clinic at Deer Lodge Centre, a long-term care and rehabilitation facility in western Winnipeg, serves residents of the facility and people from the community. The CCOH clinics at the Manitoba Developmental Centre in Portage la Prairie, Man., the Selkirk Mental Health Centre in Selkirk, Man., and St. Amant Centre in Winnipeg provide oral care to people with special needs. Senior dentistry and dental hygiene students rotate through the Access Downtown and Deer Lodge clinics. Some also travel to Churchill.
"It's important for our students to gain experience with providing care to a wide range of individuals," Bertone says. "It opens their eyes to another world that is very different from a private practice situation. "We hope with that exposure, and seeing what the need is, that when they're in private practice, maybe they'll think, 'I could give one day a month to working in community clinics.'"
Another service provided by the CCOH is the mobile Home Dental Care Program, which also provides experience to students. Three vans transport dental equipment and oral-care teams to long-term care facilities to treat patients who are unable to visit traditional clinics. In the future, Bertone says, ultra-lightweight, easy-to-clean portable dental equipment may make it possible to increase care in private homes.
As for other outreach initiatives, Bertone has started discussions with several First Nations in Manitoba, hoping to establish partnerships. It's important that the communities themselves define what their needs are, she says.
Bertone would also like to see the CCOH improve access to affordable care for seniors. Access Downtown, she notes, charges 25 per cent less than the Manitoba fee guide rate. "We'd like to offer that same discount one day a week at Deer Lodge, and from there we could expand it. But we need to find more dentists to work in our program. "A lot of older adults travel from the western part of the city all the way to Access Downtown to get the 25 per cent discount. So we know there is a need."