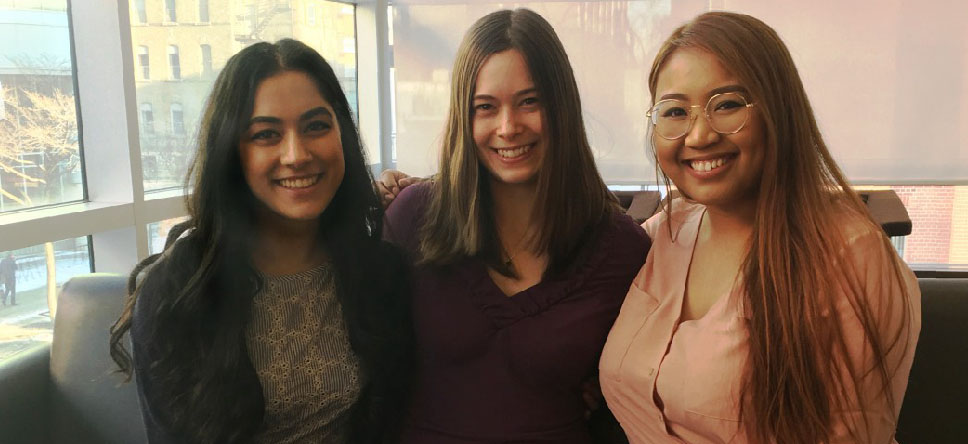 College of Pharmacy students connect with community
January 10, 2019 —
This year, College of Pharmacy students helped a family get what they wanted most for Christmas: a new home.
Students raised over $3,000 in support of Habitat for Humanity and volunteered for the 2018 build on the Bannatyne campus. Their efforts came full circle as the family moved in at the end of December, just in time for the holidays.
"It felt amazing," said fourth-year pharmacy student Marina Cameron. "We're just happy to have helped."
Cameron, along with Jenna-Julie Esteban Villarba (third year) and Snimar Bali (second year), organized a fundraising social and a samosa sale together with the other research students at the College of Pharmacy. They also put on hard-hats and steel-toed boots and got their hands dirty helping this year's partner family build a home for their four kids.
For the trio – all novices, aside from assembling IKEA furniture – one of the most special moments was learning new skills and then helping to build and raise the first wall. "To get to meet the family and to work along side them and help them build their home – it was a really rewarding experience," said Bali. They also picked up some construction basics that they'll be able to take with them into their personal lives when it's time for a little DIY at home.
"It was nice to do something hands-on," said Villarba. "Usually it's just books, books, books. We got to feel like we were physically helping and engaging with the community."
It also gave the students insight into the efforts that go into fundraising, which was harder than they anticipated. Starting in June 2018, they sent out more than 100 emails soliciting support for the social and cash donations, in addition to organizing the event itself. "I have a whole new respect for fundraisers," said Cameron.
In the end, they say all the hard work and was well worth it, knowing they were part of an effort that will help make a difference to a growing family. They also plan to keep volunteering, whether it's for Habitat for Humanity or another worthwhile cause. "It's about always remembering to give back," said Bali. "We're going to be busy in our profession, but we'll remember to make the time to do something and help someone else out."