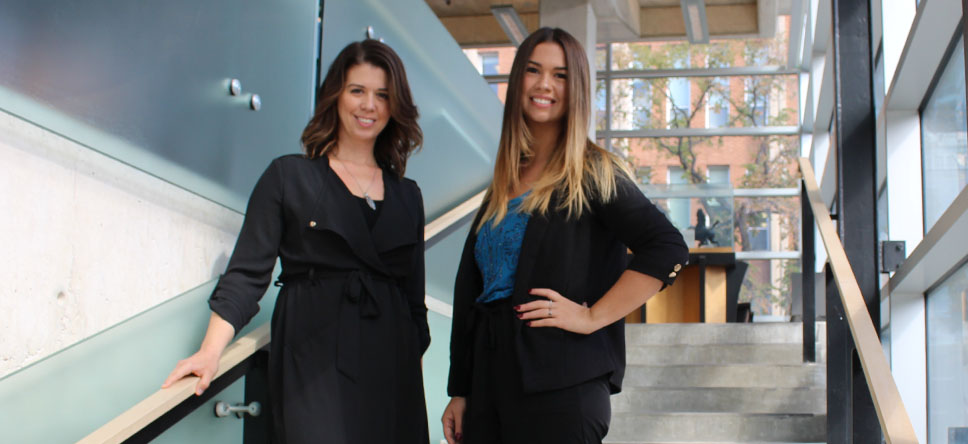 College of Pharmacy launches broad-based review of cultural safety
September 19, 2018 —
As an Indigenous woman, Sarah Olson knows from personal experience that engaging with the health care system can get complicated, especially when she presents her treaty card at the pharmacy or dentist's office.
"It hurts to be talked down to or treated differently based on my culture," said Olson, who says it's not uncommon to face prejudice. "No matter what you're wearing, no matter what your background is, we should all be treated the same. No one should ever feel that way."
That's why Olson, who recently joined the Office of the Provost and Vice-President (Academic) as project assistant, Indigenous engagement, has teamed up with Dr. Dana Turcotte, clinical assistant professor in the College of Pharmacy, Rady Faculty of Health Sciences. Together, they're taking a broad-based look at where the college and its curriculum stand when it comes to cultural safety.
Their project, A Purposeful Pause: Creating a Culture of Change that Promotes Indigenous Knowledge, Education, and Scholarship Achievement at the College of Pharmacy, was recently awarded funding by the University of Manitoba's Indigenous Initiatives Fund.
Collaborating with Queen's University researchers Dr. Anne Godlewska and Dr. Laura Schaefli , Olson and Turcotte started by establishing a baseline for how familiar students, faculty and staff already are with Indigenous culture.
"When we began this project it came from a place of wanting to be well-informed before making any big steps," said Olson. "We want to measure twice and cut once, so the change will be sustainable."
Work to date shows that exposure to Indigenous culture runs the gamut from none at all to first-hand experience in all-Indigenous schools. Turcotte points out that even among those with some familiarity, there may also be misconceptions or assumptions.
"It's hard to know what our students bring to the table," said Turcotte. "We want to know where the gaps are, but also where the strengths are, too," explained Turcotte. "Students can surprise you! Additionally, we want to ensure that our faculty and staff are well-prepared and supported in delivering Indigenous curricular content."
Turcotte says the timing is right for a review, with a PharmD program launching in 2020 and newly approved strategic plan to take the college into its next stage of development.
"There are already pieces in place," said Turcotte. "It's time to build on those existing initiatives and expand on the work that is already being done around cultural safety."
For both Olson and Turcotte, the biggest factors in creating a stronger culture of inclusion will be consultation with the community and involvement from all university stakeholders, including Ongomiizwin, The Indigenous Institute of Health and Healing.
"The people that I meet with are so keen," said Olson, adding that the initial work around this project has been met with support and encouragement. "They understand that this is not just a strategic priority of the university, this is something we need to work on as a community in Manitoba. I'm very optimistic."