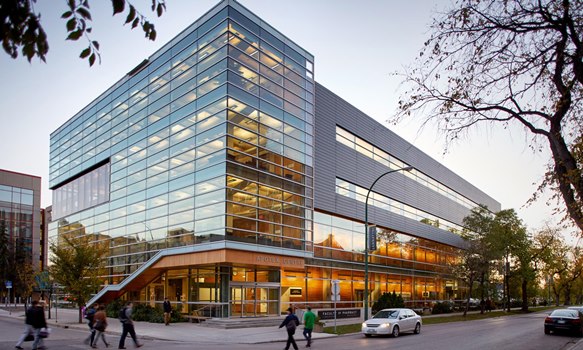 College of Pharmacy celebrates milestones
Apotex Centre's 10th anniversary and launch of new PharmD program
October 17, 2018 —
On November 19, the College of Pharmacy, Rady Faculty of Health Sciences will celebrate the 10th anniversary of the Apotex Centre, along with its most recent milestone, the approval of the Doctor of Pharmacy (PharmD) program.
Donors, alumni, faculty, staff, students and friends are invited to join us for this special event:
November 19, 2018 | 3:30 p.m. – 5:30 p.m.
College of Pharmacy, Apotex Centre, 750 McDermot Ave.
Tours, presentations, reception
Please RSVP at: Pharmacy [at] umanitoba [dot] ca
Dr. Lalitha Raman-Wilms and other members of the college's leadership team look forward to sharing news about the new PharmD program and other advances at the Nov. 19 event. "If you haven't visited the College of Pharmacy recently, now is the time," said Raman-Wilms, Dean of the College of Pharmacy. "It's a great opportunity to celebrate where we've come from, and share with our community where we plan to go next."
Located on the Bannatyne campus of the University of Manitoba, the College of Pharmacy is housed in the Apotex Centre, a striking new building on the corner of McDermot Avenue and Emily Street. With spacious classrooms and state-of-the-art labs, students and faculty are well-equipped to lead innovative research activities and address healthcare challenges related to the profession.
While the building is modern, the college hasn't forgotten its past. Along the main hall on the first floor is a series of cabinets dedicated to a history of the practice of the pharmacy. This fascinating collection of materials, instruments, books, and artifacts illustrate the changing nature of pharmacy over the years.
A mere 15-minute stroll west from the Bannatyne campus will take you even deeper into the college's past, to a one-storey building with a sign that reads 'Winnipeg Modern Brush Company'. The name is from the 1940s, but the building at 422 Notre Dame Avenue wasn't always a factory. Originally built in 1899, the modest brick structure was the first home of Manitoba's College of Pharmacy.
The opening of the $30 million Apotex Centre in 2008 brought pharmacy back to the heart of Manitoba's health science research and training community and effectively doubled the college's capacity. The award-winning facility offers 100,000 square-feet of skillfully designed spaces that not only allow students to stay at the leading edge of technological advances, but to gain the kind of inter-professional experiences alongside their peers in the Rady Faculty of Health Sciences that will be vitally important to their careers.
In 2018, the College took another important step when it secured formal approval for the PharmD, an advanced program with significantly more clinical training through enhanced pharmacotherapeutic courses and experiential learning, as well as new courses such as pharmacogenomics and pharmacoeconomics.
This fall, the College welcomed the Class of 2023, which will be the first cohort to graduate with a Doctor of Pharmacy degree in Manitoba.
"You are an extra-special class for us," Raman-Wilms said to the Class of 2023 at the Oct. 1 White Coat Ceremony. "You have been admitted into the first year of a rigourous curriculum and we are confident that it will prepare you well to embrace the vital role that each of you will play as pharmacists."
"We've got a lot to celebrate," added Raman-Wilms. "We have a proud history and we've got an even brighter future."