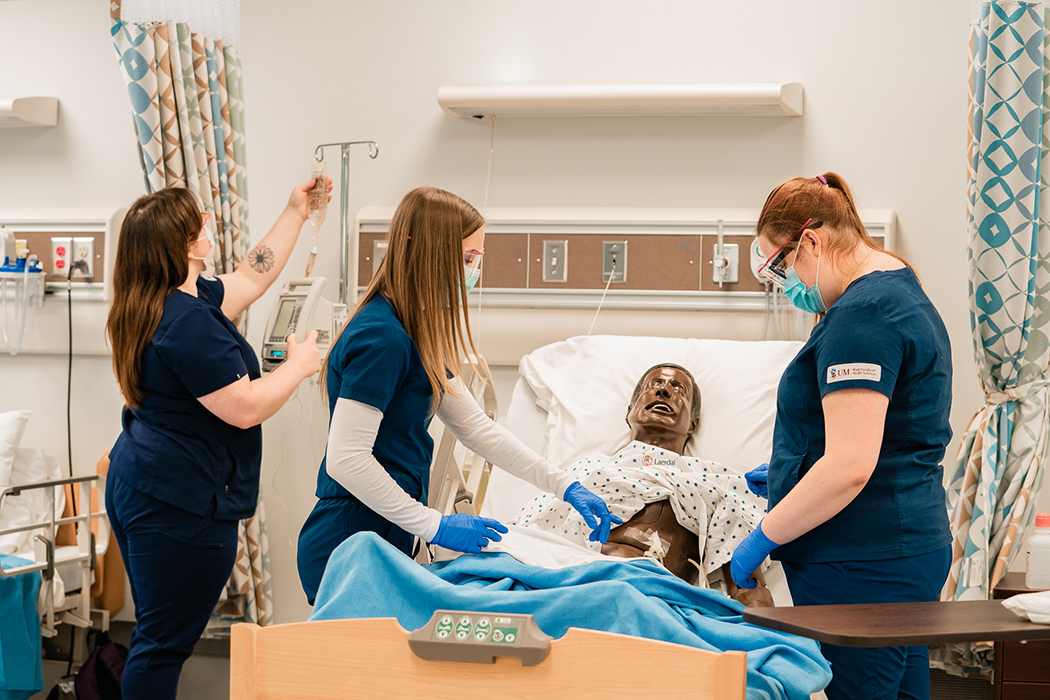 College of Nursing's northern partnership a 'remarkable accomplishment'
October 31, 2023 —
This year, the College of Nursing at the Rady Faculty of Health Sciences celebrates 25 years of its partnership with University College of the North (UCN), located in northern Manitoba.
The partner institutions have collaboratively delivered UM's bachelor of nursing program to students in The Pas and Thompson since the fall of 1998, when UCN was known as Keewatin Community College. At that time the province began closing diploma nursing programs, consolidating nursing education to a bachelor's degree as entry to practice for registered nurses. Using an integrated approach, the same curriculum is delivered at the northern sites and UM.
In 2004, the college became UCN and began offering degree programs, but the partnership with UM continued because "it works so well," according to Helga Bryant, dean of health at UCN's Faculty of Health.
Twenty students are admitted into the program each September in The Pas and Thompson, and most continue to work in northern communities, she says.
"I firmly believe that if students educate in the north, they will stay in the north," Bryant says. "They can remain close to their families and communities, which of course enhances their potential of success in the program. For the students, I think that is a huge benefit."
The partnership also benefits employers and, ultimately, the patients and the public in the north.
"We have a very good relationship with our major employers of RNs in the north. We're a huge geographical part of Manitoba, but we're a small community. We all know each other and stay in touch with each other around clinical placements. Employers know that if they support our students we will graduate more," Bryant says.
"For the public, our patients are from the north, and it's very gratifying for them to be cared for by a familiar face, perhaps even someone from their own community. They feel that there's an instant connection there."
Over the years, she said, 543 nurses have graduated from the UCN cohort. There are currently 96 students enrolled in the program, 32 of which are First Nations or Métis.
Kyle Robertson grew up in The Pas and graduated from the program this fall. He says he always had an interest in health care, after spending much time as a child in hospitals with his father, who was chronically ill.
"When I was 21 and fresh out of college, my dad became palliative, so I moved home to help my mom care for him. This is when I noticed that I genuinely enjoyed the caregiving role and how rewarding it is," he says. "My family suggested I would make a good nurse, so I decided to go back to school and try it out. Once I was in the program, I realized I loved the career and the science behind it."
Robertson, who currently works in emergency at St. Boniface Hospital in Winnipeg, says the motivation of his peers and professors helped him succeed. The program also allowed him to work as a health-care aide at a personal care home and the emergency room in The Pas, which taught him a lot about working with people.
"I've spoken to a lot of recent grads that attended city programs and their experiences were a lot different than mine. In the north it is an entirely different type of medicine. "The Pas is a small rural town that looks after a large population from surrounding regions. Because of this we see anything that comes through the doors from polytraumas, life threatening diabetic complications, to pediatrics. We do not have the specialty wards like hospitals in the cities do."
Netha Dyck, dean of the College of Nursing, called the partnership a "remarkable accomplishment."
"We are proud of what we have achieved collaboratively including the implementation of a new curriculum, achieving provincial program approval and national accreditation, the integration of simulation and more recently virtual reality into our curriculum, and engagement in collaborative research," she says.
"We look forward to continuing our partnership with UCN and working collaboratively in addressing the ongoing need for more nurses in northern Manitoba."