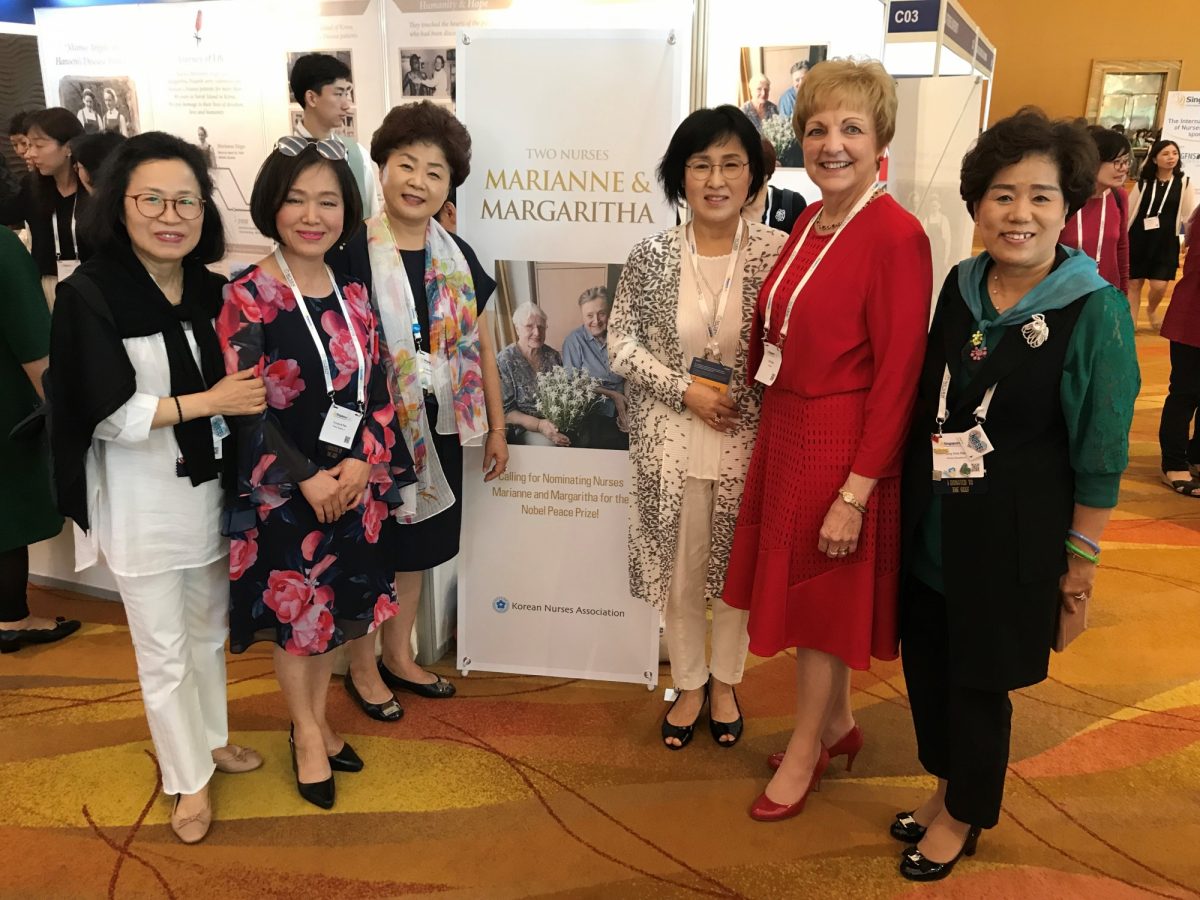 College of Nursing strengthens international ties at conference in Singapore
August 19, 2019 —
This summer, College of Nursing dean Dr. Netha Dyck and College of Nursing professor and Rady Faculty vice-dean, education Dr. Christine Ateah were among more than 5,300 nursing professionals from 120 countries assembled in Singapore for the International Council of Nurses (ICN) 2019 Congress. The conference, which takes place every four years, will be co-hosted by the Canadian Nurses Association in Montreal in 2023.
What was the purpose of the International Council of Nurses 2019 Congress?
ND: With a theme of Beyond Healthcare to Health, the Congress served to celebrate nursing's contributions over the 120 year history of ICN, as well as to discuss significant issues and trends that are impacting nursing throughout the world. There was discussion on issues such as nursing leadership in global health transformation, safe nursing staffing interventions, patient safety, advanced practice nursing, the widespread human trafficking and the need for expansion of primary health care. The World Health Organization (WHO) has a strong presence at the Congress with a compelling message regarding nursing's role in global health leadership.
What was your involvement in this event?
ND: It was an honour to present at the 2019 ICN Congress. My presentation was focused on the purposes, components and benefits of a teaching portfolio in advancing the scholarship of teaching in nursing education. Teaching portfolios are increasingly being used around the world as a key strategy for faculty reflection on their teaching and learning practices, as well as improvement in teaching performance.
I also had the opportunity to moderate a concurrent session. It was inspiring to learn about innovative teaching methods in nursing education, from eight presenters coming from China, Taiwan, Singapore, United States, Oman, Japan and Australia.
CA: I presented a poster articulating the Rady Faculty Office of Interprofessional Collaboration's (OIPC) innovative two-year inter-professional collaborative care (IPCC) curriculum that was implemented in September 2016 and involves health profession students in nine programs in the colleges of nursing, medicine, rehabilitation sciences, pharmacy and dentistry and dental hygiene.
Did the event allow any opportunity to build relationships with other nursing educators around the world?
ND: The congress provided the unique opportunity to network with international nursing leaders and engage in discussion with our dynamic ICN president Annette Kennedy and chief executive officer Howard Catton. We discussed the opportunities for nursing leadership in transforming global health, as well as the growing excitement related to hosting the upcoming ICN Congress in Montreal in 2023.
CA: We were also honoured to participate in a reception hosted by the Canadian Nurses Association for the Canadian delegates on Canada Day. The CNA president Dr. Claire Betker welcomed special guests- the high commissioner of Canada to Singapore, Lynn McDonald, as well Dr. Tedros Adhanom Ghebreyesus, director general of the World Health Organization, who strongly advocated for the re-establishment of a chief nursing officer position for Canada.
What were some of the other highlights?
ND: Another unique and gratifying experience was to meet with our Korean nursing colleagues and learn about the Korean Nurses Association's nomination of two nurses for the Nobel Peace Prize. Marianne Stoger and Margaritha Pissarek dedicated more than 40 years of their lives to the selfless act of caring for patients with Hansen's Disease and creating an environment of healing and hope.
CA: This was my first time attending the ICN Congress and meeting nursing colleagues from so many countries was remarkable. It is clear that despite the differences in our approaches to issues, there are far more similarities within our profession.
"A person who saves a life is a hero. A person who saves 100 lives is a nurse." – ICN president Annette Kennedy
What do you hope to see come out of your visit to Singapore?
ND: Networking with colleagues from around the world aligned well with one of our initiatives within the College of Nursing. We are currently developing an international framework for engagement in international partnerships to promote and support collaboration in education and research. The congress provided a great opportunity to explore opportunities for collaboration and in some cases strengthen existing partnerships. Interestingly, the congress also served to strengthen collaboration with academic leaders and colleagues from Canada.
We hope the establishment of a chief nursing officer for Canada will come to fruition, as a result of the strong advocacy from the WHO and ICN. The congress also served to celebrate the contribution nurses make every day. A special quote from the ICN president summed up the sentiments: "A person who saves a life is a hero. A person who saves 100 lives is a nurse."
We would also like to participate in the Nursing Now campaign and the nightingale challenge, providing leadership opportunities for nurses and midwives.
CA: I was pleased at the positive feedback and interest in the Rady Faculty's approach to inter-professional education. I anticipate connecting with a number of international colleagues who expressed interest in developing similar approaches in their countries' health professional education programming.