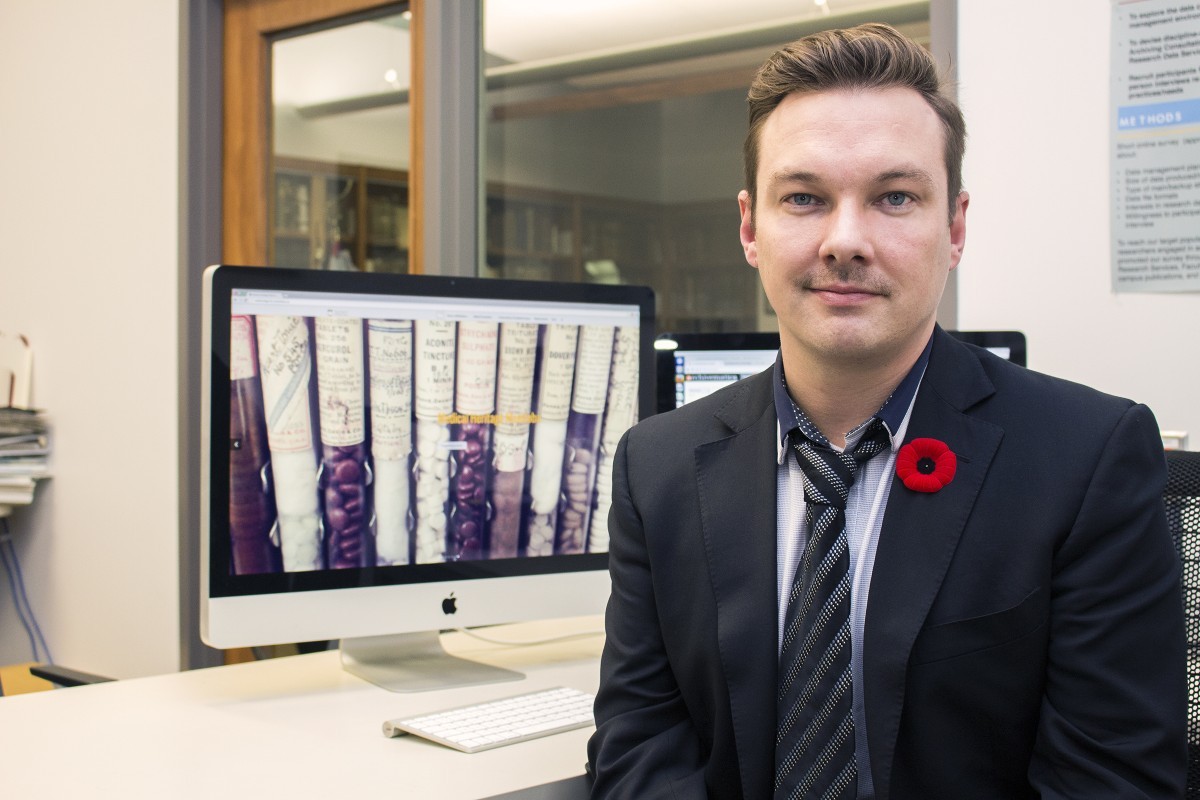 College of Medicine Launches Digital Archives
November 9, 2015 —
Patients today understand that tackling disease might call for more than just a prescription. It's not unusual to leave a doctor's office with directions to add exercise to your daily routine or to practice a little preventive medicine. In fact, physicians have long been dispensing helpful tips along with their prescriptions.
For example, back in 1829, those suffering from pulmonary tuberculosis might have been told to try some vigorous horseback riding—doctor's orders. Mothers were advised to protect little ones from the threat of malaria by tucking a bit of Peruvian bark into their children's waistcoats. A wide variety of natural remedies were endorsed too:  Scotch snuff plaster was recommended for croup, a poultice of leek was used to treat gout, and a decoction of carrots could be drunk for jaundice. If all that wasn't enough, sufferers might also find relief for what ailed them through a professional bleeding…
Once you start digging into some of the 'tried-and-true' practices espoused over the College of Medicine's 132-year history, it's tough to look away. And now with a newly launched online website created by the College of Medicine Archives, history lovers – and curious alumni- won't have to.
These fascinating details are just a snippet of what's contained in a lecture called, "Folk Healing, Alternative, and Parallel Medicines," by Dr. Ian Carr, Professor Emeritus of the College of Medicine. It's just one of over 1,000 entries that are part of the Medical Heritage Manitoba, produced by the University of Manitoba's Jordan Bass, Medical Archivist, and Justin Fuhr, Library Assistant based in the Neil John Maclean Health Sciences Library.
This website, which took more than six months of digitizing, writing, organizing and programming, is now home to a wealth of photographs, documents, historical vignettes, digital exhibits, biographies of medical personalities, and a wide selection of other features and resources.
According to Bass, this kind of digital collection is the new face of contemporary archives. "Typically, we would acquire materials related to an individual and then create a text-based catalogue of their archives," explains Bass. Essentially, visitors needed to know what they're looking for, read through an index, and then request documents they think might be interesting.
"Now, instead of just creating a finding aid, we're able to create a splash page, include photos, create a broader picture of who they were," says Bass, adding the electronic medium offers a completely different kind of engagement that's much more in line with the way readers approach content today. "I don't know how we could ever go back to doing things the old way."
Not only is the digital archive optimized for the way many of us now perform research—students, residents and the interested public alike —it's also created the opportunity for a distinctly Manitoban collection to reach a much wider audience.
The archival content on the site is drawn from the many collections held at the College of Medicine Archives in the Neil John Maclean Health Sciences Library. But unlike the physical contents of the archives, the digital collection can be accessed 24/7 by anyone with an interest in medical history—literally anywhere in the world.
Alumni can revisit their med school years viewing photos from special events, class clubs, beer n' skits as well as other materials such as lectures and biographies of their beloved professors.
Those not able to visit the campus in person can now explore key moments in our province's medical development, such as the local response to polio outbreaks, the Winnipeg Rh laboratory, the evolution of public health and the lives and works of early Prairie physicians.
While the website has just been launched, Bass says the project will never truly be over. "We're just scratching the surface," he says. "And keep in mind, the College of Medicine Archives is always acquiring new collections," adds Bass. "These will continue to be reflected in Medical Heritage Manitoba."
Medical Heritage Manitoba is now live and available at http://medheritage.lib.umanitoba.ca/.