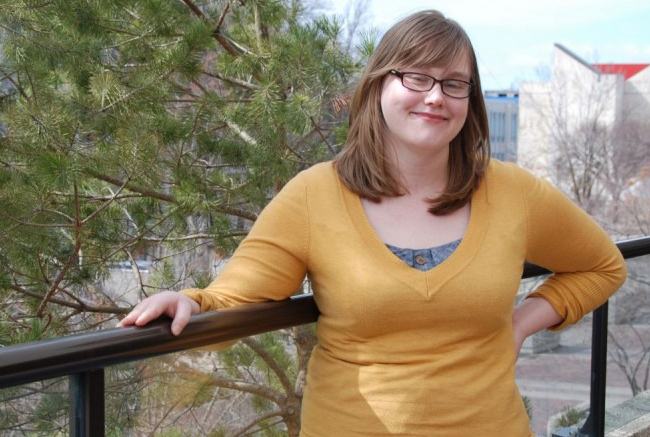 Coffee With A Co-worker: Jackie Cooney
May 15, 2014 —
A great part of Jackie Cooney's job, she says, is that she gets to "clear the way for researchers to do their research."
The work of the Canada Foundation for Innovation projects management coordinator requires her to maintain a perspective that accounts for small details along with the big picture.
"You have to be able to anticipate what's coming in a project," she says. The Canada Foundation for Innovation funds research infrastructure in Canada. "It's where a large portion of the university's scientific infrastructure comes from," says Cooney.
The position also allows Cooney to engage with people, especially researchers, something she considers a favourite part of the job.
The "back door education" in science research, as she says, "has been interesting for me as well, to get all these experiences in different fields.
"You get to read a lot about science and what's cutting edge — especially working with research infrastructure, where people are setting up a lab for the first time to do new research. You're getting to see five to ten years into the future and the benefits expected for Canadians from this research.
"And it definitely feels good to be able to support people who are doing research: climate change, Indigenous, global health — all kinds of areas that are super relevant," she says.
Cooney says it feels good to be able to support researchers in myriad relevant areas, such as climate change, Indigenous, global health.
Seeing projects through their life cycle, Cooney works with researchers at the earliest stages to help develop their budgets and their operating plans — through to when the projects become operational.
"Sometimes researchers have a bit of shock when they realize what the real timeline is, but you get to follow up with these projects in reporting years down the road, from when you're starting the project and the researcher doesn't even have the first piece of equipment in their lab, to years later, when they're really seeing results — that's really satisfying," she says.
One thing she's learned from her work? "Things always take longer than expected," she laughs.
It was during her own master's degree in gender and women's history at the University of Wisconsin-Madison that Cooney decided she wanted to wanted to work in post-secondary administration. "I had a great grad studies administrator within that program, and I thought, 'Wow, that's what I want to do!'" she says.
Cooney says though she decided academic life wasn't for her, she really liked the post-secondary environment.
Plus, she says, "It just seemed natural to come home to Manitoba. I definitely had a bit of homesickness, living in the U.S — although I loved my program."
Cooney: 'I really value the community that exists here between researchers and support staff — and students as well. There's some reciprocity or closeness, the feeling that everyone is supporting each other.'
Asked what she enjoys about the U of M, Cooney doesn't hesitate. "I really value the community that exists here between researchers and support staff — and students as well. There's some reciprocity or closeness, the feeling that everyone is supporting each other."
As a first year student at the U of M, she wanted to be an economist; a job at Lower Fort Garry changed her mind. She worked there four summers — a formative experience for her in wanting to study history.
Has she maintained her interest in history outside of work? Definitely, she says. "Especially when I travel. Historical sites are the main attraction."
Unsurprisingly, she's an avid reader. In fact the campus community might recognize her because of it.
"There's definitely a small cluster of people who ride the 36 [bus] who would recognize me and my daily riding with a heavy, hardcover book every day for four years," she smiles.
Q + A with Jackie Cooney
Coffee or tea and how do you take it? Coffee, with cream and sugar. I try to stay with one cup, because I'm still recovering from my 10 cups per day graduate school addiction.

What puts a smile on your face? The sun! I couldn't live anywhere where it rained all year. A good craft beer can only enhance a perfect sunny day.
Dinner with friends: Cooking at home or out? My fiance and I just bought a house in the West End and on a Friday you can usually find us at a great neighbourhood restaurant – Pho Hoang and Mercadito Latino are favourites. At home I usually make pizza or lasagna for company, or, lately, giant batches of carnitas for tacos.
Place to visit: I visited the Maritimes for the first time last summer – learning to sea kayak and visiting Louisbourg and PEI national park were highlights. Headed to Yellowstone this year and Utah's national parks are also on the list for the next few years. Maybe balancing out all that nature with a visit to NYC for museums and great food.
What is something you find essential or enjoyable to do every day? As soon as it gets warm enough I like to spend at least a little time in my garden every day, even if just ten minutes of close observing, preferably in bare feet. It's the most grounding thing I know how to do.
You are always thrilled to spend any free time doing: I recently started taking a pottery class, which I've wanted to do forever, so at the moment I'm spending spare time learning to throw on the wheel and, failing that, watching pottery videos on Youtube. I also enjoy playing European-style board games with family, friends, and sometimes against strangers to let my viciously competitive side out.
What is your guiding principle or motto? The perfect is the enemy of the good.
A goal: I started running this year – at a very slow shuffle. A goal for 2014 is to run my first 5k race.
Where did you grow up? I grew up in Old Kildonan with a very close-knit extended family. As a small kid, I was pretty sure South Winnipeg had a warmer climate, it seemed so far away.
What did you like about your childhood? Going to the Forks with my dad, brother and sister, buying cookies and trying to "feed" crumbs to the prairie dogs that lived there before it was all built over. Summertime at the lake – waiting for the days with the biggest waves and jumping right in them, looking for frogs on the beach. Learning to cook with my gramma, sitting on the counter throwing noodles into soup. Too many!
What you appreciate or admire in another person: Compassion, and being able to express it well.
Underrated? Sloan. Greatest Canadian band of all time? I say yes.
Overrated: Being "always-on" and connected to social media, email, or whatever.
Favourite book – or a recent book you enjoyed? I just finished Hild by Nicola Griffith – it's a minutely textured, luminous historical fiction about the early life of St. Hilda of Whitby and the women around her. I'm a big fan of science fiction and fantasy and am eagerly waiting for The Magicians' Land to be released this year, the last book in a great trilogy by Lev Grossman riffing on Harry Potter and Narnia.
Research at the University of Manitoba is partially supported by funding from the Government of Canada Research Support Fund.