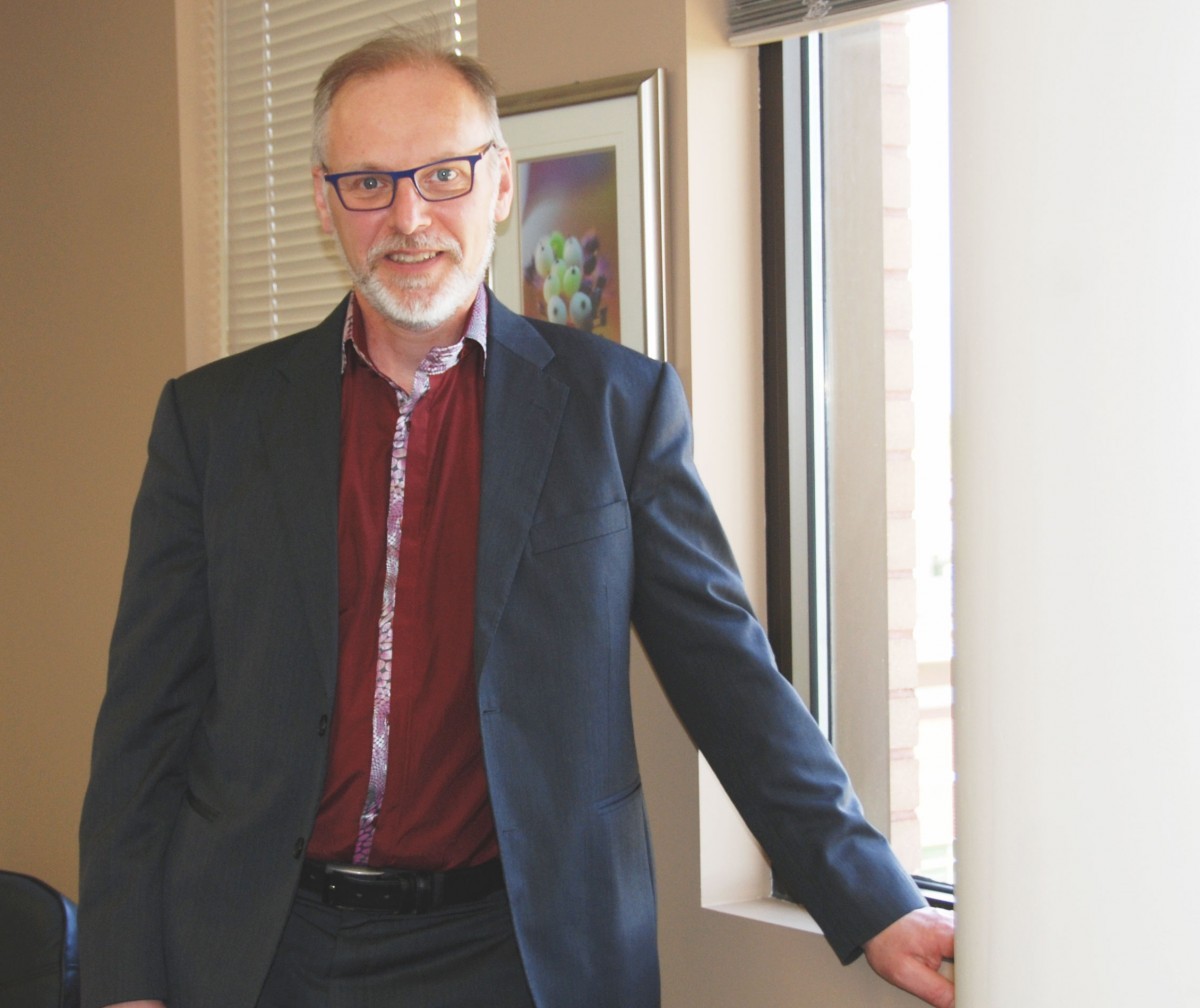 Coffee With A Co-worker: Darren Fast
June 11, 2014 —
Darren Fast thrives on change. He learned long ago, he says, that he's the "kind of person who'd rather be a builder than a maintainer of things."
It's why the position of director of the Technology Transfer Office (TTO) suits him. Since arriving at the U of M in 2012, Fast has enjoyed building relationships between the university and industry through the recently developed Tranfsormational Partnerships Initiative.
Historically, the office has had a more of a role in pushing out new technologies or by patenting and licensing for new innovations or technologies developed by university researchers, he says. "It was a one-way road.
"Now, that's changed. There's an effort to bring industry in for collaborative research efforts."
Fast: 'There's an effort to bring industry in for collaborative research efforts … creating win-wins.'
Not only do research partnerships leverage the cost of the research and provide companies with improved products and/or services, they also mean increased relevance of the university to the local community, Fast points out. Such ties with the local (and global) community result in additional opportunities for students too — it gives students exposure to employment opportunities, he adds.
Fast has more than 17 years of experience covering technology transfer, business development, intellectual property, new product development, and venture capital, working for industry, government and running his own consulting company. Part of his work as director of the TTO is helping to identify partners in industry; "creating win-wins," as he puts it.
"The concern for researchers is their [academic] freedom, of course, to keep the rights for publishing and teaching," says Fast.
"Our work is to find the balance. We don't think that researchers should be 100 per cent involved with industry-research.
Fast: 'Our work is to find the balance.'
"These partnerships facilitate knowledge-transfer to the community, a way of applying research."
The road to this current position has been winding, he says. Having pursued a doctorate degree in biochemistry (his undergraduate and master's degrees are from U of M), Fast started as someone who intended to do at-the-bench research.
Along the way, project management became his expertise and he found he was able to apply an academic perspective in a new, exciting way.
Still, he understands and appreciates the university environment. He particularly loves "the creativity, bright researchers, supportive environment, the freedom to explore and take risks" at the U of M.
And the director role in the TTO is exhilarating for Fast.
He explains, "I like being in the early stages of this program, seeing things come together."
 –Mariianne Mays Wiebe
Q + A with Darren Fast
Coffee or tea: Coffee, black.
One thing that not too many people may know about you. I have a dream that one day I will have enough rhythm to be a competent Djembe player and be able to play in a band.
What puts a smile on your face?  Sunshine. I love the warmth of bright sunshine, particularly in the winter.
One of the most unusual experiences you've had is:  Going to the Burning Man festival in Nevada, which was like entering an alternate reality for a week. The creativity, energy, and acceptance were truly amazing.
Place you'd like to visit: I'd really like to visit the tropical rainforests in Central America and live in the jungle for a few weeks so that I could experience the environment fully.
Something essential or enjoyable to do every day: While I don't do it every day, I do like going for long runs as it helps me think and being outside is essential.  I hate running indoors so you'll find me running outside all year long.
You are always thrilled to spend any free time doing: Photography, particularly abstracts and patterns and playing with light.
Guiding principle or motto?  Take the whole system into account, there's more than one perspective that's valid and everything is connected to everything else.
A goal:  An ongoing goal is to clean up my desk which seems to be a magnet for piles of paper.
Where did you grow up?   I grew up in Winnipeg right on the northern edge of the city.
A childhood memory?  I remember taking apart almost everything I could get my hands on to see how it worked and then put it back together.
Childhood hero: Not quite a hero, but my grade 6 teacher Mr. Gillis made a huge impact on me as he went way out of his way to ensure that we all got what we needed to thrive in his classroom.  I remember him taking us to the museum over the holiday break on his time and at his expense, because he was so passionate about teaching.
What you appreciate or admire in another person: Integrity. Integrity for me is being who you are even if it's not the popular or easy thing to do.
Overrated: I think celebrity is highly overrated.
Under-rated: Taking time to think, it's too easy to be "busy" and not understand all the implications of what's going on.
Something eye-opening you've experienced. I think I'll refer back to the Burning Man festival for this one. One of the most amazing things I experienced; there is the radical acceptance of everyone. This was also an entire week where I had this huge variety of experiences and no money was exchanged. My wallet stayed in the car for the entire week.
Recent book enjoyed: A Brief History of Everything by Ken Wilber.  This book really allowed me to see an integral perspective of the world and how I could apply it to everyday life.
Favourite TV show, film, blog or website: Right now, I'd have to say my favourite TV show is Game of Thrones because it is so well done and it feels like you are immersed in the world that has been created.
Research at the University of Manitoba is partially supported by funding from the Government of Canada Research Support Fund.