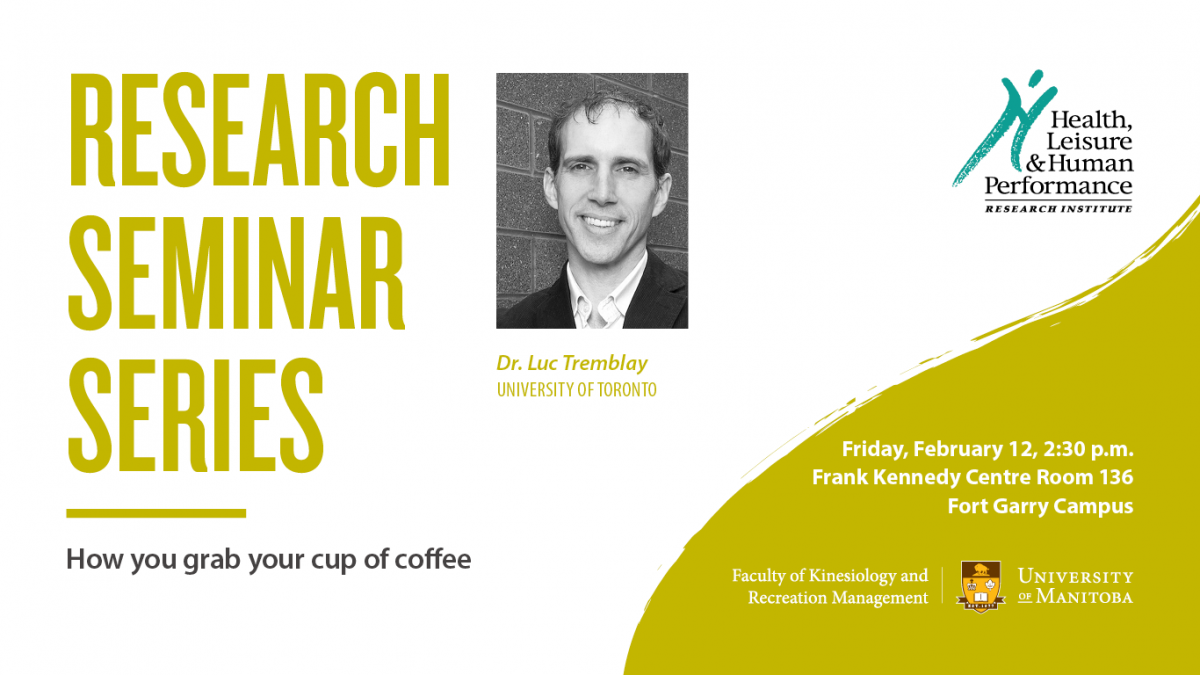 Coffee Talk: seminar looks at how we grab our morning java
February 8, 2016 —
The next installment of the popular FKRM's Health, Leisure, and Human Performance Research Institute's (HLHPRI) Seminar Series takes place Friday, Feb. 12 with How you grab your cup of coffee.
When you are reaching for first morning cup of java, do you prefer a large mug or a small demi-tasse?  Do you lunge for it, or approach cautiously?  Is it "robotic", or exquisitely planned, monitored, and executed differently each time?  Our invited speaker, Dr. Luc Tremblay from University of Toronto, will be leading us through his analysis of what we go through consciously and subconsciously when we make what seem to be simple, but are in fact highly complex, reaching movements.
What: HLHP Research Institute Seminar Series — 'How you grab your cup of coffee'
Who: Dr. Luc Tremblay, University of Toronto
When: Friday, Feb. 12, 2016, 2:30 p.m.
Where: Room 136, Frank Kennedy Centre, University of Manitoba
The Seminar Series is HLHPRI flagship program, intended to foster the dissemination and discussion of the highly relevant and ever-evolving knowledge on health, leisure, and human performance, and the interaction of this knowledge across disciplines.
Future topics and dates include:
Mary Jung, PhD, University of British Columbia Okanagan, March 4, 2016 2:30 p.m.
HIIT it or HATE it? The Affective, Social Cognitive, and Adherence responses to HIIT, and implications for health and diseased populations
Moss Norman, PhD; Michael Hart, PhD; LeAnne Petherick, PhD, & Heather McRae PhD, University of Manitoba, March 11, 2016 2:30 p.m.
Looking back while moving forward: Preliminary findings from an intergenerational examination of Cree physical cultures and masculinities
For more information, visit umanitoba.ca/faculties/kinrec/hlhpri/seminar.html